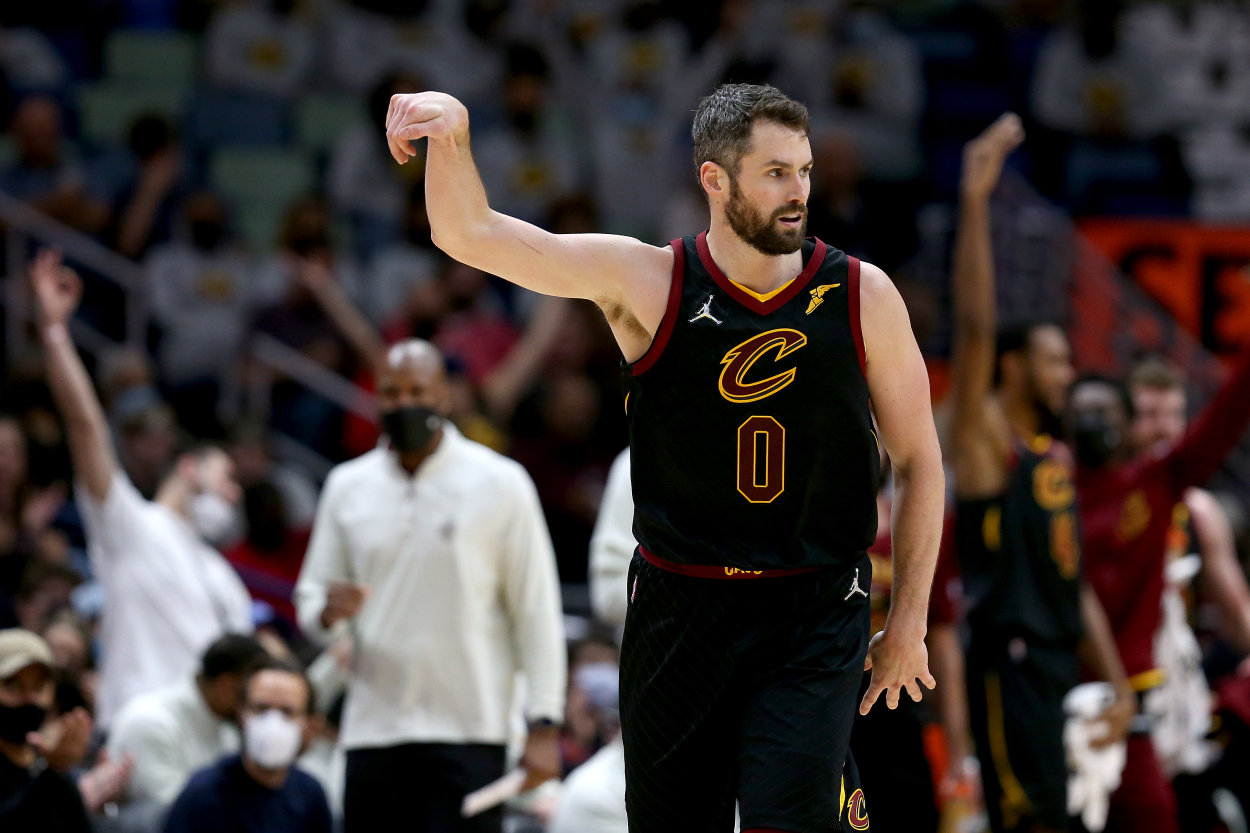 Kevin Love Is Vehemently Proving He's No Longer a Washed-up Star for the Resurgent Cleveland Cavaliers
It has been tough to watch Kevin Love the last three seasons, but the former NBA champ is currently proving he's no longer a washed-up star for the Cleveland Cavaliers.
For the past three seasons, it seemed as if Kevin Love was just collecting a paycheck from the Cleveland Cavaliers. He was rarely available to play due to injury, and (whenever he was on the court) he wasn't nearly as effective as he was during Cleveland's NBA Finals runs with LeBron James and company.
However, this season, Cavs fans have seen a different Kevin Love. No, he's not the player who averaged 26.0 points and more than 13 rebounds in Minnesota, but he's proving he's no longer a washed-up superstar.
Love is back, and he has become a valuable sixth man for the resurgent Cavaliers.
It was difficult to watch Kevin Love on the Cavaliers the past three seasons
We all know that Kevin Love's numbers took a hit as soon as he teamed up with LeBron James and Kyrie Irving on the Cavaliers in 2014. He went from averaging 26.1 points in Minnesota to 16.4 in Cleveland the following season. But he was still a valuable player that played a massive role in the Cavs' four straight NBA Finals appearances and 2016 championship.
However, the last three seasons have been tough to watch.
Between 2018-19 and 2020-21, Love only played in more than 25 games once. In fact, after signing a huge four-year, $120 million extension in 2018, Love missed 116 games the following three seasons combined.
When he was on the court, he was either not playing up to his contract or showing a type of immaturity we had never seen from him. In a game against Oklahoma City Thunder in 2020, Love disagreed with a play call toward the end of the second quarter, and showed it by demanding for the ball from Collin Sexton and then chucking a pass toward teammate Cedi Osman. In another game in 2021 against the Toronto Raptors, he smacked the ball inbounds out of frustration after the ref passed it to him. It, of course, resulted in a turnover and Raptors points.
Love's stats then dropped to only 12.2 points and a career-low 7.4 rebounds per game in the 25 contests he appeared in for Cleveland last season. He was, obviously, no longer the offensive force he used to be, and he had become a defensive liability.
But things have completely changed this season. The old Love is back.
Kevin Love has had a bounce-back season for the Cavaliers
Heading into the 2021-22 season, no one knew what to expect from Love. He was supposed to play for Team USA at the Tokyo Olympics this past summer but withdrew because he wanted to fully recover from a calf injury he had dealt with during the 2020-21 campaign.
The Cavs and Love also showed no interest in agreeing to a buyout, despite the millions he was making to essentially not play.
But the decision to not part ways has proven to be the correct one.
Love has become a fantastic bench player on a Cavs team stacked with talented big men this season. He's averaging 14.6 points and 7.6 rebounds, and he's shooting a career-high 43.3% from 3-point range. 
He has also been dominant within the last month or so.
In his last nine games, Love has averaged 21.8 points and 8.6 boards, and he has shot 51.4% from the field and 49.4% from 3-point range. The five-time All-Star also recorded 35 points, 11 rebounds, and four assists in a close game with an undermanned Cavs squad against the Atlanta Hawks on Dec. 31.
Love has always been a great shooting big man, and he has been lights out lately. However, he has also been crucial for the Cavs defensively. The UCLA product had posted a negative defensive box plus-minus (which estimates the defensive points someone contributes above a league-average player) every season since 2016-17. This year, that number is at a career-high 1.2.
It's truly remarkable how well Love has been playing for Cleveland, and he seems to be having fun while doing it.
The Cavs star has also been a perfect teammate in Cleveland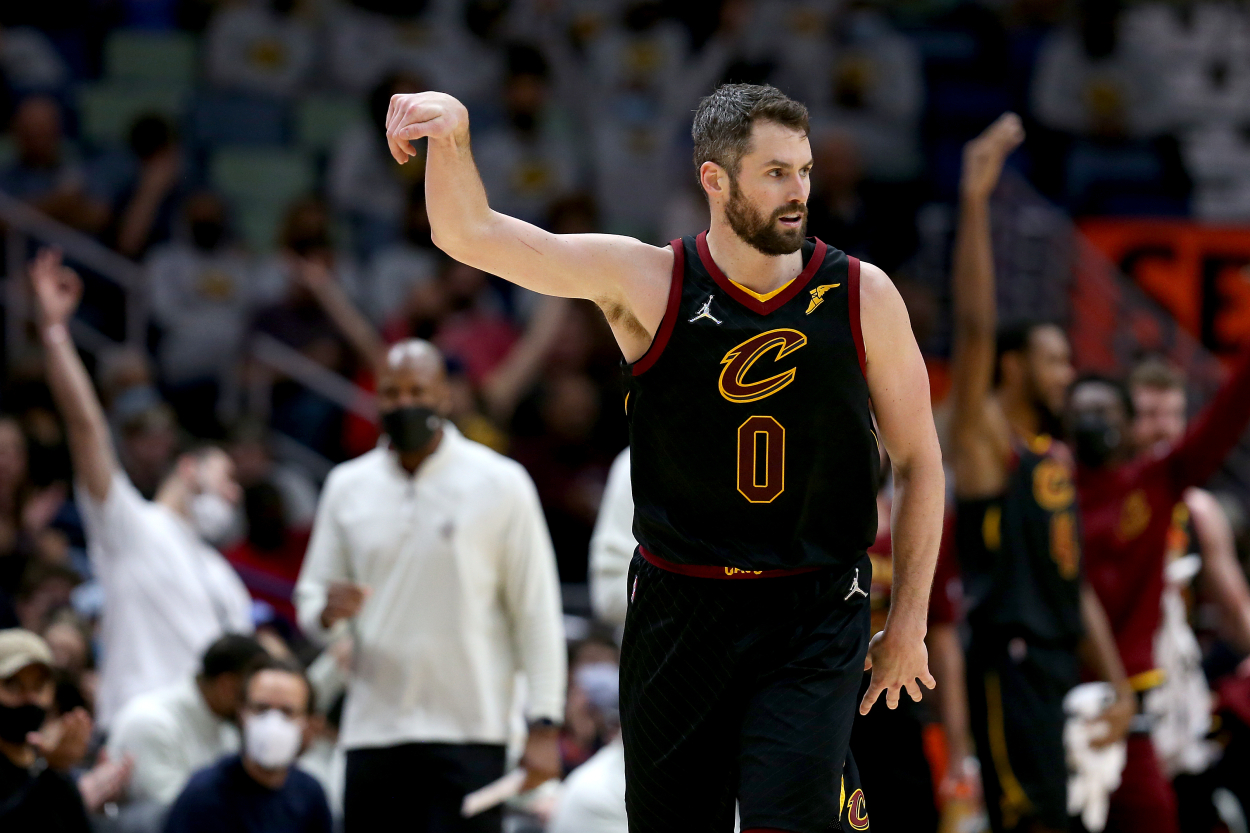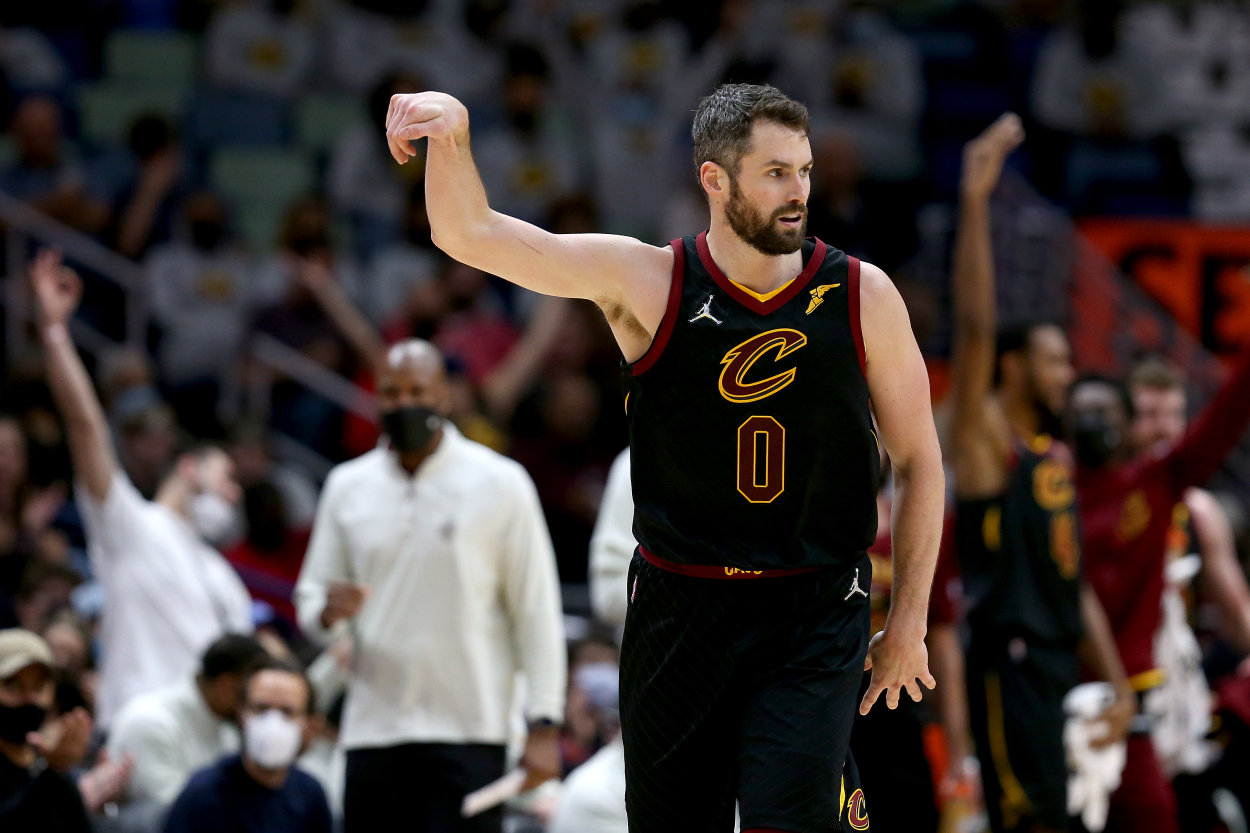 So, what's the difference for Love this season compared to the last three? Well, we can't look past the fact the Cavs are actually good. After being one of the league's worst teams since LeBron's departure, Cleveland is 21-16, which is good for fifth in the Eastern Conference. It has also seen stellar play from young guys like Darius Garland, Jarrett Allen, and Evan Mobley, who have all seemingly had the veteran Love in their ear, pushing them to be great.
"For me, it was easy to buy in when I saw how hard these guys work, how they show up to work every single day and just chase the game," Love said in December, per Cleveland.com. "I love it. It's infectious to be around."
Will Love be an All-Star this year? Probably not. Will he win Sixth Man of the Year? No, especially if Tyler Herro continues his unreal play for the Miami Heat. But Love has become a crucial piece on a resurgent Cavs squad that is looking to accomplish things fans didn't think it could last year.
Kevin Love is no longer a washed-up superstar. He's one of the most valuable bench players in the league.
Stats courtesy of Basketball Reference