Kevin McHale Clotheslining Kurt Rambis Is a Momentum-Changer: Boston Celtics Championship History Moment No. 12
Kevin McHale and the Boston Celtics got physical with the Los Angeles Lakers in Game 4 of the 1984 NBA Finals.
The Boston Celtics desperately needed a momentum-changer, even though they already had one two games before. The Los Angeles Lakers were completely dominating them in the 1984 NBA Finals. If not for Gerald Henderson's late steal in Game 2, the Celtics likely would have been down 3-0 heading into Game 4 in Los Angeles. Enter Kevin McHale.
Instead, Boston was down 2-1 in the series but also trailed 76-70 in Game 4. The Celtic needed another jolt. McHale provided it in the form of a vicious clotheslining of Kurt Rambis, who was heading in for a layup. Play stopped. Benches cleared. The Celtics seized momentum and went on to tie the series.
In honor of the Boston Celtics' 17 championships, we're highlighting 17 signature moments, both good and bad, that took the Celtics from a woeful 22-38 BAA debut in 1946-47 to the current iteration of the longtime powerhouse franchise that's now coming off an NBA Finals appearance. The 17-part series on the Celtics' championship history will run through the summer and take us to the beginning of the 2022-23 NBA season, one Boston hopes ends will with Banner No. 18.
Kevin McHale may have gotten a little motivation from Larry Bird and Danny Ainge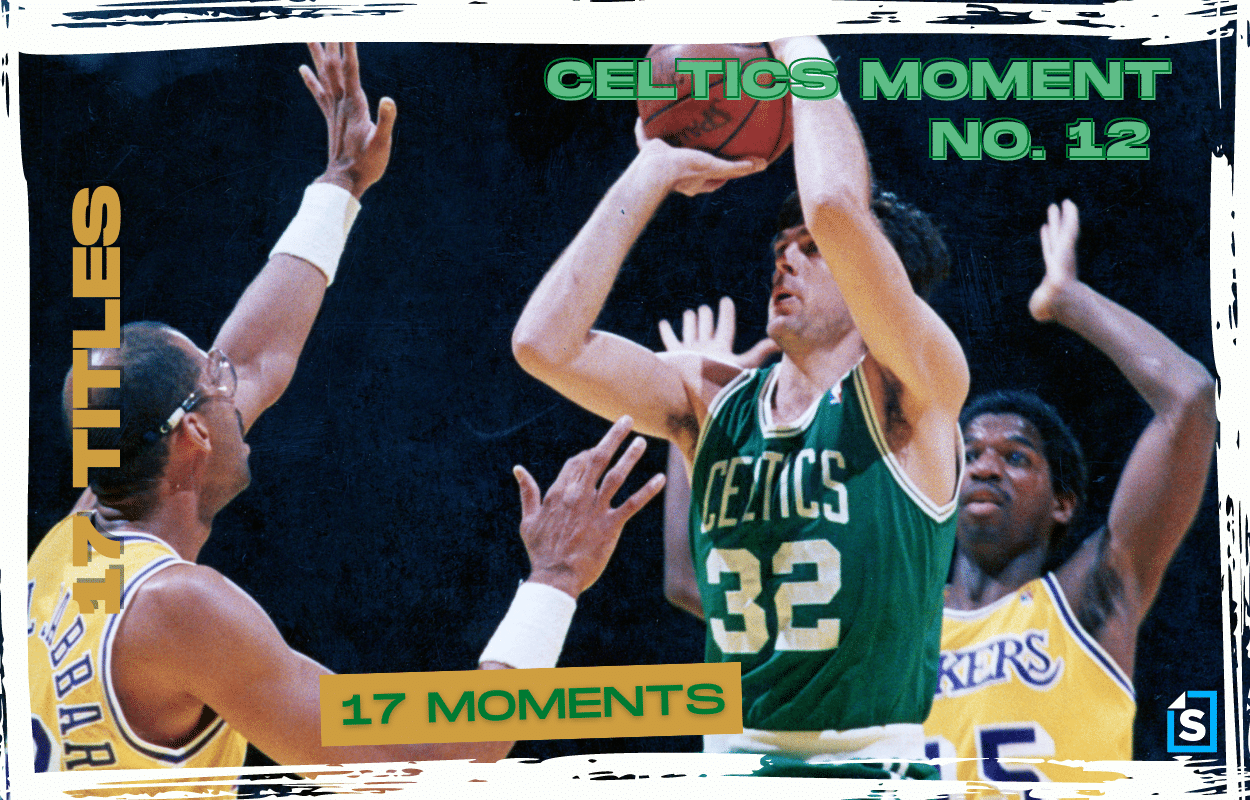 After the Lakers stomped all over the Celtics in Game 3's 137-104 victory, Celtics star Larry Bird had enough. He called out his teammates after the game for being soft. He referred to them as "sissies."
"Until we get our heads where they belong, we're in trouble,' Bird said, according to Jackie MacMullan's book When The Game Was Ours. "We're a team that plays with heart and soul, and today the heart wasn't there. I can't believe a team like this would let LA come out and push us around like they did. We played like sissies."
Former Celtics guard Danny Ainge may also have assisted in getting McHale to be a little more physical.
"I remember Larry saying something to the media about how soft the team is," Ainge said during the Locked On Celtics podcast in 2020. "But every single person that was watching that film was completely embarrassed and humiliated by our effort in Game 3 in Los Angeles."
"I remember Kevin, we're going out to stretch for practice the next day, and Kevin saying, 'We've gotta take guys out. We gotta make some hard fouls.' And I said, 'Kevin, I get booed in every arena because I take hard fouls. Why don't you foul somebody hard one time?'"

Danny Ainge on Kevin McHale
That's what McHale did. With Rambis heading in for a layup on a fast break in the third quarter and his team ahead 76-70, McHale took him down. He clotheslined Rambis in a play that would have resulted in an immediate ejection and suspension today.
Although the benches cleared, McHale wasn't tossed from the game. A technical foul wasn't even called. That play, however, ignited a spark with the Celtics and changed the course of the game.
McHale and the Celtics went on to win Game 4 in overtime
The Celtics overcame a 10-point halftime deficit by outscoring the Lakers 30-22 in the third quarter and 25-23 in the fourth. For the second time in three games, they went to overtime. Boston won the extra session, 16-12, and somehow headed back to Boston with the series tied at two games apiece.
After the Celtics won Game 5 in Boston, the Lakers gave the Celtics a dose of their own medicine in Game 6. James Worthy shoved Cedric Maxwell from behind as Maxwell went in for an uncontested layup, gaining some revenge for McHale's Game 4 clothesline. Again, benches cleared as the series got even hotter.
Maxwell took the shove personally and told his teammates to jump on his back for a winner-take-all Game 7. Maxwell didn't disappoint. He led the Celtics with 24 points. He also added eight rebounds in Boston's series-clinching, 111-102 victory.
Nearly four decades later, Rambis still isn't happy with McHale's foul.
"You know, I would probably be in jail right now if I had been able to do what I wanted to do after he upended me," Rambis said last September on former teammate Michael Cooper's Showtime With Coop podcast. "I was going after him. If you watch the tape, I'm headed right toward him. Worthy pushes me into the reporters, and I end up falling down. Larry Bird ends up helping me up.
"It's just something you don't do in basketball, so I was going after blood. If I had a clear path, I was going after him, so I may have gotten in a lot of trouble."
McHale said he had one regret about the incident.
"My only regret, honestly, is that it wasn't Worthy or Magic (Johnson) or someone better," McHale said on The Cedric Maxwell Podcast last year. "It just happened to be Kurt Rambis. I was just like, no layups. Whatever happens, there's not going to be a layup."
Like Sportscasting on Facebook. Follow us on Twitter @sportscasting19 and subscribe to our YouTube channel.