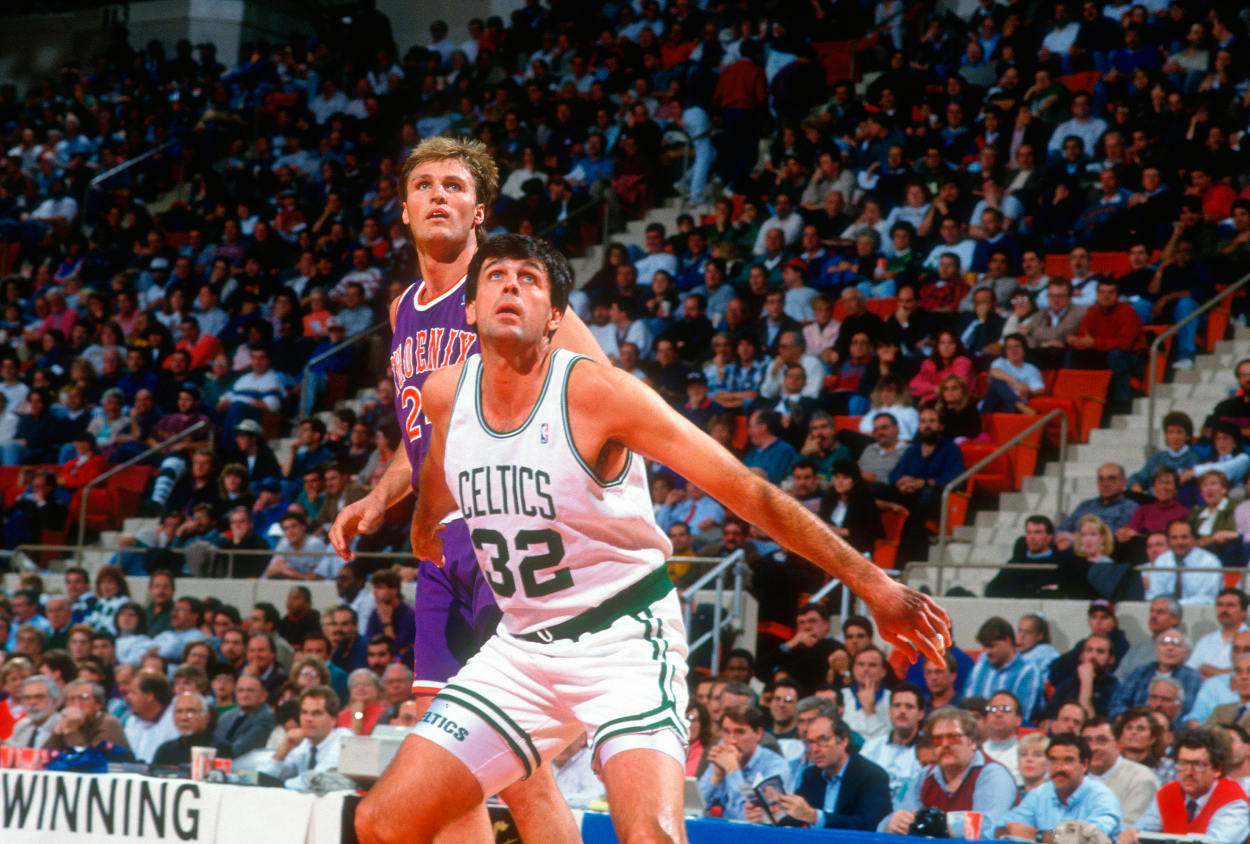 Kevin McHale Says He Has Only 1 Regret About Clotheslining Kurt Rambis
More than 37 years later, members of the Boston Celtics are still talking about Kevin McHale's clotheslining of Kurt Rambis.
The Boston Celtics were sick of the Los Angeles Lakers and their fast-break baskets. Those run-and-gun Lakers were doing a number on the Celtics during the 1984 NBA Finals. Boston had had enough.
After getting blown out in Game 3 and finding themselves trailing 2-1 in the series, the Celtics were borderline desperate. They talked about not giving the Lakers any easy baskets in Game 4, and Kevin McHale heard the message loud and clear.
With his team trailing by six points in the third quarter, McHale did the dirty work. He infamously clotheslined Kurt Rambis, who was on the front end of a fast break. Benches cleared, the crowd booed, and momentum turned. The Celtics went on to win the game and tie the series. Thirty-seven years later, McHale said he has only one regret from that play.
Kevin McHale led the Boston Celtics to a Game 4 comeback with his play on Kurt Rambis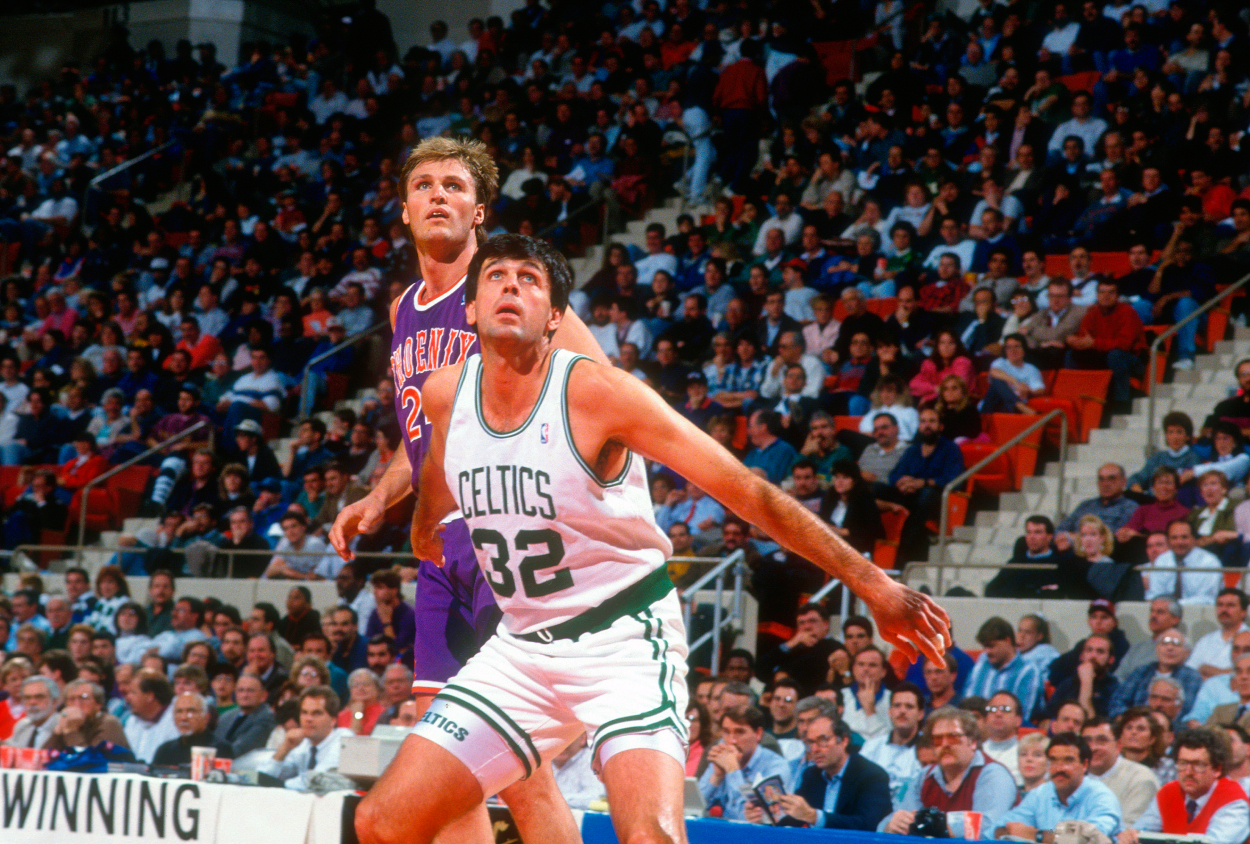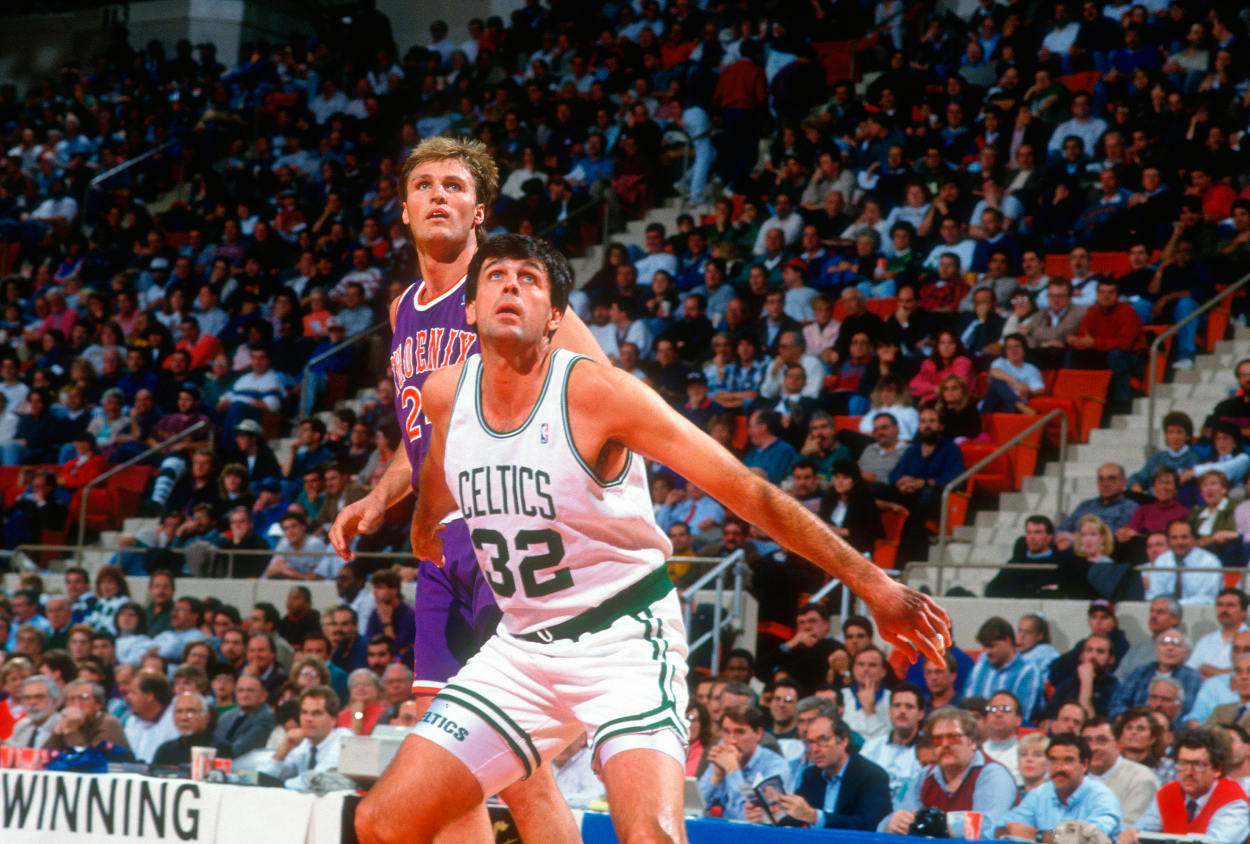 Larry Bird blasted his team when the Lakers cruised to a 137-104 victory in Game 3 after splitting the first two games in Boston. He called the Celtics soft and said they were "sissies" during his postgame interview.
"I remember Larry saying something to the media about how soft the team is," former Celtics guard Danny Ainge said during the Locked On Celtics podcast in 2020. "But every single person that was watching that film was completely embarrassed and humiliated by our effort in Game 3 in Los Angeles."
Ainge called the play "inspirational." He said it helped motivate the team, mainly because McHale isn't the guy you'd think would take down a player in that manner.
"The fact that it was Kevin who took Rambis down with a clothesline, in my opinion, I think was even way more exciting than if Larry had done it," Ainge said. "And the fact that Kevin had done that, that was exciting for his teammates.
"That was inspirational play for us to see Kevin, like, 'Wow, that's what we're talking about. You talked the talk, now you did it.' I loved that. That was one of my favorite Kevin plays ever."
Kevin McHale said he had only one regret from that play
During a 2021 appearance on The Cedric Maxwell Podcast, McHale and Maxwell relived that moment. Both were members of the Celtics then. McHale said he remembered head coach K.C. Jones being upset with his team for giving up too many easy baskets.
Maxwell recalled the practice after the Game 3 loss and said McHale, as great a player as he was, will always be remembered as the guy who clotheslined Rambis.
"We had a practice before that where we said nobody was going to get any layups," Maxwell said. "Of all the guys on that team, (McHale) was the last guy I expected to go ham and clothesline the dude coming into the lane. It galvanized us as a team. OK, Laker fans, Laker team, you want to kick ass and take names? Let's fight."
McHale also recalled the previous day's practice.
"Yeah, we had the practice," McHale said. "K.C. kept on saying I'm tired of layups. It just kept going over and over again. Of course, they started off the game doing what they always do, running up and down.
"My only regret, honestly, is that it wasn't (James) Worthy or Magic (Johnson) or someone better. It just happened to be Kurt Rambis. I was just like, no layups. Whatever happens, there's not going to be a layup.
"Normally, you and I, Max, we were pretty good defenders. We made plays on the ball a lot. We'd try to slap it or challenge it up top or get our body in the way. I wasn't making a play on the ball. I was like, screw it."
McHale's play led to an intense seven-game series
Despite the rough play on Rambis, nothing happened to McHale. He remained in the game, and Rambis went to the foul line to shoot his free throws. That, however, wasn't the extent of the intense play.
"What people forget to realize is that maybe five minutes later, Larry and Kareem are going nose to nose," McHale said. "They're screaming at each other, mf-ing each other left and right. I was like, OK, we've got something going on here."
Through the four games, the Celtics were completely outplayed. In Game 2, they needed a Gerald Henderson steal in the waning seconds to send the game in overtime. Despite that, it was 2-2 heading back to Boston.
The Celtics took care of business in the fifth game, winning 121-103, but then fell in LA in Game 6, sending it back to Boston for a winner-take-all Game 7.
The Celtics closed things out, winning 111-102.
McHale admitted they didn't play all that well early in the series, but he said the difference was in the offensive rebounding.
"We didn't play well in those games, but we offensive rebounded the hell out of the ball," he said. "We kind of just imposed our will on them. Didn't shoot the ball well, but we were just throwing it up there and getting it and throwing it up there and getting it. We won that series just because we were better on the boards."
That clothesline played a pretty big role as well.