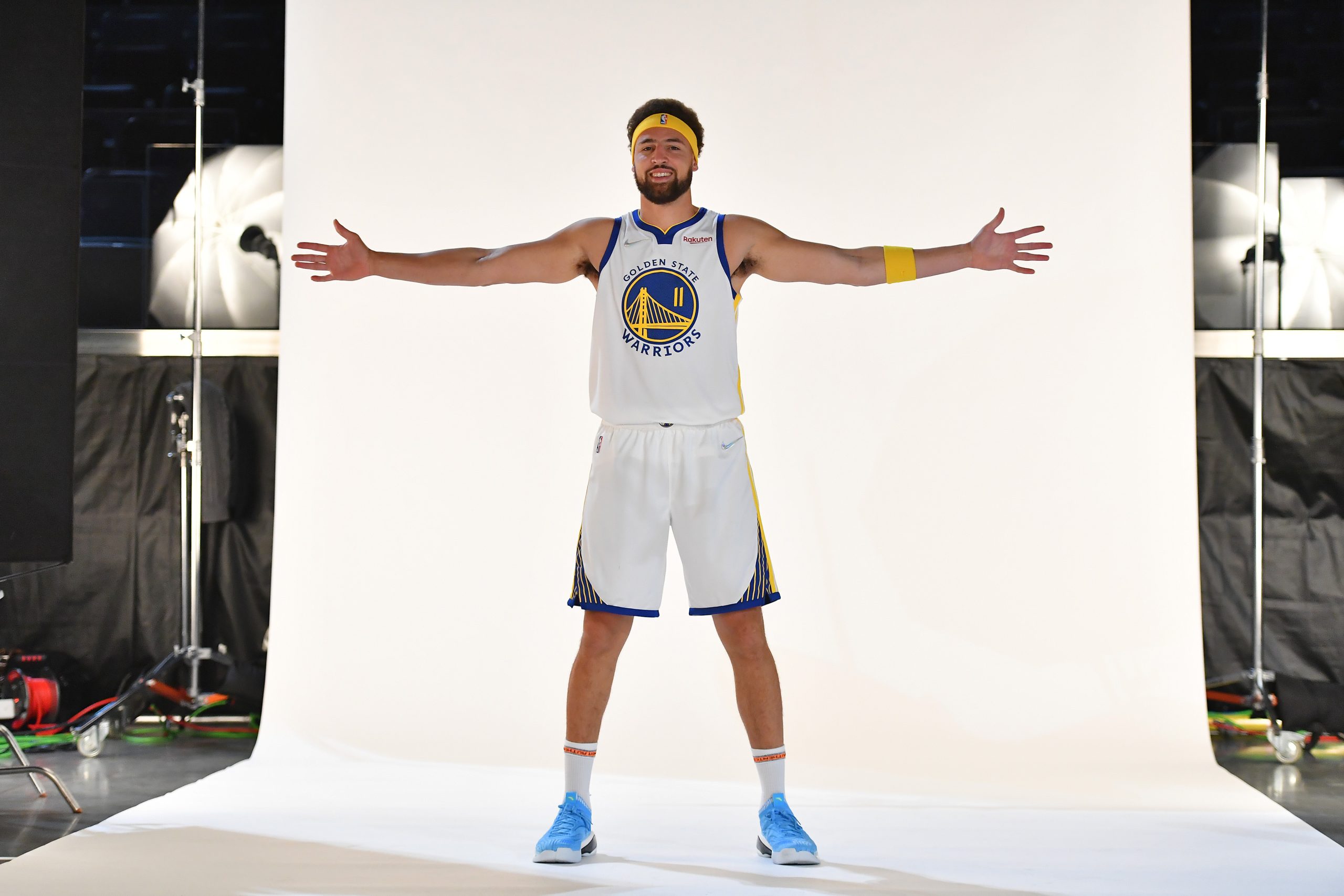 Klay Thompson Reveals What Pumps Him up About This NBA Season: 'I've Thought About That Moment for 2 Years'
Klay Thompson recently revealed what excites him the most about the upcoming NBA season.
Klay Thompson has been itching to put on that Golden State Warriors jersey once again. He did so Monday during his team's Media Day session and said it felt good. He knows it's not the same as it will be when he finally gets back on the court after being the model of bad luck.
Thompson hasn't played since the 2019 postseason after suffering through two different season-ending injuries. He's hopeful to return to the court around early December and recently revealed what really pumps him up about this year.
Klay Thompson hoping to return early this season after a pair of devastating injuries
For the last two years, Thompson has been the poster boy for bad luck. Ever since that frightening Game 6 of the 2019 NBA Finals, he's been itching to get back on the court.
Thompson missed Game 3 of that series against the Toronto Raptors with a hamstring strain. He returned in Game 4, but Game 6 was when the devastation began. Thompson poured in 30 points and pulled down five rebounds by the midway point of the third quarter before going down with a knee injury.
The knee injury turned into an ACL tear that kept Thompson sidelined for the 2019-20 season. After rehabbing his way back into shape, Thompson suffered a torn Achilles during a workout in November 2020, forcing him to miss the entire 2020-21 season.
Dressed in his Warriors jersey at Monday's media day, Thompson said he's excited to see some light at the end of the tunnel.
"It feels great to put this jersey on," he said to reporters during the Golden State Warriors' Media Day. "And it feels great to be on the court, even better to be on the court. Incredible, absolutely incredible."
Klay Thompson looking forward to reaching that moment he's been thinking about for two years
There's no date set in stone for Thompson's return, but he's hoping to be back on the court early in the 2021-22 season.
"I don't have a set date, but I don't anticipate anything before 12 months (from date of injury)," he said. "That's at least until late November, early December. It's kind of just a feel thing. There's a lot of conditioning I have to do, but there is an endpoint, and that's what excites me. The worst is far, far behind me."
One reporter said head coach Steve Kerr said someone had already come up to him and said Thompson needs to make his return at a home game. Thompson admitted playing in front of that home crowd is what he's been looking forward to most.
"Oh yeah," he said. "I've thought about that moment for two years. I really miss basketball. I miss playing for the Warriors in front of our great fans. Yeah, I would be lying to you if I said I didn't think about that. I think about it every day. I get a little nervous thinking about it, but it's going to be special. It's going to be a great night."
For Thompson, it's been baby steps to get to this point
During the Warriors' Media Day session, Thompson showed he's in great shape, and he also showed he could move around pretty well. He's excited but knows it's not quite the same as what he needs to do on the court.
"It's one thing, but it's another thing to be able to do it in an NBA game with the best athletes in the world," he said. "But I'm excited. My goodness, just to be able to walk around, run, and jump again. You take that for granted when you go through the injuries I have.
"I'm just excited to be able to play with the team tomorrow and get up and down. That's going to be a fun day."
For two years, his patience has been tested.
"You've got to be patient with your body," he said. "Your mind knows you can do things you've always been used to doing, but sometimes the human body can snap a ligament or two. That rehab process is a long one. You've got to be like water and let that frustration roll off your back."