Steph Curry Appears Cool, Calm, and Collected, but That All Changed With His Encounter With Danica Patrick and Annika Sorenstam
Steph Curry usually seems calm and confident, but that wasn't the case when he came face to face with Danica Patrick and Annika Sorenstam.
Stephen Curry blossomed into an NBA MVP after beginning his college career in relative obscurity. Through it all, he seemingly was the same — unnerved. Considered one of the greatest shooters ever to lace 'em up, the Golden State Warriors All-Star guard has never shown he was flustered on the basketball court.
Off the court, however, there was one incident that tells a different story. At least on one occasion, Curry wasn't so smooth. That happened during a brief encounter with Danica Patrick and Annika Sorenstam when he was a college star at Davidson.
Steph Curry found a way to overcome the nerves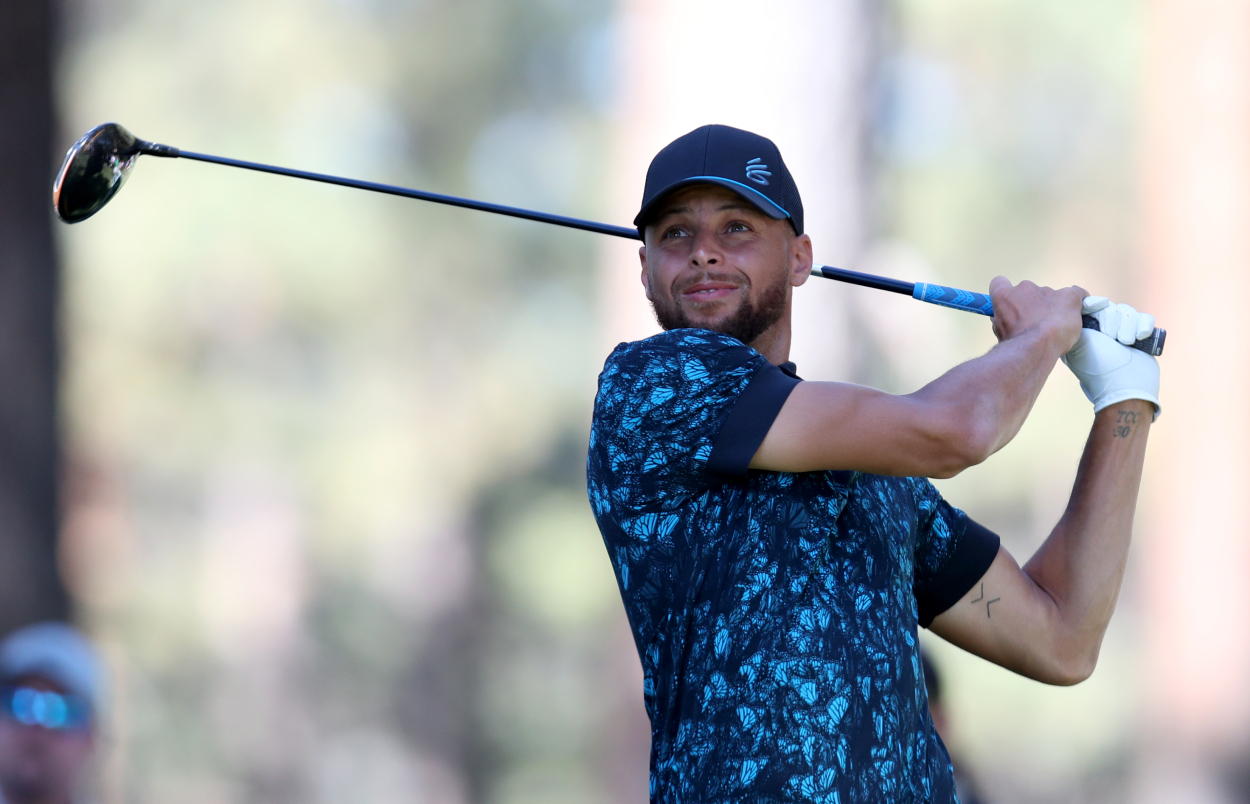 Through his college and professional basketball years, Curry has proved to have ice in his veins. That's not always true. Like many athletes, the Warriors star gets those little butterflies in his stomach prior to his games.
"It's an uneasy feeling," Curry said to ESPN in 2019. "And it happens fast. It's not a steady progression. I experience it when I'm in the locker room, preparing to get locked in for a big game. Because it matters so much. It's cliché, but if you aren't nervous, it doesn't matter enough to you."
Curry was given some advice by Keith Smart, a former Warriors assistant coach. Smart saw Curry had a quivering leg early in his career as he sat on the bench. Smart told him to consciously tense his muscles, hold it, and then release the tension.
"It was almost like a nervous twitch," Curry said of his shaking leg. "You start with every muscle you think you can control in a neutral position, and then when you tighten them, I think your body thinks, 'Well, this is as stressed as your body can be.' So when you let all that go, maybe that's how the endorphins kick in.
"I don't know if it was based on science or something (Smart) actually did as a player, but it worked."
Steph Curry saw his nerves hit a high in an elevator with Danica Patrick and Annika Sorenstam
If he's nervous, Curry has a great way of hiding it. He's clutch, smooth, and fluid all at once. He's won three NBA titles and has been named the league's MVP twice. Curry knows pressure, except when he's star-struck.
That all happened when he was making a name for himself at the college level. As a sophomore, he guided Davidson to the Elite Eight. He became only the fourth player to score 30 or more points in his first four NCAA tournament games. Curry was nominated for an ESPY Award for Breakthrough Player of the Year.
The night of those ESPYs, Curry became flustered. Motorsports pioneer Danica Patrick and women's golf star Annika Sorenstam were all dolled up for the awards and stepped into the elevator with Curry, who completely melted. Patrick and Sorenstam recognized the Davidson star and said hello. That's when the nerves really kicked in.
"Here are two great-looking ladies I'd seen on TV," Curry said, according to Sports Illustrated back in 2008. "But I started stuttering because I was all nervous. My dad was laughing at me."
Curry said he's 'not afraid of anything' on the court
Curry has always had swagger and confidence on the basketball court. It likely stems from all the time he spent with his father, former NBA sharpshooter Dell Curry. During an interview with Business Insider in 2016, Curry stated he's never one to lack confidence with a basketball in hand.
"On the court, I'm not afraid of anything," he said. "I try to have confidence and have a belief in myself. The only thing I'm probably afraid of is having too many turnovers.
"I have a bet with my mom that involves a little money, and if I have too many turnovers, she gets in my pocket. I'm afraid of that for sure."
Maybe Curry should've had a basketball in hand during that elevator ride with Patrick and Sorenstam.