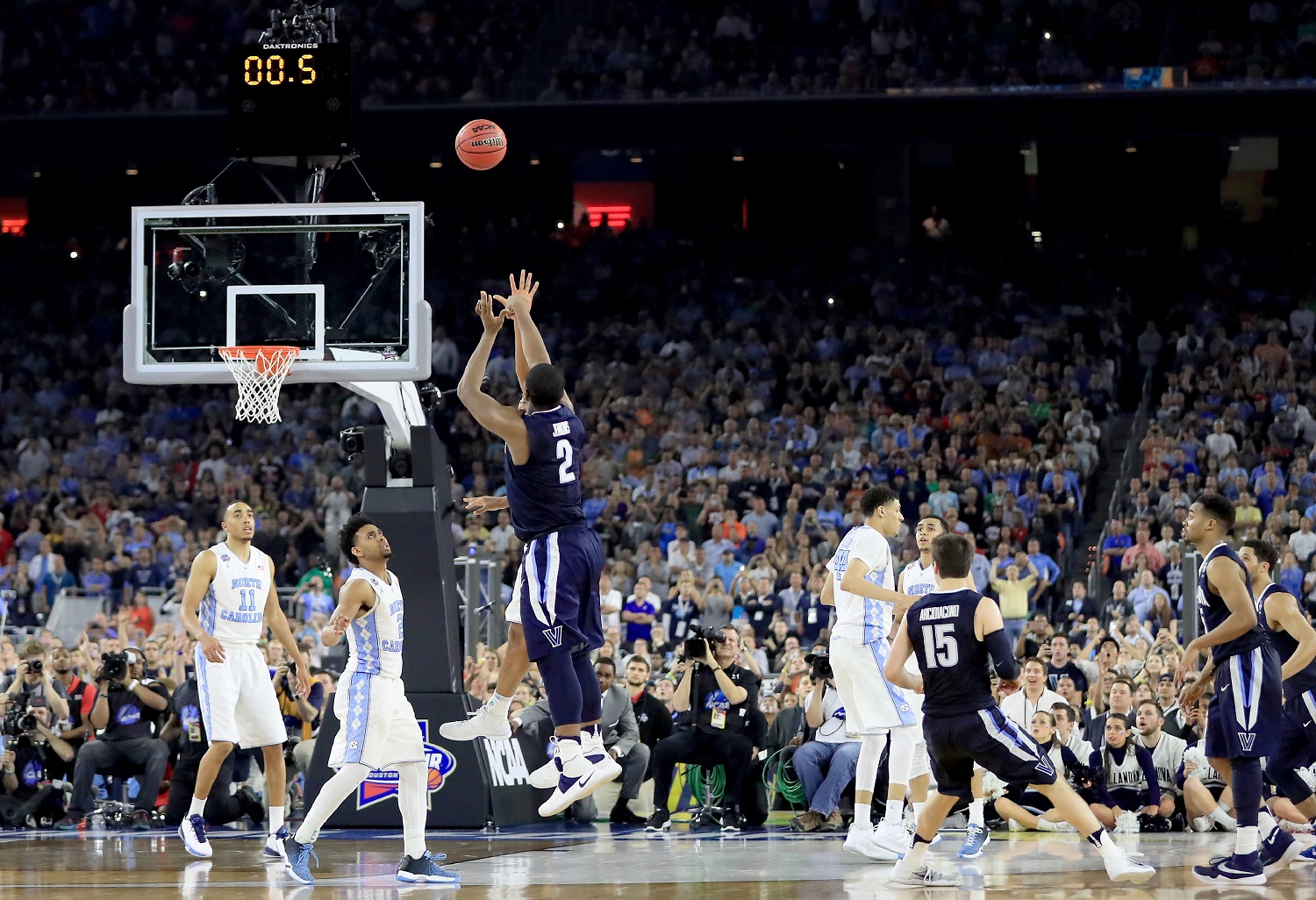 The 5 Buzzer-Beaters in NCAA Tournament Championship Game History
Kris Jenkins' 3-pointer for Villanova against North Carolina in 2016 was the fifth and most recent buzzer-beater in an NCAA Tournament final.
Shortly before midnight ET on Monday, CBS will roll the tape on One Shining Moment, its trademark wrap-up tribute to the NCAA Tournament. If the college basketball gods are in a generous mood, the montage will come minutes after another shining moment – a buzzer-beating bucket to decide an exciting final between Baylor and Gonzaga.
Regrettably, it seldom works that way. The tournament dates to 1939, but only five championship games have ended with buzzer-beating baskets. Interestingly, only one of them saved a team from defeat; the four other game-winners broke ties.
Here's the rundown of the last-second heroics:
Herb Wilkinson, Utah vs. Dartmouth, 1944 NCAA Tournament
Dartmouth was essentially an all-star team of New York City players thrown together at the Ivy League school as part of the Navy's special officer-training program during World War II. But Utah was not intimidated inside Madison Square Garden even after Dartmouth's Dick McGuire forced overtime with a one-handed shot from midcourt.
With the score tied at 40, Herb Wilkinson, a freshman forward out of Salt Lake City, took a pass from Bob Lewis and lofted a 20-foot shot with three seconds left in the extra period.
The game proved to be Wilkinson's last official appearance for Utah. According to The Daily News in New York, Wilkinson followed his brother to Iowa to study dentistry and became a three-time All-American for the Hawkeyes before going on to play for the Minneapolis Lakers.
Vic Rouse, Loyola Chicago vs. Cincinnati, 1963 NCAA Tournament
Vic Rouse was a junior honor student taking an oversized course load during Loyola's championship season, and he went on to earn three master's degrees and a doctorate before embarking on a successful business career.
Rouse played a stellar championship game, finishing with 15 points and 12 rebounds. The 6-foot-7 forward rebounded a miss by Les Hunter for the put-back in overtime that capped a rally from 15 points down midway through the second half and ended Cincinnati's two-year title reign.
"It was really fitting that Vic hit the winning shot," Loyola All-American Jerry Harkness told the Chicago Tribune following Rouse's death in 1999. "He worked so hard on the court and in the classroom. He did our dirty work and was our unsung hero."
Lorenzo Charles, North Carolina State vs. Houston, 1983
In one of the last NCAA Tournament championship games before the introduction of the shot clock, North Carolina State was holding precariously for one shot in a sequence that began with 44 seconds left on the clock and the score tied at 52.
The whole sequence was awkward as NC State struggled to set up its final shot against a trapping defense, and Houston's Clyde Drexler nearly recorded a steal with just over 10 seconds to go. With the Wolfpack out of sync, Derrick Whittenburg uncorked a wild launch from 35 feet out with :04 showing.
Whittenburg's shot turned out to be an airball, but Lorenzo Charles caught it in front of the basket and dunked home the winner, triggering the wild celebration made memorable by coach Jim Valvano excitedly running around looking for someone to hug.
Keith Smart, Indiana vs. Syracuse, 1987
Of the five last-second heroes, junior-college transfer Keith Smart's bit of work proved to be the most clutch because his was the only shot that wiped out a deficit. Indiana trailed Syracuse by a point when Smart became a Hoosiers legend.
Indiana had been favored after eliminating powerful UNLV two days earlier in the NCAA Tournament semifinals, but Syracuse led 73-70 until Smart hit a jumper with 32 seconds left. The Orange's Derrick Coleman missed the front end of a 1-and-1, setting the stage for the last two of Smart's 21 points.
Smart and Steve Alford worked the clock down to 10 seconds, at which time Smart drove to his left and dumped the ball off to Daryl Thomas down low. Thomas kicked it back to Smart, whose 16-foot jumper dropped softly through the basket as he staggered over the baseline.
Kris Jenkins, Villanova vs. North Carolina, 2016
Marcus Paige had seemingly just saved the North Carolina season by burying a 3-pointer that forged a 74-74 tie with 4.7 seconds left when Ryan Arcidiacono and Kris Jenkins (14 points) decided otherwise.
Following a timeout, Arcidiacono raced the ball down the bench sideline, pulled up a step short of the top of the key, and pitched back to Jenkins, who let loose with a 25-footer just before the clock reached zero. The ball scraped the back of the rim but went down cleanly for the NCAA Tournament Championship.
Like Sportscasting on Facebook. Follow us on Twitter @sportscasting19.