The Gonzaga Bulldogs Have an NCAA Legend Rooting for Them to Complete Their Undefeated Season
While it isn't easy to win any championship, claiming an NCAA Tournament title is a unique challenge. Part of the thrill of March Madness is that it's a single-elimination tournament, meaning a single slip can end your season. Gonzaga, however, is trying to do something even more impressive: win the title as an undefeated team.
If Gonzaga can earn the win on Monday night, they'll earn a place in history as an undefeated NCAA champion. While there will be plenty of fans cheering them on, there'll be at least one famous supporter in their corner: Bob Knight.
The Gonzaga Bulldogs have been undefeated since February 2020
Over the past year, the entire world—sports included—has been turned upside down. Gonzaga's men's basketball team, however, has been remarkably consistent.
On February 22, 2020, Gonzaga headed to Provo for a date with BYU. The Bulldogs lost that evening, falling 91-78. While that defeat stung, it also proved to be a turning point; Mark Few's men haven't lost a game since.
Although there wasn't a 2020 NCAA Tournament, Gonzaga picked up where they left off in 2021. They ran the table in the regular season, finishing the year as the top team in both the AP and Coaches poll; the team then claimed the WCC Tournament title and entered March Madness the top overall seed.
Thanks to some late-game heroics against UCLA, Gonzaga has advanced to the NCAA Championship game. They'll meet Baylor on Monday, April 5, with a chance to write their name in the history books.
Seven NCAA basketball teams have gone undefeated, including Bob Knight's Indiana Hoosiers
Going undefeated for an entire season and winning the national championship is a pretty impressive feat. Even if Gonzaga manages to pull it off, though, they won't be the first team to do so in NCAA history.
As laid out on NCAA.com, seven teams have run the table and produced a perfect season. Bill Russell's San Francisco Dons went 29-0 en route to the 1959 NCAA title; the following season, the University of North Carolina posted a perfect 32-0 record.
After that, John Wooden's UCLA Bruins took over the college basketball scene. The program produced four undefeated seasons between 1963 and 1973, earning their place in NCAA lore.
During the 1975-76 campaign, Bob Knight's Indiana Hoosiers went 32-0 and claimed the NCAA title; since then, no team has been able to run the table and complete a perfect season.
Bob Knight would be rooting for Gonzaga to complete their perfect season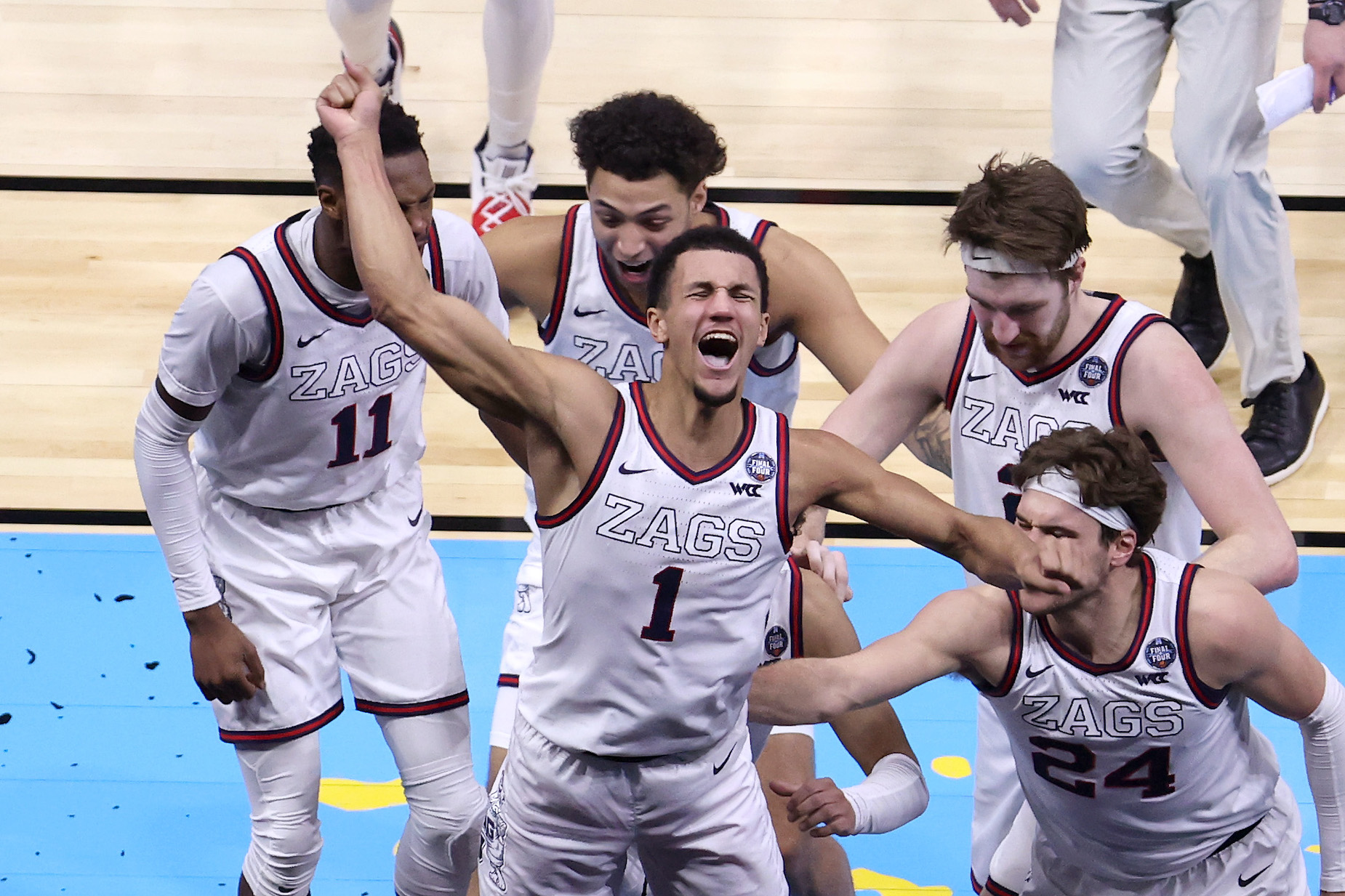 When Gonzaga hits the hardwood on Monday night, they'll be playing for both an NCAA title and their perfect season. While victory is far from a forgone conclusion—no game in March Madness is guaranteed, let alone the final—the Bulldogs will have a big-time college basketball name in their corner.
As mentioned above, Bob Knight was at the helm of the last team to run the table in men's Division 1 basketball. While you'd be excused for thinking the coach will be hoping Gonzaga falls short—the 1972 Miami Dolphins pop champagne once every NFL team has lost in a given season—he'll be hoping that Mark Few and Gonzaga join him in the history book.
According to Knight's son, Pat, the veteran coach has "bonded" with Few over the years and "has enjoyed" watching Gonzaga play. "That's the sad thing," Pat told Yahoo Sports. "If he wasn't 80 and having the effects of old age, he'd be rooting for Few."
Thus far, only seven teams have managed to complete an undefeated season and win an NCAA Championship without losing a single game. Can the Gonzaga Bulldogs become the eighth? At this point, we'll just have to wait and see what happens.