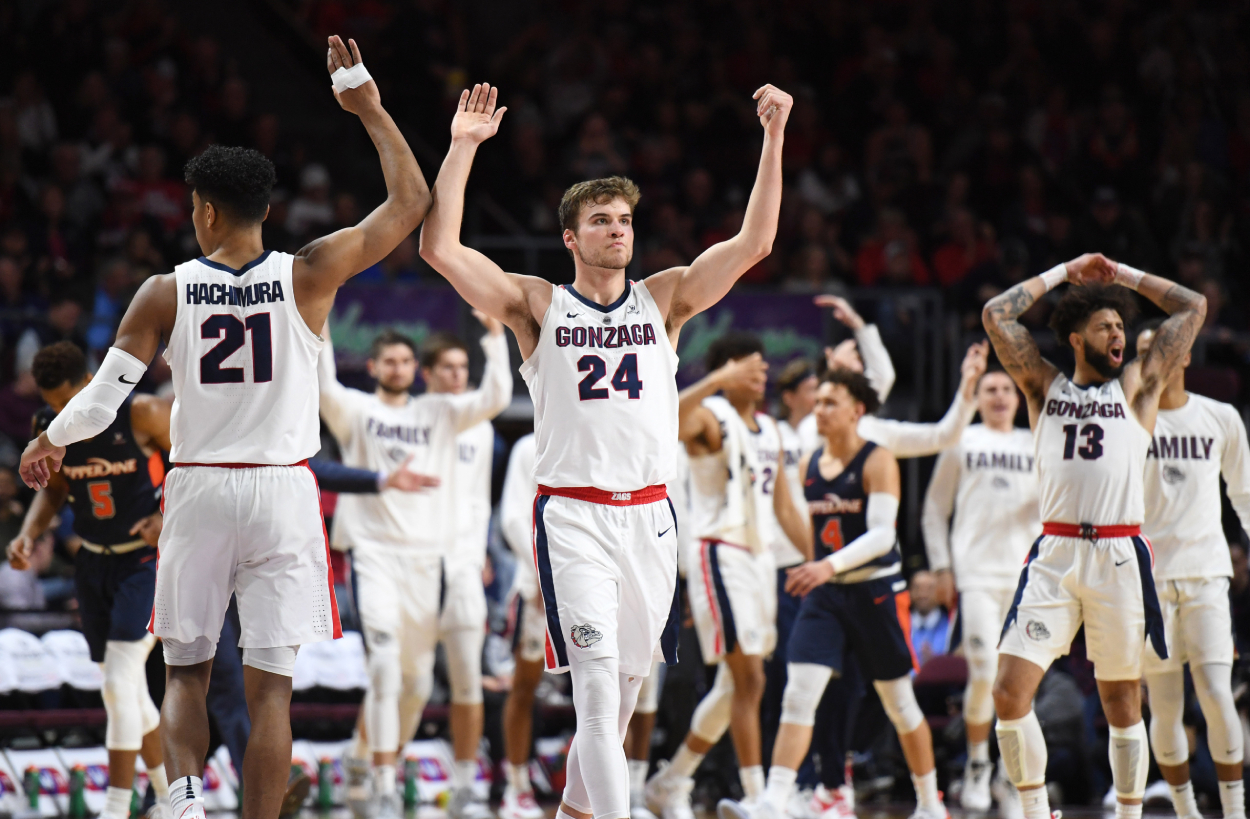 How Did Gonzaga University Get Its Name and Who Is It Named After?
Gonzaga University's men's basketball team is always one of the top college basketball teams in the country. The Bulldogs are consistently a threat to go on a deep run in March Madness. So, how did the school get its name?
For the past 20 years, Gonzaga University's men's basketball team has been one of the country's more dominant programs. The Bulldogs are pretty much always one of college basketball's top-ranked teams and always in the NCAA Tournament. However, Gonzaga's name is not a typical name when compared to other schools. It's not like Michigan State University, Ohio State University, or the University of North Carolina. It doesn't have a city's name in it, either. So, how did Gonzaga University get its name?
How did Gonzaga University get its name?
According to Gonzaga University's site, the school classifies itself as a Jesuit, Catholic, Humanistic University.
Gonzaga, located in Spokane, Washington, is actually the only Jesuit university in the world named after the Italian Jesuit saint, St. Aloysius Gonzaga.
Father Joseph Cataldo — an Italian Jesuit himself — founded the school, previously known as Gonzaga College, in 1887, and he chose to name it after his fellow Jesuit and Italian, St. Aloysius.
The Gonzaga name is a well-known name in Italy, and Aloysius Gonzaga was born to a wealthy family near Mantua, Italy, in 1568. Being that he was his mother and father's first-born son, Aloysius was supposed to inherit his father's title, Marquis.
However, Aloysius grew up during a time in Italy that saw significant violence. He even saw the murders of his two brothers. So, in 1576, his parents sent him to Florence so he could attend the court of the Grand Duke of Tuscany. Aloysius' parents then later accompanied him when he traveled to Spain to join the court of Philip II.
While in Spain, Aloysius decided that he wanted to join the Society of Jesus. Despite his father not initially approving of his decision, Aloysius ultimately entered the newly founded religious order in Rome in 1585. This forced him to renounce his right to inherit his father's title of Marquis. He also lost the right to inherit his family's wealth.
In Rome, Aloysius regularly went onto the streets to care for plague victims. This then resulted in him contracting the disease himself, though, and he died in June 1591 at only 23 years old. He was just six years short of becoming a Jesuit priest.
Many people knew Aloysius Gonzaga for his prayer and fasting. Pope Benedict XIII later even canonized him in 1726 and ultimately declared him the patron of youth in the Catholic Church.
Now, Gonzaga University is named after Aloysius, and a statue of him stands outside a parish church that is adjacent to the university.
Gonzaga University has become a top college basketball school
Over 100 years after Father Joseph Cataldo founded the school, Gonzaga University slowly started becoming one of the more dominant men's college basketball programs in the country. It is not the only Jesuit school to have success in basketball, though. Holy Cross, Georgetown, Marquette, San Francisco, Loyola-Chicago, Creighton, Xavier, St. Joseph's, and Loyola Marymount have all had March Madness success at some point, according to Yahoo Sports.
Gonzaga did not make the tournament until 1994-95 despite having a team well before that. Since 1998-99, though, the program has been one of the best college hoops programs in America.
Not including the 2019-2020 season when the NCAA canceled the tourney due to COVID-19, Gonzaga has made it to the NCAA Tournament every season since 1998-99. All but one appearance has come with head coach Mark Few. The Bulldogs have also won 25 or more games in all but two of those seasons.
Despite its constant success, Gonzaga did not reach the Final Four until 2016-17. During that season, the Bulldogs went 37-2 and ultimately went to the national championship game. They, however, lost to the North Carolina Tar Heels.
Now, Gonzaga looks to get back to that game and win the school's first-ever national championship.
Gonzaga looks to win its first-ever men's basketball national championship
Gonzaga has arguably been the best team in the country for all of 2020-21. The Bulldogs entered the NCAA Tournament with a 26-0 record, which made them many fans' choice to go all the way in their 2021 March Madness brackets.
Some stellar players have led Gonzaga to all of their success in 2020-21, too. Corey Kispert is the team's leading scorer, with 19.3 points per game to go with 4.9 rebounds. Drew Timme is right behind him, though, with 18.4 points per game and 7.1 rebounds. Jalen Suggs is also one of the country's top freshmen, as he averages 14 points per game, 5.4 rebounds, and 4.4 assists. Gonzaga ultimately has four players who average double-digit points per game and five who average nine points or more.
Mark Few certainly has one of his best squads in 2020-21, and Gonzaga University's men's basketball team has as good a chance as any to win college basketball's 2021 national championship.
Stats courtesy of Sports Reference and ESPN