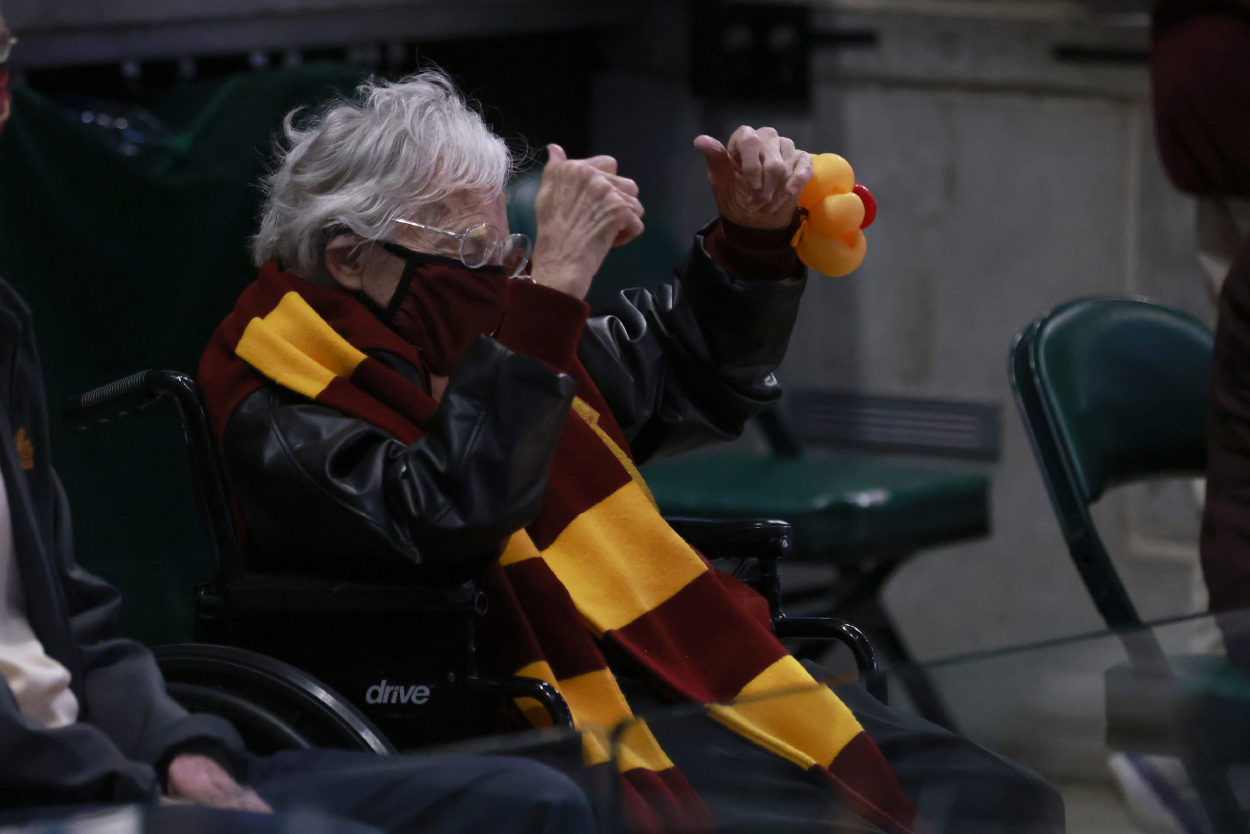 Loyola Chicago Upset Illinois? Nah, Sister Jean Called It
Sister Jean can say I told you so after Loyola Chicago defeated No. 1 Illinois on Sunday.
Sister Jean might be the only person hoping to not win a March Madness bracket. Sister Jean Dolores Schmidt, the team chaplain for the Loyola Chicago men's basketball team, has a ton of basketball knowledge. She's also a realist. She doesn't have her team winning the NCAA Tournament, but she did have the Ramblers upsetting top-seeded Illinois on Sunday.
Loyola Chicago continues its March Madness run
Three years ago, Loyola came out of nowhere. The Ramblers made some serious noise during the 2018 NCAA Tournament when they shocked the world by making a run to the Final Four. They are picking up where they left off.
The Ramblers once again proved to be bracket busters on Sunday when they convincingly defeated top-seeded Illinois 71-58 to advance to the Sweet 16. Loyola Chicago led by as many as 14 points and Illinois never got any closer than six points in the second half. Loyola had opened the tourney with a victory over No. 9 Georgia Tech.
Loyola might not be that Cinderella team from 2018, but it likely crushed some March Madness brackets. Loyola will now play either No. 4 Oklahoma State or No. 12 Oregon State.
Don't tell Sister Jean that Sunday's win was an upset
During Loyola Chicago's Cinderella run three years ago, Sister Jean became America's favorite fan. Sister Jean was a then-98-year-old nun who was always shown near the Loyola team, hugging the players and cheering them on. With every win, her popularity soared to the point where she became featured on t-shirts and was splattered all over social media.
Sister Jean has returned. She's battled through a pandemic and the 101-year-old nun has made her way to Indianapolis to get an up-close look at the Ramblers' quest for an NCAA title. Prior to the tournament, she filled out her own March Madness bracket.
Sister Jean is a basketball fan and a very knowledgeable one. She sends emails to players to critique and praise them for their performance. She picked the Ramblers to defeat Georgia Tech in the opening round and she predicted Loyola would knock off No. 1 seed Illinois.
Who does Sister Jean have defeating Loyola?
Sister Jean is obviously rooting for her Loyola Chicago team, but she clearly filled out her March Madness bracket with her head and not her heart. She does not have the Ramblers winning it all. She does, however, have them winning one more game, according to The Chicago Sun-Times.
Sister Jean had Loyola defeating Tennessee in the next round, but the Volunteers were upset in the opener. She has the Ramblers reaching the Elite Eight, but she predicted their run would end there. Her bracket has West Virginia knocking off Loyola.
Sister Jean's Final Four consists of West Virginia, Baylor, Gonzaga, and BYU. Three of the four are still alive, but BYU lost to UCLA on Saturday. For the record, Sister Jean has Gonzaga winning it all.