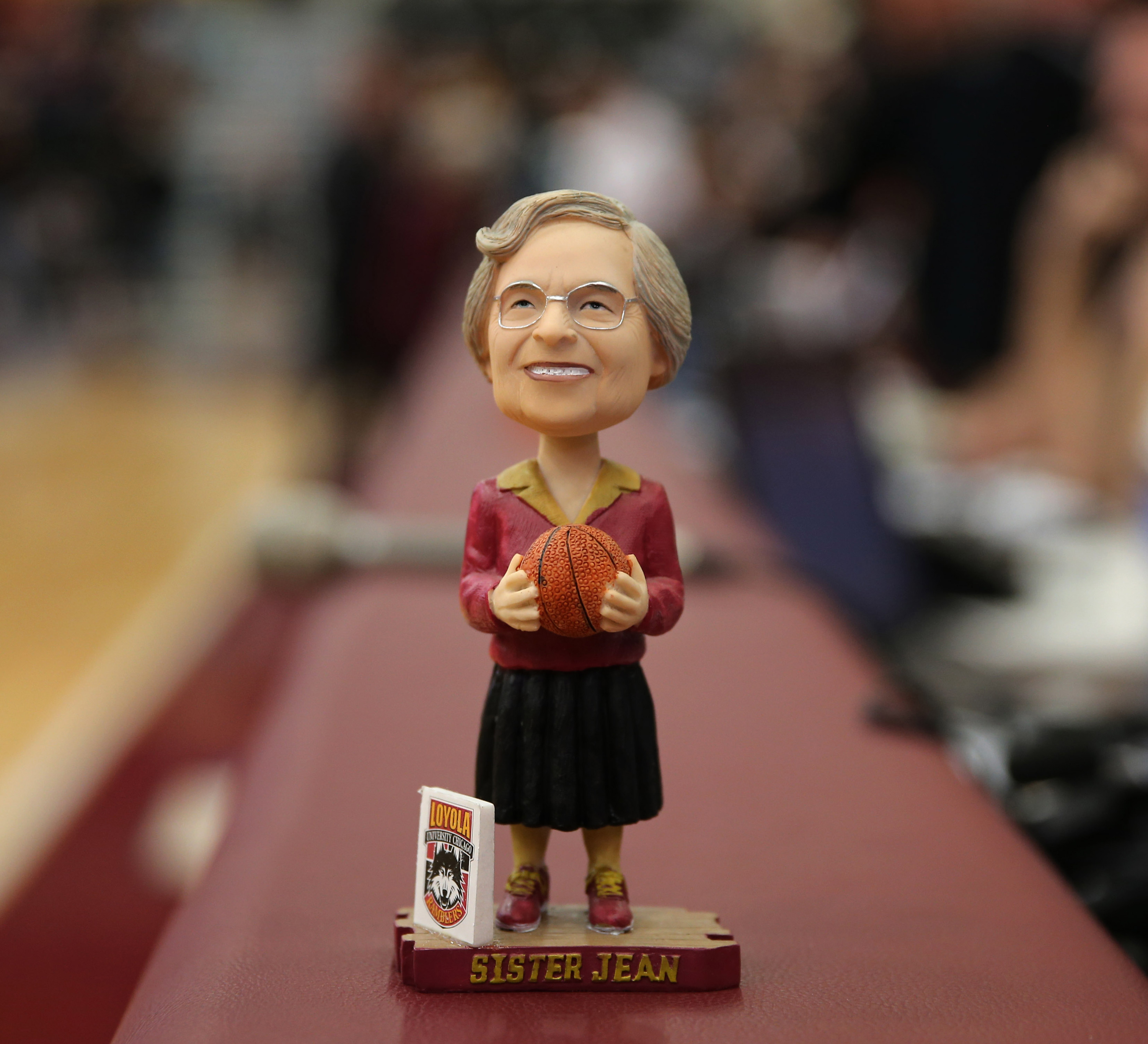 March Madness Brought Out the Michael Jordan in Sister Jean in 2018
Sister Jean was introduced to America back in 2018 when Loyola Chicago made an improbable run to the Final Four.
March Madness has a way of turning everyday people into stars. Think Bryce Drew. How about Bo Kimble? The NCAA tourney even has a way of giving non-basketball players their 15 minutes of fame. In 2018, Sister Jean Dolores Schmidt, team chaplain of Loyola Chicago, became an instant hit during the Ramblers' Cinderella run to the Final Four. In fact, March Madness brought out the Michael Jordan in Sister Jean three years ago.
March Madness has a way of setting the stage for stardom
Steph Curry played his college basketball at little-known Davidson, and as a sophomore in the 2008 NCAA tourney, Curry took advantage of the big stage and let everyone know how good he was. Davidson captured the hearts of America, rallying for wins over Gonzaga and Georgetown before blowing out Wisconsin with a monster second half.
Against Gonzaga, Curry had 40 points. He had 30 against Georgetown. In the win over Wisconsin, he had 33 and quickly became a fan favorite. "That was Steph Curry's coming-out party," teammate Jason Richards said a decade later, according to NCAA.com. "People around the basketball world knew how good Steph was, but that put him on the map, because everyone watches the NCAA Tournament. We became the darlings of that year, with Steph being our guy, our leader. He took the nation by storm, and ran with it."
Bo Kimble and Bryce Drew became college legends because of March Madness. Kimble averaged 38.2 points in the 1990 tournament and led Loyola-Marymount to the Elite Eight. Kimble is known for honoring Hank Gathers, his friend and fallen teammate, by shooting a free throw left-handed. Gathers collapsed on the court and died during the West Coast Conference Tournament. Drew became a household name in 1998 when he hit a buzzer-beater to shock Mississippi and put Valparaiso and himself on the basketball map.
Sister Jean became an instant celebrity in 2018
Many college basketball fans, including some diehards, would struggle to name a few players on the 2018 Loyola Chicago team. Loyola became America's favorite team during March Madness as the Ramblers made their way to an improbable Final Four appearance. While the players went mostly unrecognized, Loyola's biggest supporter didn't.
Sister Jean Dolores Schmidt was 98 years old in 2018 when her Loyola Ramblers shocked the NCAA tourney field and made their way to the Final Four. Sister Jean is a nun who serves as the Loyola men's basketball team chaplain. She was in the spotlight three years ago when she was featured multiple times during the school's historic run.
Sister Jean became an instant fan favorite as she hugged her players before and after the game. She was the team's biggest supporter, cheering from her wheelchair on the floor near the team bench. Sister Jean is more than just a fan. She certainly knows her basketball and now America knows Sister Jean.
The Michael Jordan in Sister Jean came out in 2018
Even when March Madness of 2018 was over, Sister Jean's popularity continued. With each step Loyola took to advance to the Final Four, Sister Jean got bigger. She found herself everywhere. Her face was splattered all over t-shirts. She had her own bobblehead dolls. Sister Jean found herself in a meme firestorm, including the ever-popular Michael Jordan crying meme.
Everyone wanted a piece of Sister Jean. According to ESPN, she gave the school permission to use her name and image as an incredible demand from licensees hit the Loyola athletic department. She didn't ask for any compensation and the money went to benefit the Loyola Athletics Fund and the Sisters of Charity of the Blessed Virgin Mary. Fanatics, a partner of Loyola, took part in the sales of Sister Jean shirts and those shirts had a hard time staying on the shelves.
There were other unlicensed shirts, including those being sold on Amazon of "Air Jean" flying through the air as "Air Jordan" does. Loyola Chicago is back in the tournament in 2021. Sister Jean is 101 years old and is itching to watch her team play again on the big state. Get ready for some more memes and shirts as Sister Jean will likely be back in the spotlight.