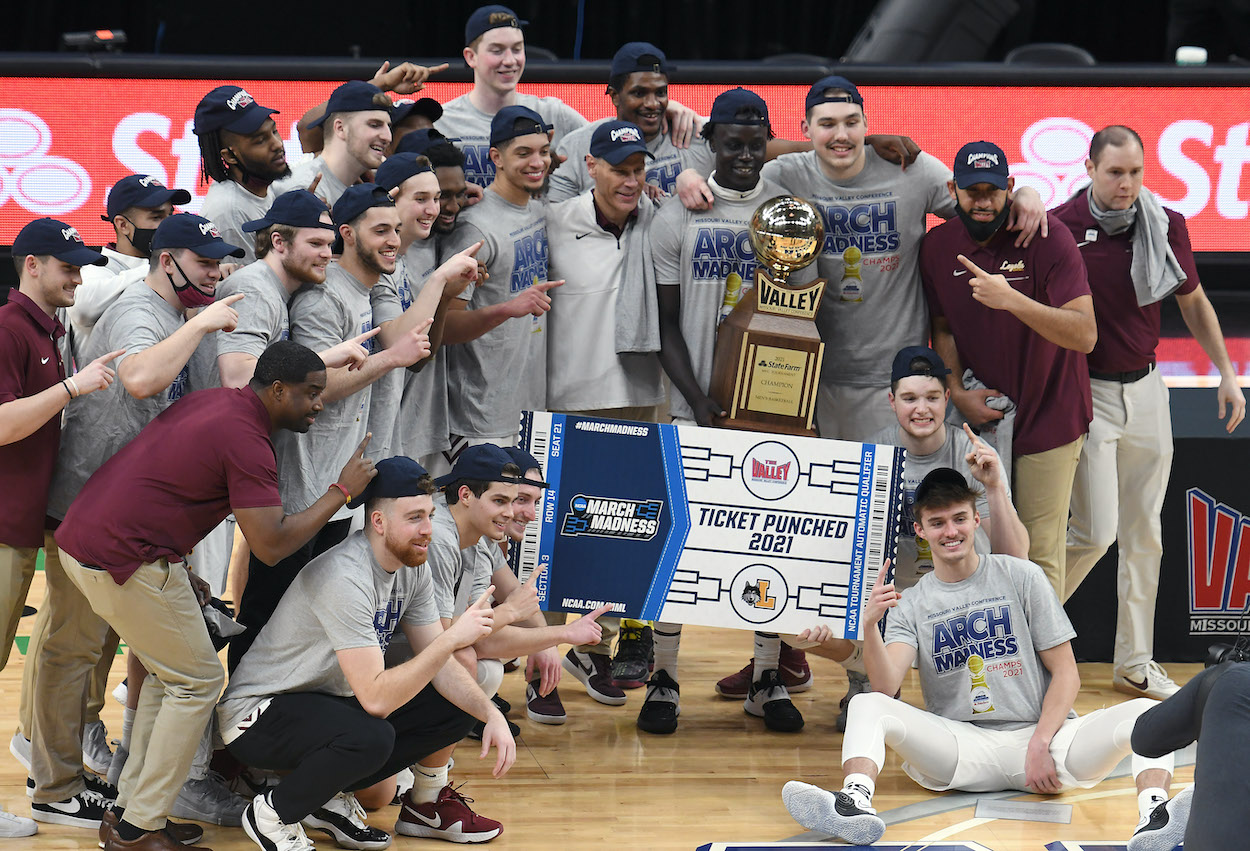 NCAA Tournament 2021: Cinderella Candidates Who Could Bust Your Bracket This March Madness
Everyone loves a Cinderella story in March Madness. Here are the four teams who have the potential to bust brackets in the NCAA Tournament.
Everyone loves a good Cinderella story in March Madness. But what's even better is predicting a Cinderella run as your friends and co-workers see their NCAA Tournament brackets go up in flames. The list of potential bracket busters is lengthy this season, so let's dig through a few of the candidates, shall we?
Loyola-Chicago
They're baaaaaack.
The Loyola-Chicago Ramblers return to the NCAA Tournament for the first time since their magical run to the Final Four in 2018. And guess what? This year's team might be even better.
Loyola enters the 2021 NCAA Tournament with the most efficient defense in the country, according to KenPom. Their offense isn't as balanced as it was in 2018, but the Ramblers shoot 50.5% from the floor as a team and only turn it over 11.9 times per game. Cameron Krutwig, who was a driving force behind the Cinderella story three years ago, paces Loyola with 15.1 points and 6.7 rebounds per game.
The only problem is the Ramblers received a brutal draw in the Midwest region. Even if it gets by ACC champ Georgia Tech, Loyola faces No. 1 seed Illinois in the round of 32. The selection committee didn't do Loyola any favors, but is anyone willing to bet against this magical team?
Ohio
If you don't follow college basketball religiously, you probably don't know much about the Ohio Bobcats. Well, you need to heading into the 2021 NCAA Tournament.
Ohio won the MAC championship this year behind NBA-ready guard Jason Preston. The talented, 6-foot-4 point guard averaged 16.6 points, 7.2 assists, and 6.8 rebounds per game this season. In November, he put up a dominant 31 points, eight assists, and six rebounds in a near-win against No. 1 seed Illinois in Champaign.
The Bobcats can really fill it up on offense. They rank 17th in the nation this year in scoring offense and have five players who average double figures. Oh, and they get a shorthanded Virginia team in the first round that could be out several players due to COVID-19, if they are even cleared to play at all. Preston will be the best player on the floor in round one and round two if Ohio makes it that far. They have Sweet 16 potential.
St. Bonaventure
St. Bonaventure is another team that's going to slip through the cracks ahead of the NCAA Tournament. Everyone is so impressed with LSU's size and athleticism that they aren't giving the A-10 champions a chance to even get out of the first round. That's a mistake.
The Bonnies are an extremely balanced, guard-heavy group that can really get after it on defense. They allow the fifth-fewest points per game in the country, and their efficiency metrics are exceptional for a No. 9 seed. St. Bonaventure ranks 25th in the nation on KenPom this season, which puts them ahead of Texas, West Virginia, Oklahoma State, and, yes, even LSU. If they can handle the Tigers' size in round one, Final Four is legitimately in reach for this group.
Beware of the Bonnies.
Liberty
Boy, did Liberty get hosed by the selection committee this year. The Flames perfectly fit the mold of a Cinderella team in 2021, but they'll have to get by future No. 1 pick Cade Cunningham and the severely under-seeded Oklahoma State Cowboys first.
Liberty can make some serious noise if they score a first-round upset. The A-Sun champs allow the third-fewest points per game in Division I and love to shoot the three. The Flames shoot 39.1% from deep as a team, and they've made the sixth-most 3-pointers in the country this season. If they get hot from beyond the arc, Liberty can make a run to the Sweet 16 and give Illinois a game.
All stats courtesy of Sports Reference