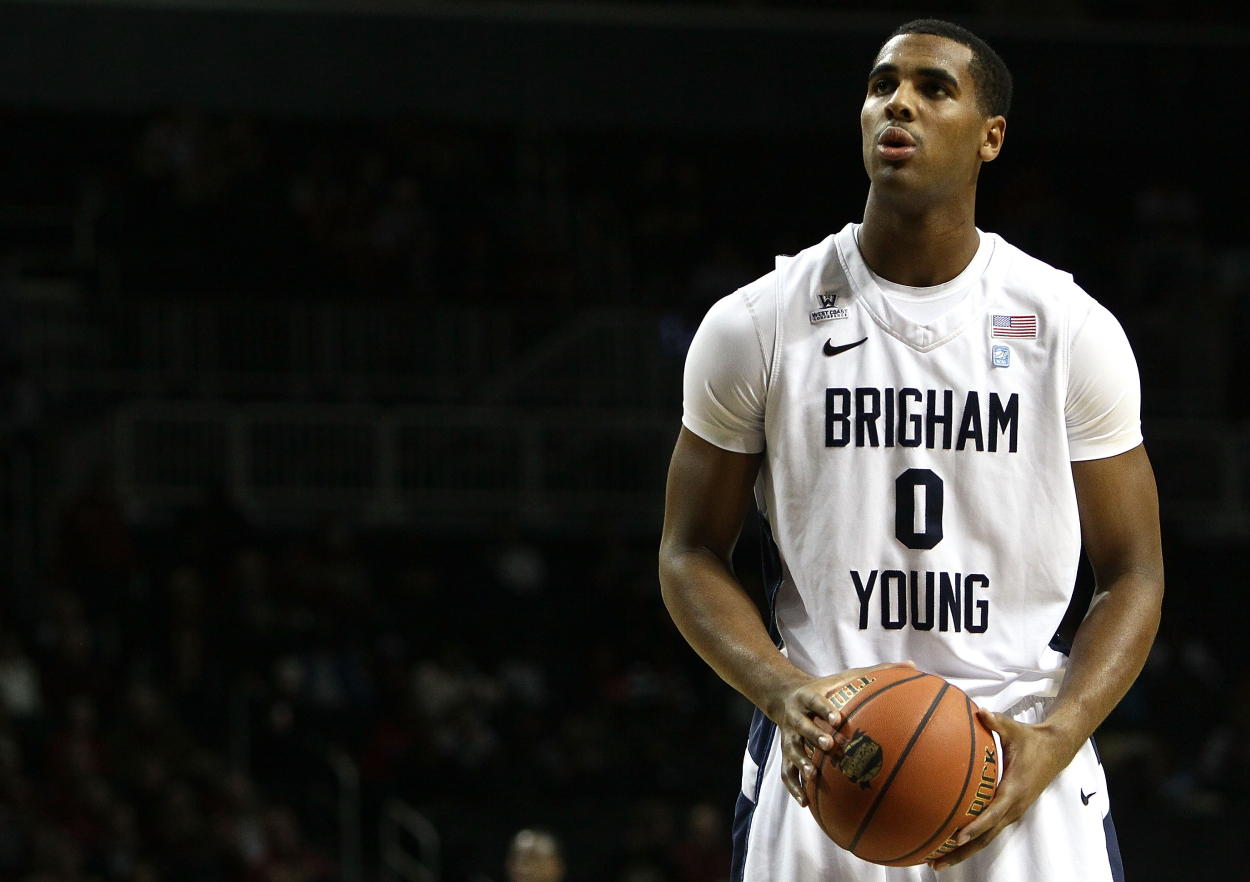 Former BYU Star Brandon Davies Potentially Cost His Team a Championship After Having Sex With his Girlfriend
Brandon Davies was a star for BYU, and the Cougars had an excellent team heading into March Madness in 2011. However, BYU suspended Davies that year after he chose to have sex with his girlfriend. The suspension potentially cost the team a championship.
The NCAA Tournament is almost here, as college basketball will soon play on nearly every television around America. With that, let's take a look back at one of the biggest "what ifs" in March Madness history. That "what if" in question is: "what if former BYU star Brandon Davies hadn't been suspended?" 
Davies was a very talented forward at BYU from 2009-10 through 2012-13, but in 2011, the school suspended him, and he missed the NCAA Tournament. So, why did he get suspended? It was for breaking the school's honor code by having sex with his girlfriend outside of marriage.
Brandon Davies and the BYU Cougars were a talented team in 2011
The BYU Cougars were one of the best teams in the country in 2010-11. They went 32-5 overall and reached the Sweet 16 before losing to Florida. 
You may remember Jimmer Fredette leading that team. He scored 28.9 points per game that year and was the AP Player of the Year. One of their other best players, though, was Brandon Davies.
Davies only averaged 5.4 points and three rebounds in 2009-10, but he became a star in 2010-11, averaging 11.1 points per game and 6.2 rebounds. He had some big games down the stretch, too, as he scored 14 points and pulled down 15 rebounds in a win over Colorado State.
However, just before the postseason, BYU suspended its star forward.
BYU suspended him before the NCAA Tournament for having sex with his girlfriend
BYU dismissed Davies from the school's basketball team in 2011 after an honor code violation. That violation was having "premarital sex with his girlfriend," according to CBS News.
CBS News reported that among the things that BYU's honor code strictly prohibits are alcohol use, beards, and premarital sex. Davies ultimately admitted to school officials that he broke the section that calls for BYU students to "live a chaste and virtuous life," according to The Salt Lake Tribune.
The Church of Jesus Christ of Latter-day Saints runs BYU.
The Salt Lake Tribune also reported Davies was "extremely remorseful" and "heartbroken" and that he apologized to his teammates.
As mentioned above, BYU lost to Florida in the Sweet 16, 83-74. It's easy to wonder how far the Cougars could have gone in the NCAA Tournament that year had Davies played.
So, what happened to Brandon Davies after 2011?
Brandon Davies continued playing at BYU and got another shot at March Madness
Davies played for BYU the next two seasons as well, and he continued to improve each season. He averaged 15.2 points per game and 7.7 rebounds in 2011-12, and his play ultimately helped the Cougars go 26-9 and reach the NCAA Tournament. They, however, lost in the second round to Marquette.
Davies also played for BYU in 2012-13 and averaged 17.7 points per game and eight rebounds. BYU missed the tourney that year, though, despite going 24-12.
In the NBA, Davies then appeared in 51 games for the Philadelphia 76ers in 2013-14. He then played in 27 games for the Sixers and Brooklyn Nets in 2014-15. He only averaged 3.7 points per game in those games.
Despite not finding success in the NBA, Brandon Davies has played well overseas. In 34 EuroLeague games for Zalgiris in 2018-19, Davies averaged 14.2 points per game and 5.5 rebounds. He has played for FC Barcelona in 2020-21 and has averaged 12 points per game in 22 EuroLeague games.
Brandon Davies went on to have a great deal of success at BYU and has continued succeeding professionally overseas. BYU fans, though, will always wonder how far their team could have gone in the 2011 NCAA Tournament had Davies played. It has become one of the biggest "what ifs" in March Madness history.
Stats courtesy of Sports Reference and Basketball Reference