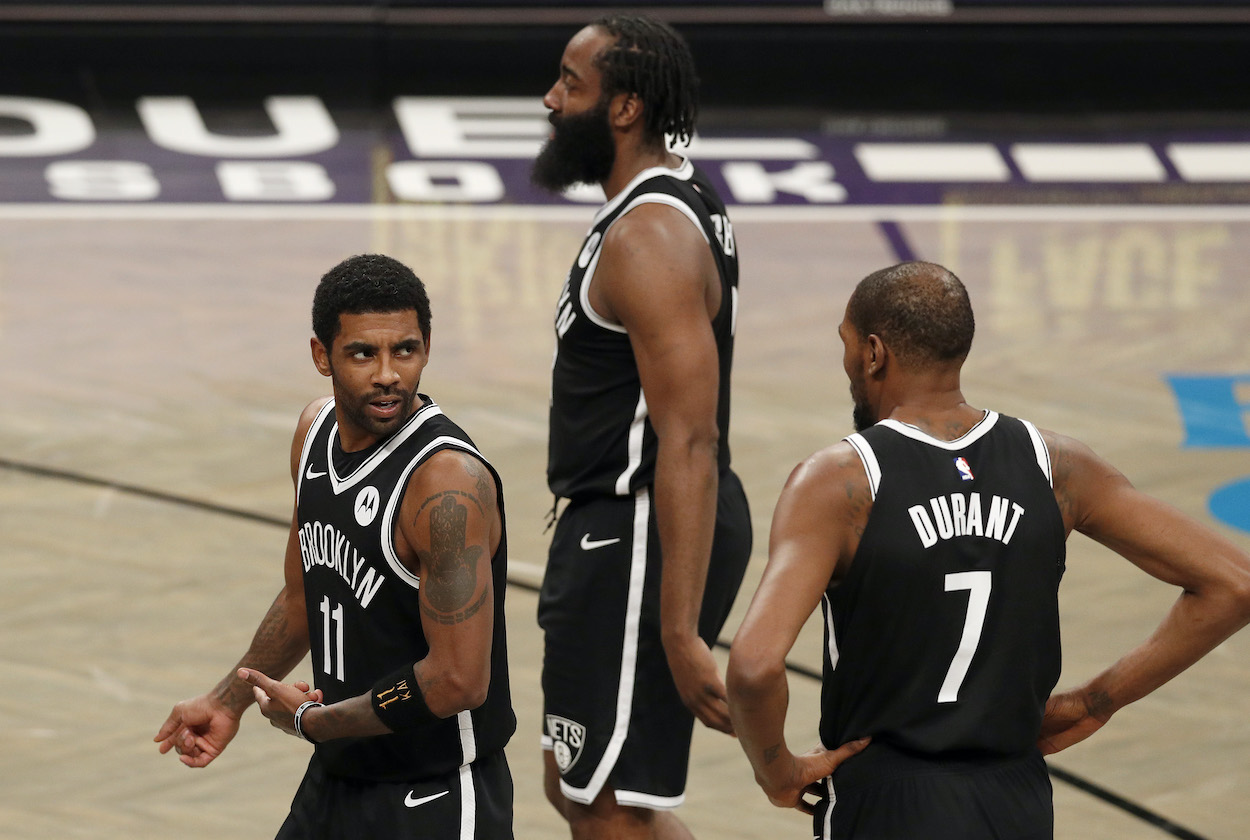 The Brooklyn Nets Have Finally Rewarded Their Big 3 With a Defensive Gift They Desperately Needed
The Brooklyn Nets can't make a deep playoff run without a defensive stopper, and they finally landed one in Andre Roberson.
The Brooklyn Nets have a defense problem.
Although Kevin Durant, Kyrie Irving, and James Harden have been unstoppable on the offensive end this season, the Nets have allowed 121.6 points per game in 16 games since putting their Big 3 together. Brooklyn is 10-6 during that stretch, but it's suffered some puzzling losses in recent weeks simply because of its atrocious defense.
The Nets desperately needed another defensive stopper in the fold if they wanted to make an NBA Finals run this year, and they just got him in Andre Roberson.
The new-look Brooklyn Nets have been a defensive nightmare
When the Nets traded for James Harden back in January, fans all over the state of New York were already raising their 2021 NBA championship banners. Brooklyn has put together a legitimate All-Star team led by Harden, Kevin Durant, and Kyrie Irving, but the franchise soon realized its master plan came with a glaring flaw.
After defeating the Orlando Magic and the Milwaukee Bucks with their new Big 3, the Nets lost to the hapless Cleveland Cavaliers twice in a row while giving up 147 and 125 points in both games. The same Cavaliers that are scoring an NBA-worst 103.9 points per game this season.
It was clear then that the superteam Nets had a serious problem. Harden, Durant, and Kyrie are fine one-on-one defenders when they want to be, but they're now responsible for so much of the offensive burden that they can't afford to expend maximum effort on defense. That has led to a historic stretch of scoring for Brooklyn's recent opponents.
Since acquiring Harden, the Nets are allowing 121.6 points per game in 16 contests. That would mark the most points allowed per game in NBA history if stretched over a full season.
The Nets give their Big 3 a defensive gift by signing Andre Roberson
Nets general manager Sean Marks made the biggest splash of the NBA season by trading for James Harden last month, but he's not finished improving Brooklyn's roster just yet. Early Tuesday morning, Shams Charania of The Athletic reported the Nets have agreed to a deal with free-agent forward Andre Roberson.
Roberson last played for the Oklahoma City Thunder in August of 2020. He's only appeared in seven games since the 2017-18 NBA season because of a plethora of injuries, but the defensive specialist is finally healthy and ready to contribute to a playoff team.
Roberson was considered one of the best all-around defenders in the league while with the Thunder. He was named to the NBA All-Defensive Second Team in 2016-17. He's a relentless on-ball defender who doesn't allow his opponent any space to breathe, and he's constantly moving and talking to his teammates away from the ball.
Roberson finally gives the Nets a lockdown perimeter defender who can give their Big 3 a much-needed break on defensive possessions.
Can Andre Roberson play crunch-time minutes for the Nets?
Andre Roberson finally gives the Nets their long-awaited defensive stopper, but is he worthy of a spot in the crunch-time lineup come playoff time? That answer might be no.
Although Roberson excels on the defensive end, he's a major liability on offense. The former Thunder forward is shooting an abysmal 25.5% from three and 46.8% from the free-throw line over the course of his career. With Roberson on the floor, opposing teams can leave him alone in the corner and throw an extra defender at one of the Nets' superstars. Any team playing the Nets would be perfectly content with a wide-open Roberson jumper over any contested shot from Harden, Durant, or Irving.
Joe Harris at least gives Brooklyn a shooter that opponents can't leave open. Harris, not Roberson, still might be the extra ballhandler on the floor late in games once the postseason rolls around.
All stats courtesy of Basketball Reference