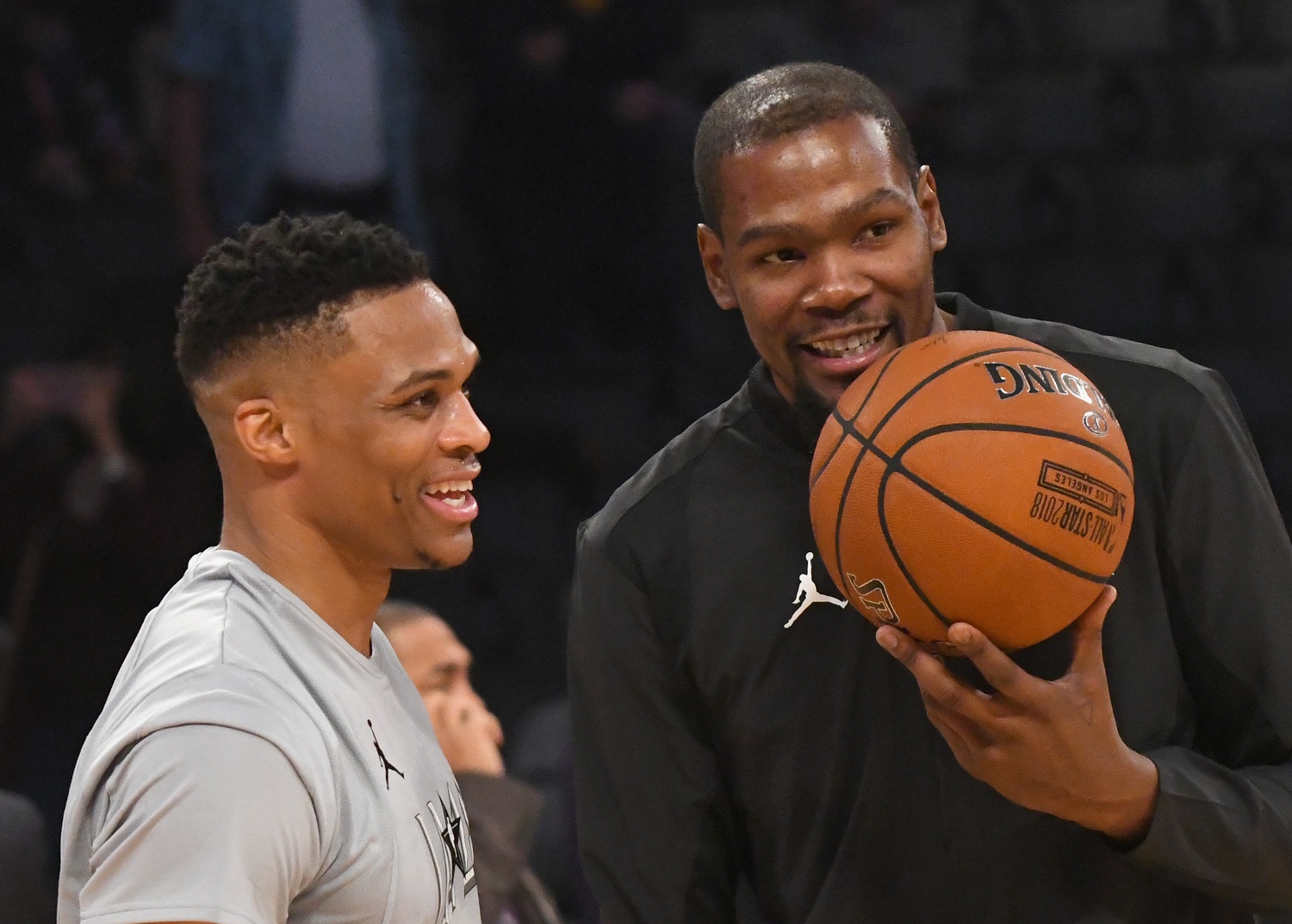 Russell Westbrook and Kevin Durant Brought Michael Jordan-Like Intensity to OKC
Russell Westbrook and Kevin Durant brought an intensity to the Oklahoma City Thunder that carried OKC to two NBA Western Conference finals in three years.
Russell Westbrook and Kevin Durant won 414 regular-season games together with the Oklahoma City Thunder. But what OKC fans really want to know is who won when the two NBA greats went at each other in practice. The answer? Anyone who was lucky enough to watch.
Steven Adams was the starting center for the last three seasons of the Westbrook-Durant era in Oklahoma City, and he said the competitiveness of the two superstars drove the Thunder to their two appearances in the NBA Western Conference finals.
It was reminiscent of stories told about Michael Jordan's Chicago Bulls, but Westbrook and Durant never quite got OKC to the very top.
Kevin Durant and Russell Westbrook took command
No one becomes the leader on the court or in the locker room by posting 15 points and a handful of rebounds a night. Even averaging a double-double doesn't do it. Instead, it requires production across the 82-game schedule and into the playoffs, backed up by forcefulness off the court.
Kevin Durant and Russell Westbrook brought that to the Oklahoma City Thunder, according to center Steven Adams, now with the New Orleans Pelicans. With the two stars in place, Scott Brooks took over as coach a month into the 2008-09 season. James Harden arrived the next season as a rookie, and OKC was in business. The team posted the first of 11 straight winning seasons.
Harden was gone after three seasons, but the Thunder remained in their prime as Serge Ibaka and Kendrick Perkins helped fill in the missing pieces.
"It was awesome for me," Adams said. "Russ, KD, Serge, and Perk, they were all going at it. They would argue like crazy. And that created a really competitive environment. There wouldn't be a practice that would be soft. It was always intense."
Kevin Durant left as a free agent in 2016, and the Russell Westbrook trade for Chris Paul before last season ended the powerful dynamic that had brought OKC to within two wins of reaching the NBA finals in 2014 and one win in 2016.
What team is Kevin Durant on?
Steven Adams played for the Oklahoma City Thunder from 2013-20. He landed with the New Orleans Pelicans in a four-team trade a month before the current NBA season. He spoke about his days with OKC on JJ Redick's podcast, as transcribed by The Sports Rush.
The other main characters from the greatest era in Thunder history are also gone. Kevin Durant left for the Golden State Warriors as a free agent and is now playing for the Brooklyn Nets after missing last season with an injury. Oklahoma City traded Russell Westbrook to the Houston Rockets for Chris Paul last season in a move that achieved neither team's goal.
Thunder fans wonder what might have happened had Durant not left for Golden State shortly after OKC took the Warriors to seven games in 2016. The leadership core was so good that Oklahoma City could easily have taken that next step for an organization seeking its first NBA title since 1979 in Seattle.
"All of them were trying to beat the other one," Adams recalled. "It wouldn't be fair for me to say who was alpha-leader, but it's fair to say that it was a healthy team, if that makes sense. For some people that might not be healthy, but they got to the point right away. They were constantly making each other better."
Kevin Durant and Russell Westbrook were the right guys to lead
ESPN's The Last Dance documentary in the spring of 2020 offered insight into the Chicago Bulls' NBA dynasty. Perhaps the biggest takeaway for viewers was the intensity that Michael Jordan brought. There was always the possibility that the best player in basketball was going to pop somebody over something he didn't like in practice.
Kevin Durant and Russell Westbrook weren't as aggressive, but center Steven Adams said the same sort of edge existed with the Oklahoma City Thunder, and it was to the benefit of the team to never be sure if someone would go off.
"Some players don't respond well to that, they're not upfront people. So, when someone's not showing their emotion and haven't got an opinion about anything, then you really don't know that guy," Adams said. "You don't know how he reacts, you don't know what is going to happen. You're just waiting for him somewhere through the season to lose his mind. And then you know he has like a couple of loose screws in there."
Like Sportscasting on Facebook. Follow us on Twitter @sportscasting19.