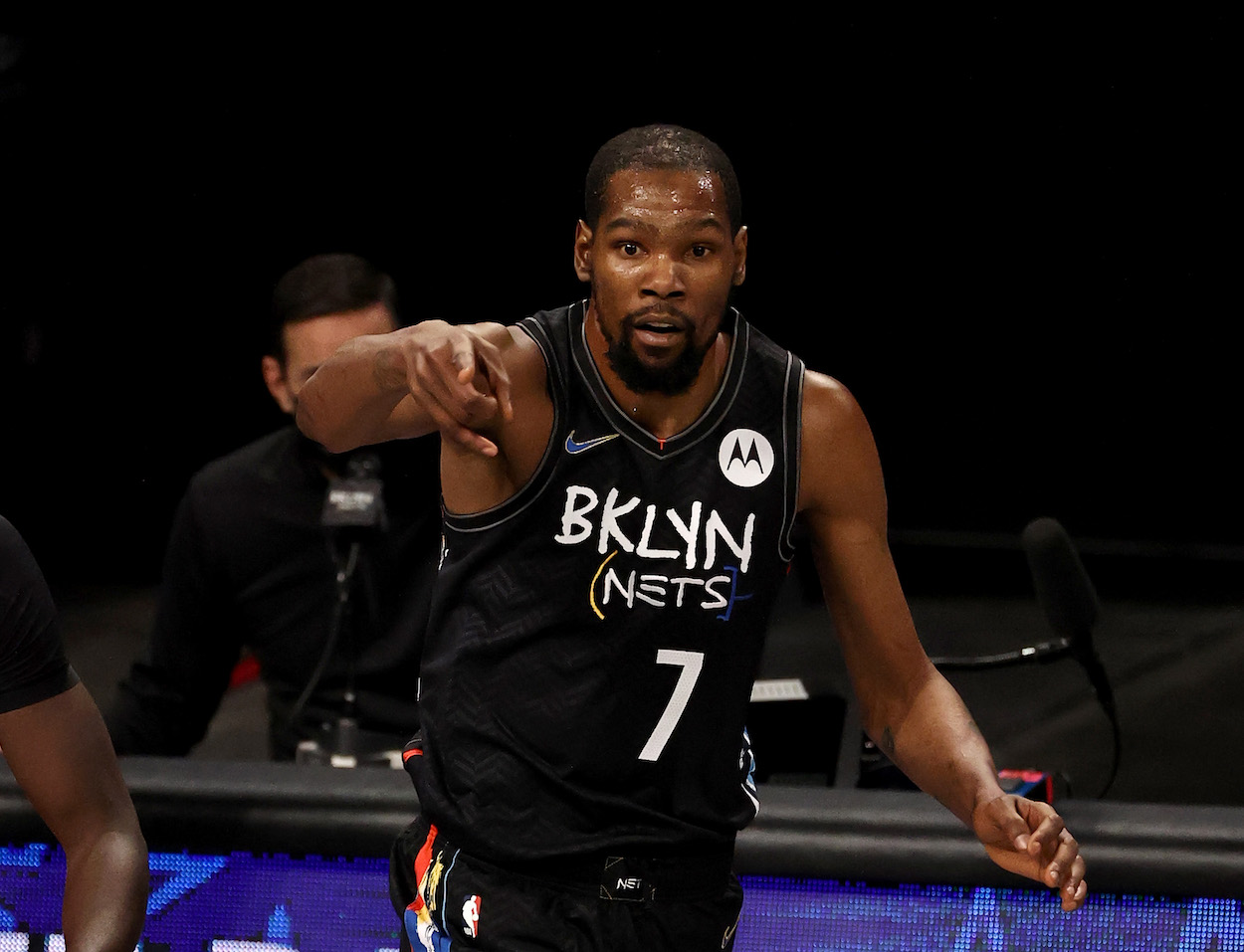 Kevin Durant Justifiably Angry After Being Asked to Leave Game in a Bizarre Scene and a Major Blemish on the NBA's Pandemic Policy
Kevin Durant tested positive for COVID-19 in March 2020. After another quarantine in December, Friday night was just the latest bizarre pandemic chapter for Durant and he was understandably confused and angry with the NBA's handling of the situation.
The NBA record books will show Kevin Durant as one of the greatest players in league history, including Rookie of the Year, NBA MVP, and two-time NBA champion. Also included will be a section from 2020 and 2021 dedicated to the pandemic's dramatic effects on the NBA and Durant on a personal level. On Friday night, he added a bizarre and very confusing chapter.
Kevin Durant one of the first athletes to test positive for COVID 
The Brooklyn Nets signed Kevin Durant in July 2019. He sat out the entire 2019-20 season as he recovered from his Achilles injury. 
In March 2020 and in the very early stages of the COVID-19 virus appearing in the U.S., Durant tested positive less than a week after Rudy Gobert was identified as the NBA's patient zero, whose diagnosis resulted in the league suspending operations.
Kevin Durant was one of four Nets players who tested positive at the time. Despite not experiencing any symptoms, he offered words of encouragement to his fans and those personally dealing with the disease. 
"Everyone be careful, take care of yourself and quarantine," Kevin Durant told The Athletic. "We're going to get through this."
Kevin Durant sidelined for exposure in December
Kevin Durant made his much-anticipated Brooklyn Nets debut on December 22 against his former club, the Golden State Warriors, where he won a pair of NBA titles. 
Durant opened with a 22-point effort in a blowout 125-99 victory, adding five rebounds, and three assists. The future Hall of Famer recorded a season-best 33 points in a win over Atlanta on December 30. Through six games, Durant had averaged 28.2 points per game. 
Durant and his offensive production were abruptly sidelined in early January when the 10-time All-Star had an exposure to someone who tested positive for COVID-19. He had to revisit quarantine for a second time and missed three games.
Since Kevin Durant came out of quarantine, he's returned to his old form, averaging an impressive 30.8 points per game through 17 contests, which is the second-highest in his 13-year career.  
Misses first start in career, enters game, then abruptly exits
In the Brooklyn Nets Friday night matchup against the Toronto Raptors, Kevin Durant experienced a case of deja vu, and it all happened in slow motion in front of the national television audience watching on ESPN.
Due to health and safety protocols, Durant did not start for the first time in his career of 867 games. According to ESPN's Malika Andrews, it was due to contact tracing. It was later reported Durant had interacted with someone who had an inconclusive result before the game. 
Kevin Durant then surprisingly appeared on the bench midway through the first quarter and then entered the game. He scored eight points with six rebounds and five assists in 19 minutes. Then in the third quarter, a Nets staff member informed Durant he needed to exit. Confused and angered by the unfolding chaos, Durant threw a water bottle in frustration as he walked off the floor. 
Minutes later, he tweeted, "Free me." He followed up with another tweet an hour later. "Yo @nba, your fans aren't dumb!!!! You can't fool em with your Wack ass PR tactics.. #FREE7"
Up until this point, the NBA has done an exemplary job in dealing with the pandemic. It was the first league to shut down. It was the first major sport to return and do so in a bubble, where the teams successfully navigated the end of the regular season and playoffs without incident. 
But this time, the NBA got it wrong. And now the hope is someone with the organization will explain what happened and help everyone understand the inexplicable back-and-forth decisions. Kevin Durant, his teammates, and the fans deserve an explanation. 
All stats courtesy of Basketball Reference.