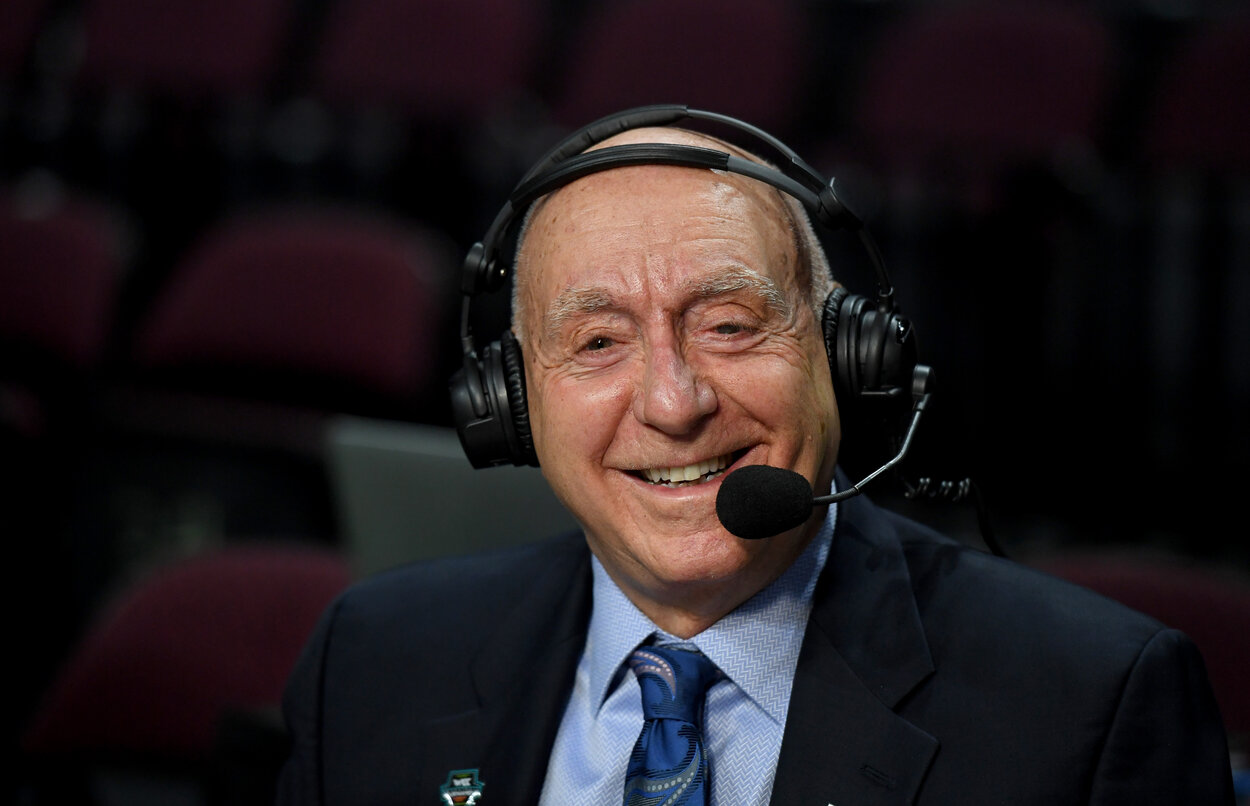 Was Dick Vitale a Successful Head Coach Before He Joined ESPN?
Legendary ESPN announcer Dick Vitale was both a college basketball and NBA head coach before he went into broadcasting. How did Vitale fare as a head coach?
Long before he ever called games at ESPN, Dick Vitale was a basketball head coach.
Vitale has been at ESPN so long — he joined the Worldwide Leader in 1979, months after the network launched — that it is easy to think that broadcasting is all he has done. Actually, Vitale coached at both the college and NBA level before entering the broadcasting world.
So, how well did Vitale perform on the sidelines before he became one of the most popular announcers in basketball history? Let's take a look at Dick Vitale, head coach.
Dick Vitale coached four seasons at Detroit-Mercy
After nearly 10 years as a high school basketball coach in New Jersey, Dick Vitale reached the college level in 1971.
Vitale spent two seasons at Rutgers as an assistant coach under Dick Lloyd. The University of Detroit Mercy hired Vitale as its head basketball coach in 1973, a move that immediately paid off.
Vitale won 17 games in each of his first two seasons at Detroit. The Titans improved to 19-8 in 1976, which set up Vitale's thrilling final college season.
Detroit went 26-3 in Vitale's fourth season before losing in the Sweet 16. The Titans won 21 straight games at one point during the 1977 campaign.
Vitale stayed in Detroit and coached the Pistons
After four seasons as a college head coach and one as the University of Detroit's athletic director, Dick Vitale got the chance of a lifetime in 1978.
In need of a spark, the Detroit Pistons hired Vitale as their new head coach. Unfortunately for Vitale, the Pistons didn't have the likes of Isiah Thomas or Joe Dumars just yet.
Detroit went 30-52 in Vitale's first season, missing the playoffs. The Pistons lost eight of their first 12 games to open the 1979-80 season before firing Vitale.
Vitale ended his NBA stint with a 34-60 record. Detroit finished the 1979-80 campaign at an ugly 16-66, and the Pistons didn't make the playoffs again until the spring of 1984.
Dick Vitale hasn't returned to coaching since he joined ESPN
Dick Vitale has been among the most popular faces in basketball since he called his first game for ESPN in December 1979.
Still, Vitale never returned to the sidelines at any level. That has been good news for ESPN, which still gives the 83-year-old Vitale a solid amount of work — even after experiencing serious health issues in 2022.
The University of Detroit named its basketball court after Vitale in 2011, and the Titans still play at Dick Vitale Court to this day. Vitale also entered the College Basketball Hall of Fame and the Naismith Memorial Basketball Hall of Fame in 2008.
Like Sportscasting on Facebook. Follow us on Twitter @sportscasting19.