Tom Brady Stuns Cancer-Stricken Dick Vitale, Generating an 'Awesome, Baby'
It's safe to say Tom Brady is a busy man right now. The Tampa Bay Buccaneers quarterback is shooting for his eighth Super Bowl and finds himself in the middle of a wild Antonio Brown distraction. Still, Brady found a way to make time for an old friend — college basketball analyst Dick Vitale. Vitale has been undergoing extensive chemotherapy for treatment of lymphoma, and Brady surprised Vitale with a heartfelt message that resulted in an "awesome, baby" moment.
Tom Brady and the Tampa Bay Buccaneers have had a strange week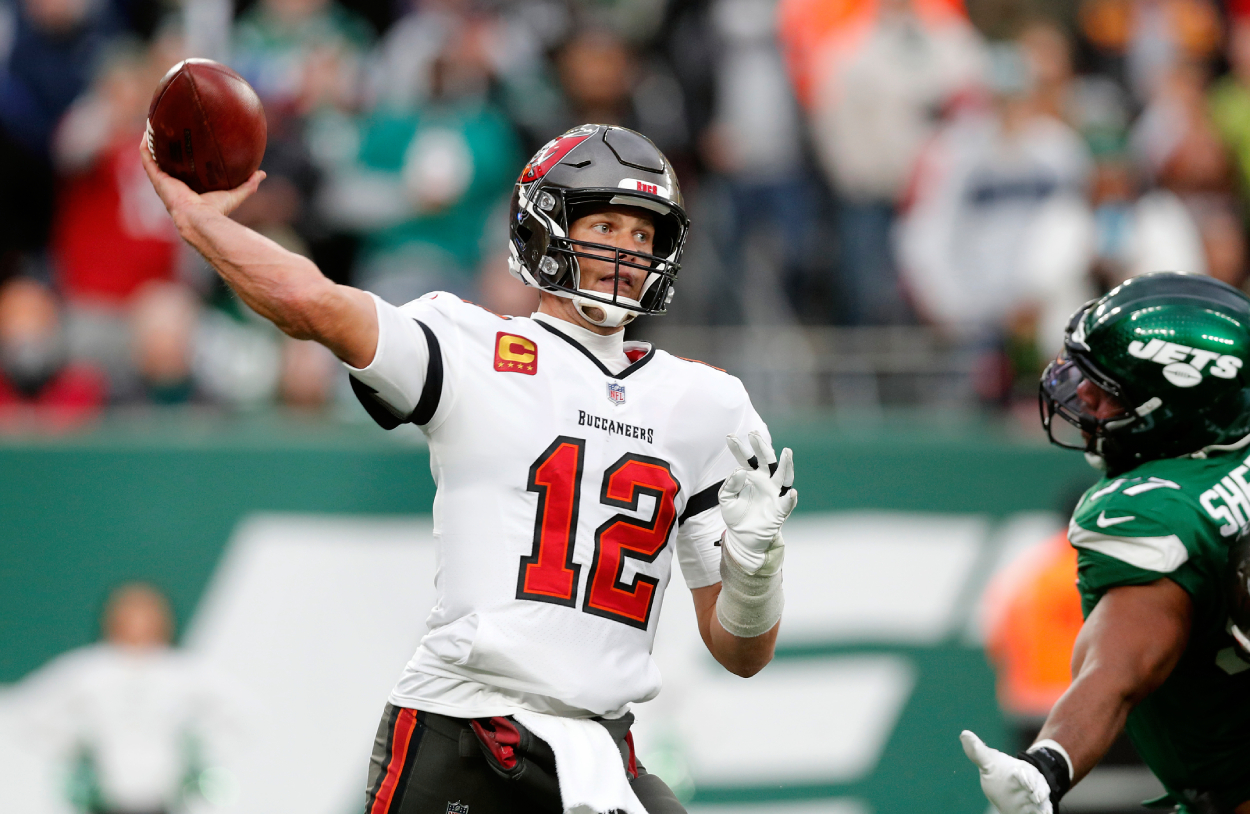 With one week left in the regular season, Brady and the Bucs found themselves mired in the middle of an unnecessary distraction. During Week 17 at the New York Jets, Brown quit in the middle of a game and made a scene as he made his way to the locker room. Brady guided the Buccaneers to a come-from-behind victory, but the story of the day (and the rest of the week) centered around Brown.
The Buccaneers eventually released the troubled wide receiver, but since the incident, Brown has questioned Brady's relationship with him. Previously, Brown called the quarterback a role model, and Brady even invited the receiver to move in with him.
On the Full Send podcast this week, Brown believes there is a difference between real-life friendship and football friendship.
"To me, a friend is someone who's got your back," Brown said. "Not everybody in sports is going to be your friend. Tom Brady's my friend why? Because I'm a good football player. He needs me to play football. People have different meanings of what friendship is."
Since the win over the Jets (or the Brown incident), Brady and the Bucs have had to deal with questions about Brown. After the game, Brady spoke about Brown.
"We all love him," he said, per ESPN. "We care about him deeply. We want to see him be at his best. Unfortunately, it won't be with our team," Brady said. "I think everyone should be very compassionate and empathetic toward some very difficult things that are happening."
Despite the bizarre week, Tom Brady made time to surprise Dick Vitale with heartfelt message
Vitale, one of America's elite sports commentators, has had a tough stretch recently. Vitale is undergoing treatment for lymphoma and has been laid up dealing with the side effect of his chemotherapy. Doctors have told him that he needs to rest his vocal cords for eight weeks. Eight weeks without Dickie V talking? That's a tough one to fathom, but Vitale insists he'll obey doctor's orders.
Despite the mandate, Vitale is making noise on Twitter. He's been giving his thoughts on various sports, and he recently shared a video he received from Brady. Vitale wrote that it was "a surprise" to hear from the GOAT and then ended the message with an "awesome, baby" hashtag.
Brady's message was heartwarming.
"I just want to let you know that off of us, my teammates with the Bucs, we're thinking about you as you go through this really tough fight," Brady said. "For many decades, you've inspired us and so many others as you championed the fight year after year against cancer. Now it's our turn to help you.
"Just know that we all got your back. We're thinking about you, our prayers are with you, and we know you're going to get through it like you always have. You're a champion. You love champions, but we look at you as one. We look forward to you getting here and bringing your energy to Raymond James very soon.
"No matter if it's in person or not, I can assure you that we always feel your presence, that we always feel your passion, and you're with us every game. We love you, man."
Vitale remains passionate about the job he loves
Vitale revealed his latest medical update on Thursday, Jan, 6. He said his blood counts continue to be very good. He also said that receiving those calls from the doctor "brings lots of anxiety." He also revealed he has to do the bloodwork procedure every Thursday.
Dickie V's Twitter account shows so much about the man. What it really shows is that when he's behind the microphone calling games, he is 100% genuine. His last 12 posts are about his true sports love — college basketball. As Brady said, people are always feeling Vitale's passion. As he battles through this terrible disease, Vitale still is passionate about sports.
You might not hear Dickie V, but you can still see how much it all means to him just by checking him out on social media.
Vitale did have an additional response to Brady's message.
"Yes (Brady) is the BEST of all the rest that ever played QB in the NFL," he wrote. "He is a CHAMPION off the field also just like his buddy ex-Yankees Hall of Famer DEREK JETER! They handle being a STAR in a positive way/ WINNERS in the GAME OF LIFE !"
So are you, Dickie V.