Antonio Brown's Driver Details His Wild Day Tracking Down the Volatile Wideout Following His Bizarre Walkoff
Tom Brady and the Tampa Bay Buccaneers orchestrated a last-minute touchdown drive to complete a heroic comeback victory against the New York Jets in Week 17. But hardly anyone could focus on the come-from-behind win considering what transpired on that same field a few hours earlier.
In the middle of the third quarter, Antonio Brown had a meltdown on the sidelines and left the game early in one of the most bizarre scenes we've ever witnessed on a football field. Videos later surfaced of Brown in the back of a car with a mystery man smiling as if nothing even happened. Well, that mystery man goes by Danny Boy Hustle Hard, and he spoke to the Pardon My Take podcast on Sunday about his wild day tracking down AB.
Antonio Brown's bizarre walkoff gets him kicked off the Buccaneers
The Jets dominating the Buccaneers through two and a half quarters sent a wave of shock throughout the entire Tampa Bay fan base, but that was nothing compared to what was about to transpire on the sidelines.
In the middle of the third quarter, with the Buccaneers trailing the Jets 24-10, Brown was seen having a heated conversation with Mike Evans near the bench. As Evans walked away, Brown ripped off his jersey and shoulder pads and threw them to the side in anger. He then ripped off his shirt and gloves before tossing them into the crowd.
As if that wasn't strange enough, Brown then jogged through the end zone while waving to the crowd and exited the field through the tunnel. He did not return.
After the game, Buccaneers head coach Bruce Arians stated that Brown is "no longer a Buc." And that was that. Brown's career in Tampa Bay is surely over, and we might never see him on an NFL field again.
The man who picked up Antonio Brown details his wild afternoon
Shortly after the game concluded, videos appeared online of Brown sitting in the back of what looked to be an Uber. But it turns out Brown didn't order a ride from MetLife Stadium after bailing on his team in the middle of a game. That driver was actually his friend, Daniel Chalet, who's more commonly known as Danny Boy Hustle Hard.
You see, Chalet works as a professional driver in the New York area. According to his Instagram account, he drives for professional athletes such as Saquon Barkley, Odell Beckham Jr., and Brooks Koepka.
On Sunday afternoon, he added Brown to that list.
Chalet spoke to Barstool Sports' Pardon My Take podcast later in the day to detail his peculiar afternoon.
"Me and AB are close," Chalet explained. "A lot of people don't know that because he doesn't really come to town that much. But I got the call from somebody close to him, which is one of my close friends."
Chalet called this mutual friend after watching Brown leave through the tunnel, and the friend scrambled to get in contact with the wide receiver.
"He calls me back, and he's like, 'Danny I need you to go straight to MetLife and grab AB, like right now,'" Chalet said.
So, that's what he did. Well, sort of.
"Here's the catch to this. So, me, coming from my house, it was taking me a little long. People were taking pictures," he continued. "So, this f***ing lunatic jumps into a f***ing state trooper car, and the guy flies him to Newark Airport to get a Tampa flight."
Brown ultimately couldn't find a flight that afternoon, so he called Chalet to pick him up at the airport.
"Yo come pick me up. We're turning up!" Brown said, according to Chalet.
But Brown didn't even seem fazed by the fact that his NFL career was most likely over.
"This f***ing guy's laughing like he just f***ing scored nine touchdowns during the game," Chalet said. "He was in such a happy mood, but you could tell he was, not in a bad mood, but maybe he was a little disappointed, but he was trying not to let it get to him."
So, Chalet drove Brown around New York for about two hours.
"We just tried to get that s*** off his mind and put him in a better place," he said.
A fitting end to AB's career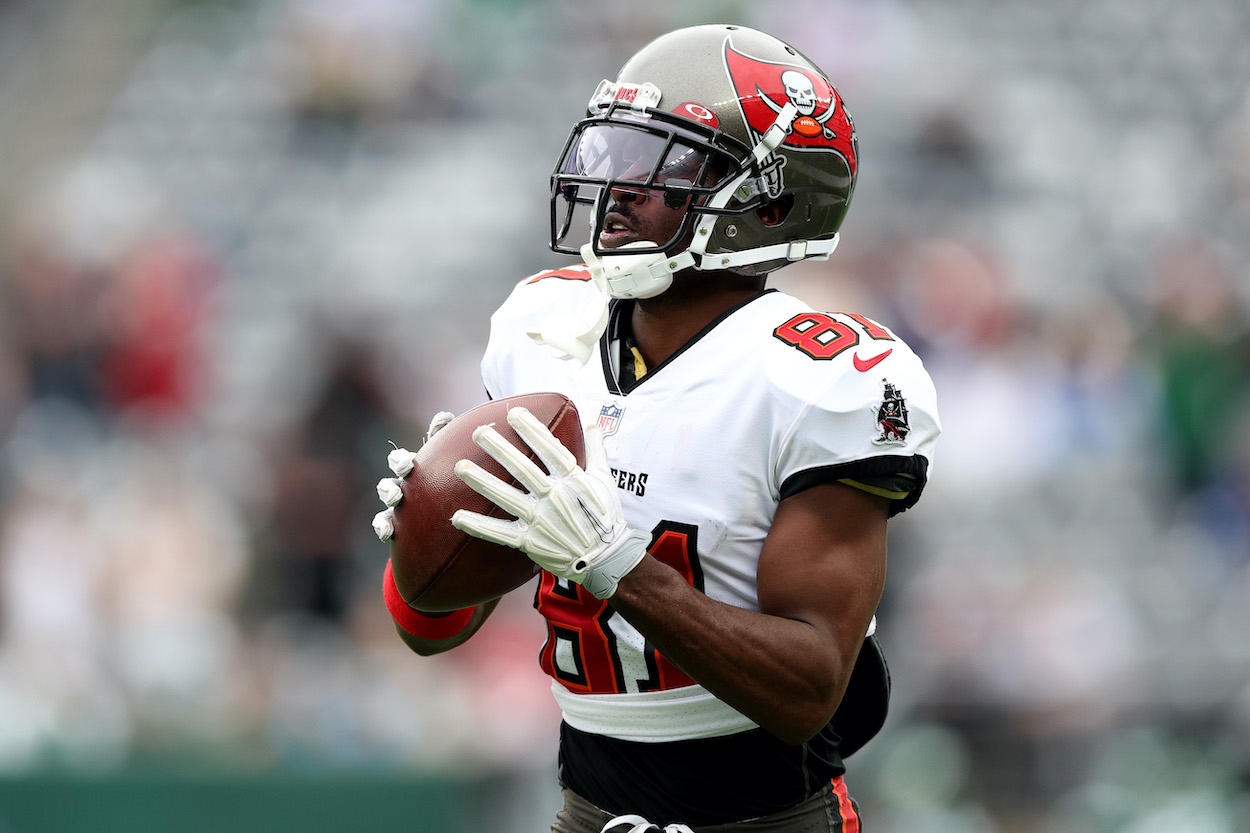 Nothing about Brown's NFL career has been by the book. This is the same guy who dropkicked an innocent punter in the facemask during a return and accidentally froze his feet in a cryotherapy machine, among a handful of other bizarre instances.
We knew whenever Brown decided to walk away from the NFL, he wouldn't do it quietly. But no one could've predicted this.
The image of a shirtless Brown waving to the crowd on Sunday on his way out of MetLife Stadium will most likely be the last memory of him on a football field. And if we're being honest, the shocking nature of his abrubt exit from the NFL is, in a way, a poetic way to remember such an unpredictable, unabashed talent.
Like Sportscasting on Facebook. Follow us on Twitter @sportscasting19.