Tom Brady Responds After Being Warned by the NFL
Tom Brady has been warned.
The NFL sent a warning to the Tampa Bay Buccaneers quarterback after his prime-time game against the New Orleans Saints two weeks ago. Brady showed signs of frustration all night after playing without several key starters and failing to put up a point in a 9-0 loss. No stranger to controversy with the NFL, Brady was given the warning by the league for his actions during the game. He recently acknowledged the incident on the latest episode of the Let's Go podcast with Jim Gray.
Tom Brady had an ugly outing against the New Orleans Saints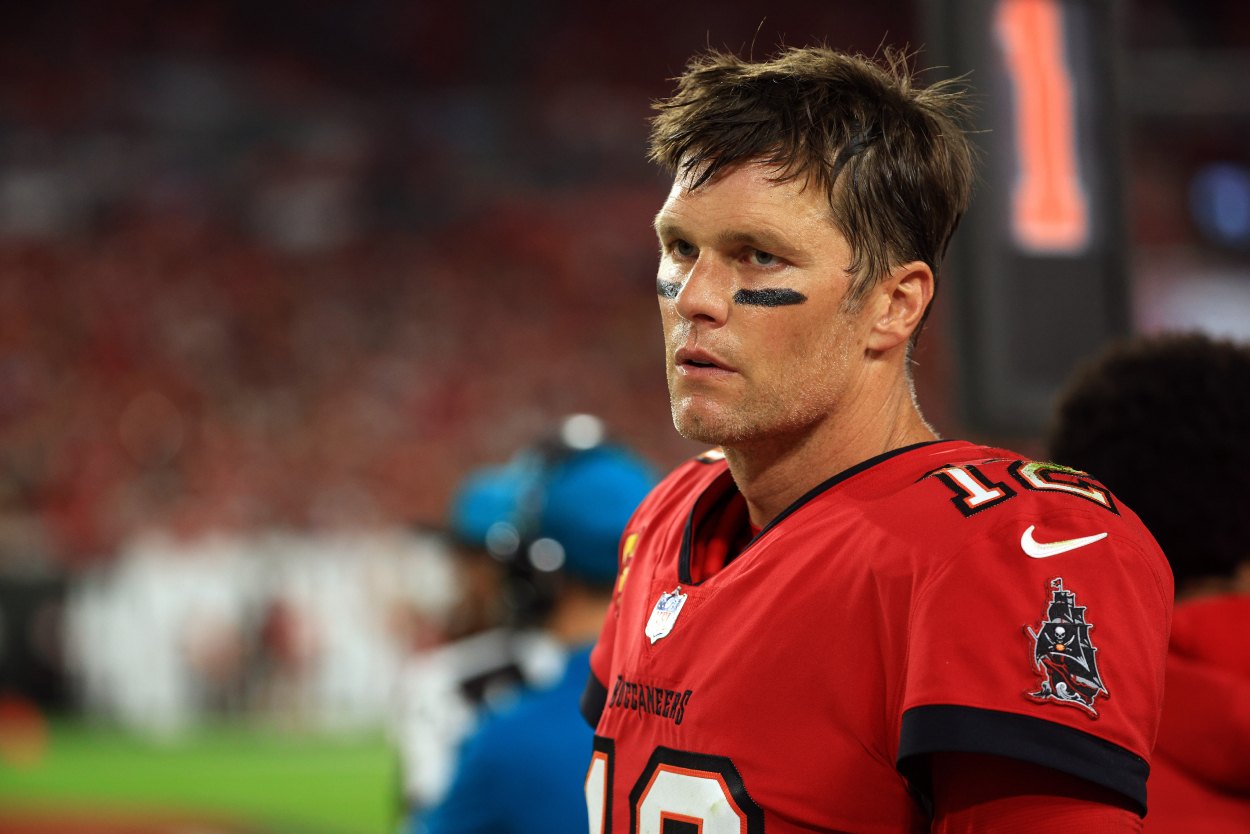 Brady may have had the worst game of his career in Week 15. It came against a Saints team that has shut Brady down ever since he came over from the New England Patriots two seasons ago. New Orleans has gone 4-0 during the regular season against Brady and the Bucs. The Saints have beaten Tampa Bay seven straight times in the regular season.
That may have played a role in Brady's frustration. The seven-time Super Bowl champion completed 26 of 48 passes for 214 yards. He also was intercepted.
Brady also saw his top two receivers — Chris Godwin and Mike Evans — get hurt during the second quarter. Neither returned. Running back Leonard Fournette also left in the third quarter due to a hamstring injury and never came back.
Brady also showed some frustration after the game, stating the obvious during his press conference.
"Just a tough night. Didn't do much of anything right," said Brady, per ESPN. "I wish it was just one thing. It was a lot of things," he added. "We just didn't play well enough. We're not going to win scoring no points."
Tom Brady gets a warning from the NFL
Brady was seen yelling at Saints acting head coach Dennis Allen on the sideline late in the game. Also in the fourth quarter, TV cameras showed him smashing a Surface tablet as he sat on the bench. It was a rough night all around for the Tampa Bay quarterback, who later received a message from the NFL.
That message centered around the Surface tablet.
"I've thrown a few electronic things in my day," Brady told Gray on the Let's Go podcast. "I'm sorry. I did get a warning from the NFL on that, though."
He said his days of throwing tablets are done, although he believed his actions were beneficial for Microsoft, the maker of the Surface.
"I won't throw another Surface," he said, "although I think it was pretty good marketing for the Surface at the end of the day. I think it worked out pretty well for them."
Gray asked what the warning was.
"That I can't throw another Surface or else I'll get fined," Brady said. "Imagine that."
Brady and the Bucs bounced back nicely in Week 16
Despite the hiccup in Week 15, Brady continues to amaze at age 44. He remains an MVP candidate after throwing an NFL-high 4,580 yards and a league-best 37 touchdown passes through 15 games. He has already guided the Bucs to an NFC South title this year and has his team at 11-4.
Last week, he bounced back nicely with a strong performance in a 32-6 win over the Carolina Panthers. Brady played without Godwin and Evans but made sure veteran Antonio Brown played a major role in the passing game. Brown finished with 10 catches for 101 yards.
"He's been itching to get back out there," Brady said, according to ESPN. "And he's just putting himself in a position to succeed. He makes a lot of critical plays. It was a great performance by him."
Brady is headed to the postseason again. That's where he gets dangerous. Just ask the Saints. If he can get some of his players back during his quest for his eighth Super Bowl run, the Bucs just might be the team to beat.