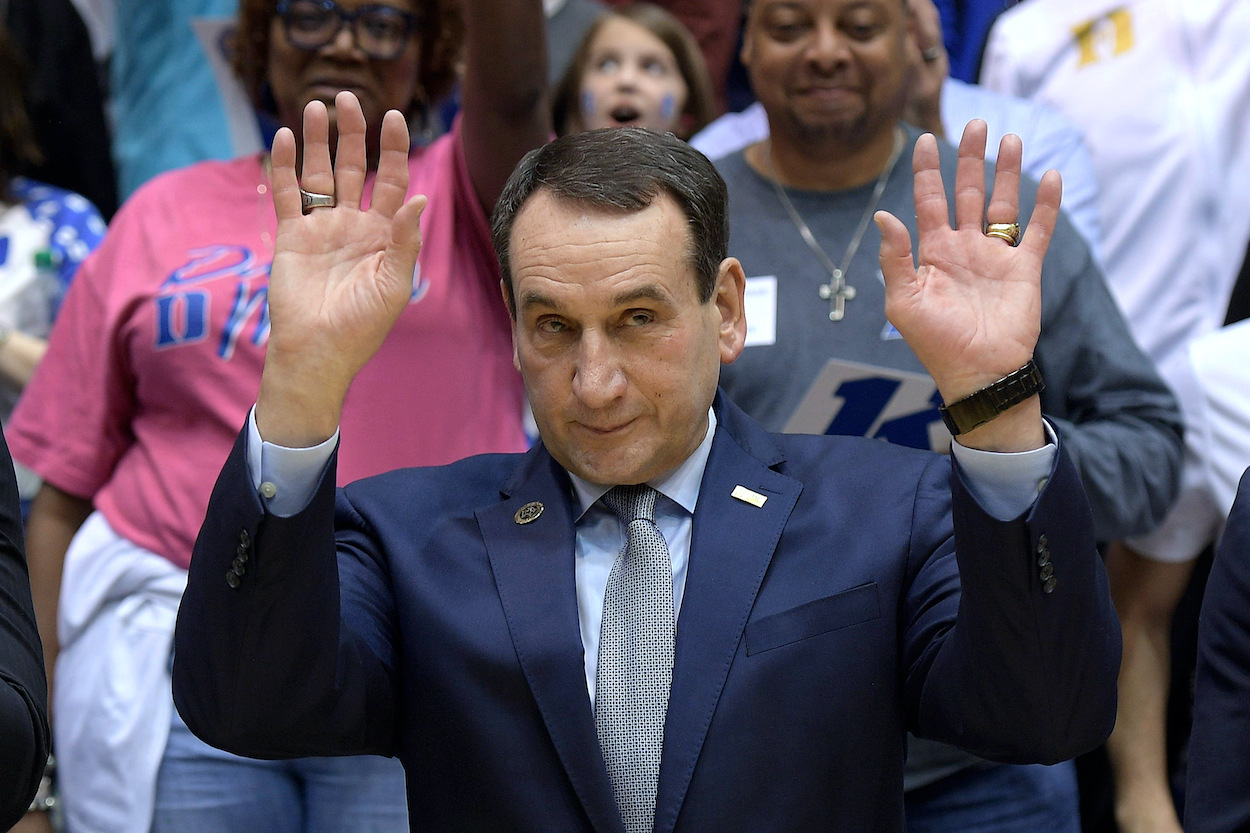 Dick Vitale Pens Heartfelt Letter to Coach K Ahead of Final Duke Home Game
Mike Krzyzewski might shed a tear after reading Dick Vitale's emotional letter to him.
A legendary era in college basketball is about to come to an end, as Mike Krzyzewski will attend his final home game as the head coach of the Duke Blue Devils on Saturday, March 5. His opponent? None other than the North Carolina Tar Heels.
Ahead of his final game inside iconic Cameron Indoor Stadium, Krzyzewski received a heartfelt message from his longtime friend, Dick Vitale. Get your tissues ready for this one.
Mike Krzyzewski will coach his final Duke home game on Saturday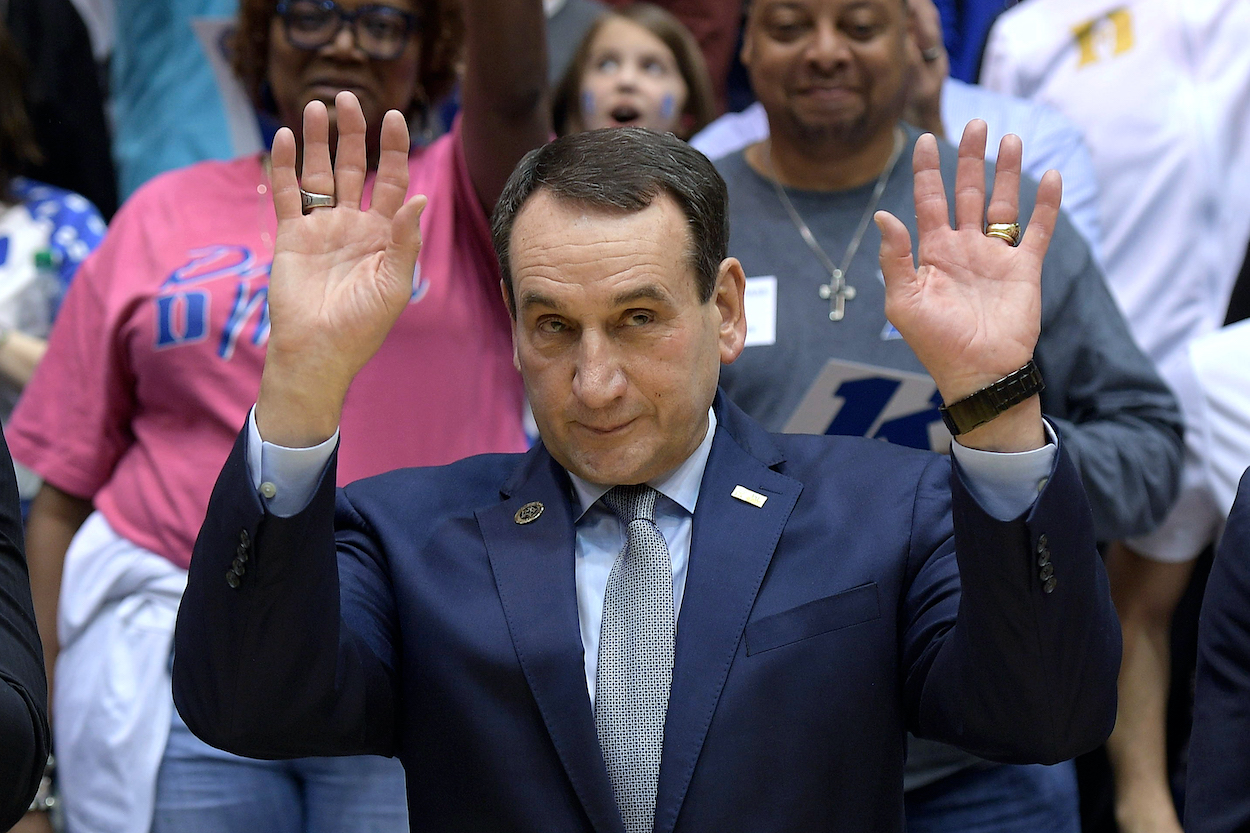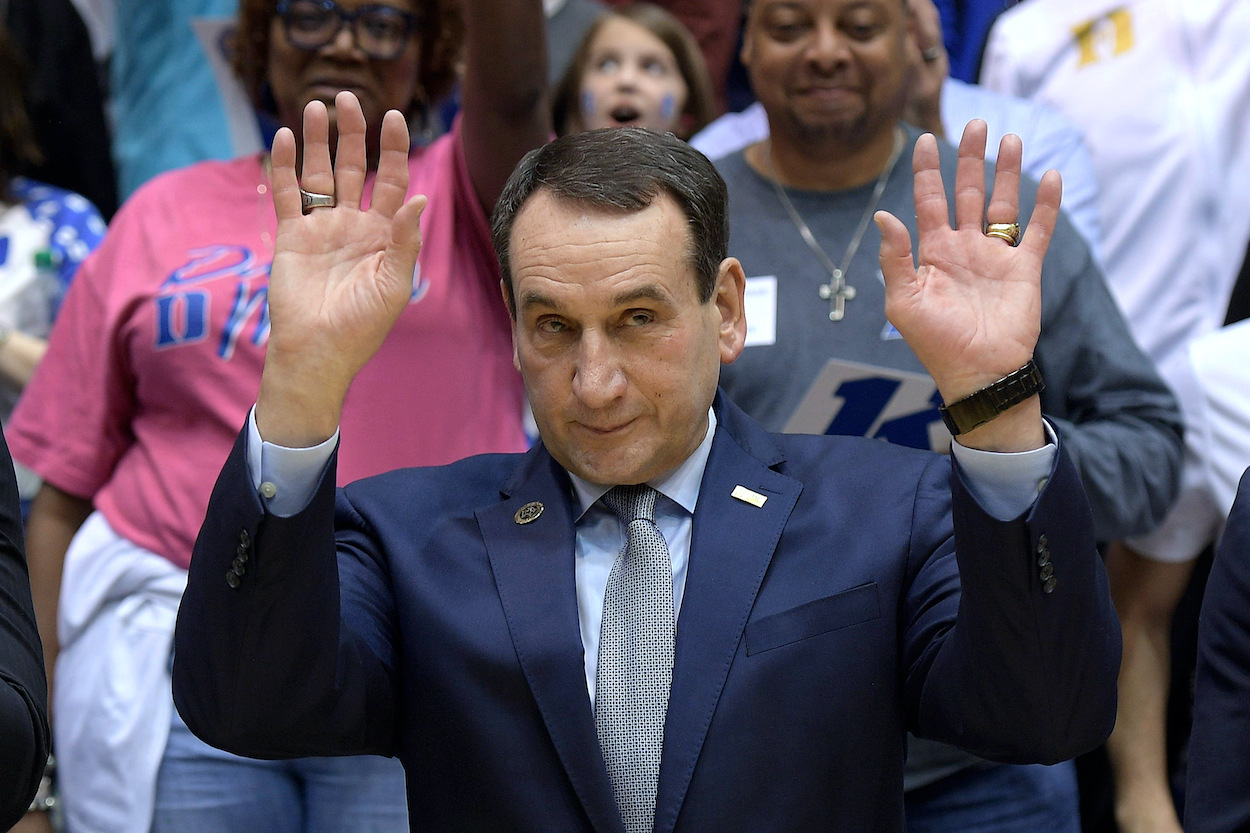 1,196 wins.
Five NCAA championships.
Forty-two first-round NBA draft picks.
Arguably the greatest coach in college basketball history is calling it quits after this season, as Saturday's matchup against North Carolina will be Coach K's final home game as the head man at Duke. And it's not an easy ticket to get your hands on.
The cheapest tickets leading up to the game still priced out at more than $4,000, but that hasn't stopped diehard Duke fans from getting in on the action. Krzyzewski has stood on the sidelines for 647 games inside Cameron Indoor Stadium, so it's surreal to think that Saturday will be his final one.
Dick Vitale pens heartfelt letter to Coach K
Ahead of Coach K's final home game with Duke, Dick Vitale penned an emotional letter to his longtime friend. Vitale has been calling Blue Devils games for ESPN ever since Krzyzewski landed the job in 1980, and the two have been close ever since.
"As I reflect upon your achievements, I am completely in awe," Vitale wrote. "Every coach dreams of one trip to the Final Four. You've been to 12 of them. Let's face it — we all expected you to be there, year after year. In an era of fierce competition, you collected more Ws than anyone. On top of that, you cut down the national championship nets five times. And let's not forget Olympic gold medals."
But Vitale appreciates Krzyzewski for his accomplishments off the court as much as the records he set as a coach.
"Your coaching record is proof of the Solid Gold Hall of Famer you are. But I know Mike 'The Man' and Man, YOU are special," he writes. "When planning my first Gala 17 years ago, I called and said, 'Coach, I want to raise $1 million for kids battling cancer, can we honor you for the benefit of the V Foundation?' Without hesitation you said 'Dick, just give me the date.' We raised over a million dollars that year, and have been rolling ever since."
Vitale also wrote that Coach K has inspired him in his current battle against cancer, and he continues the fight today because of friends like Krzyzewski by his side.
"AWESOME BABY, with a Capital A!"
In typical Dicky V fashion, he had to finish his letter with his most iconic line.
"Like millions of other fans, I feel it's been a privilege to watch you in action all these years. I'm lucky to have been in the building for many of your biggest moments. You are a true legend. Yes, in 'Vitalese' I would simply say, You have been AWESOME BABY, with a Capital A!"
Like Sportscasting on Facebook. Follow us on Twitter @sportscasting19.