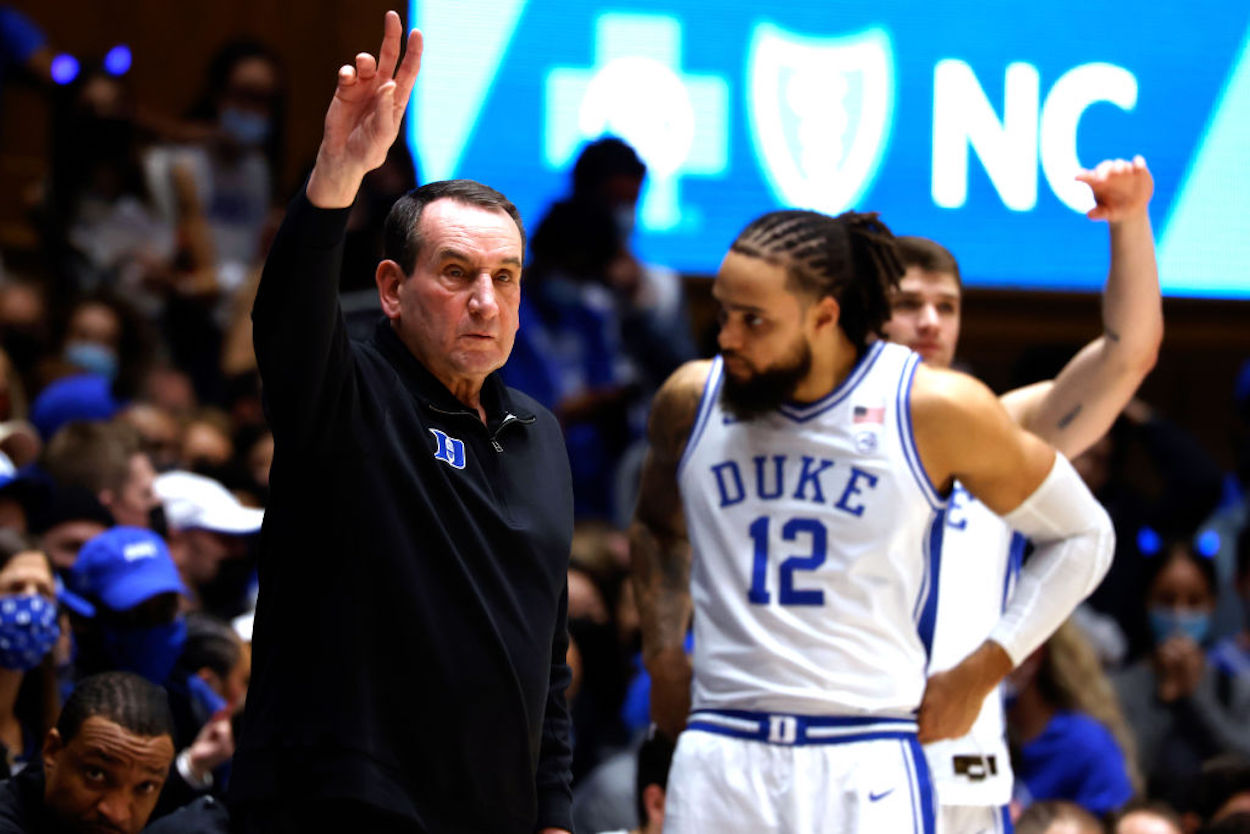 Coach K's Retirement Is Costing Desperate Duke Fans Thousands of Dollars
As Coach K runs down his Duke basketball career, his star status is translating into some sky-high ticket prices.
While college sports may theoretically be amateur competitions, there's still plenty of money changing hands. Before we even reach more touchy topics, like coaching salaries and the name, image, and likeness policy, NCAA Basketball is a big-time business. Take, for example, the ticket prices for the Duke Blue Devils' final home game of the season.
Although a date with North Carolina is always a draw, this one carries the added punch of being Coach K's final game in Cameron Indoor Stadium. Unsurprisingly, that reality is reflected in the ticket prices, with fans having to pony-up Super Bowl-level money to get into the building.
Duke fans will have to pay thousands to catch a glimpse of Coach K in Cameron Indoor Stadium
For what feels like a basketball eternity, Mike Krzyzewski has been prowling the sidelines at Duke. That era, however, is about to come to an end.
Before the 2021-22 campaign started, Coach K announced that he'd be retiring and handing control of the team over to Jon Scheyer. That understandably began a parade of tributes; for all of his haters, Krzyzewski's longevity and resume undeniably warrant respect.
Beyond the shower of gifts and tributes from opposing athletic programs, Duke fans have also stepped up their game in an effort to send their beloved leader out in style. Given the intimate confines of Cameron Indoor Stadium, that's caused ticket prices to jump through the roof. If you're desperate to see Coach K, you're going to need to reach for your wallet and head to the resale market.
That's especially apparent for Krzyzewski's final home game, which takes place on Saturday, March 5. As laid out by Jeff Eisenberg of Yahoo Sports, "the average price of a ticket to Saturday's game ranged from $7,498 on SeatGeek, to $6,336 on TickPick, to $5,392 on StubHub. None of the sites had nose-bleed seats available for less than $3,000 apiece." One fan even dropped $1 million for four court-side seats, although that purchase does carry the significant caveat that it came during a charity auction for the V Foundation.
While a few thousand for a seat might seem like a steal compared to a cool million, that sticker price still looms large over the sporting landscape. Eisenberg explained that seats for Tom Brady's return to New England, for example, averaged about $1,000; you could also attend Game Seven of the 2016 NBA Finals for roughly $2,000 per person.
For a bit of further context, ticket prices for the 2022 Super Bowl averaged a shade over $7,500. For a single, regular-season college basketball game to be in the same ballpark speaks volumes about the demand for Duke tickets.
That price may be high, but it reflects Coach K's star status
Given the way prices are trending in 2022, dropping multiple thousands of dollars on a college basketball game is still a pretty steep price. Duke basketball fans, however, will argue that Coach K is well worth the money.
While fandom is a personal thing, it's safe to assume that just about anyone wearing royal blue will consider Krzyzewski more than a coach. Purely on a sporting level, he transformed Duke from a small, southern also-ran into one of college basketball's dominant powers. In an era when a single poor season can cost someone their job, winning more than 1,000 games and five national titles is an incredible feat.
Coach K's legacy, however, goes far beyond basketball. (Coincidentally, that's also the title of one of his books.)
At the risk of veering too far into intangibles, Krzyzewski has grown into more than an NCAA icon. He's channeled his military background into redeeming Team USA. He's penned books about leadership and the lessons he's learned on the sidelines. Most obviously, he's stood on the sidelines for so long that he's become the face of Duke basketball.
In a similar vein to John Wooden or, taking it across the pond, Arsene Wenger or Sir Alex Ferguson, Krzyzewski has been the only coach that multiple generations of fans have ever known. While just about every facet of life changed between 1980 and 2022, Coach K has remained a constant. That, combined with his tendency to discuss concepts like collective responsibility, leadership, and teamwork, can make him feel almost like a stand-in grandfather or uncle.
While those who can't stand Duke will probably disagree with that assessment of Krzyzewski, just about every sports fan can probably understand the sentiment. No matter your preferred program, there's a beloved player or coach who defines your favorite team; if pressed, you'd probably be pretty sentimental about their retirement.
Through that lens, it's easy to understand why fans are willing to shell out thousands to see Coach K one last time. Something as simply bigger than wins and losses.