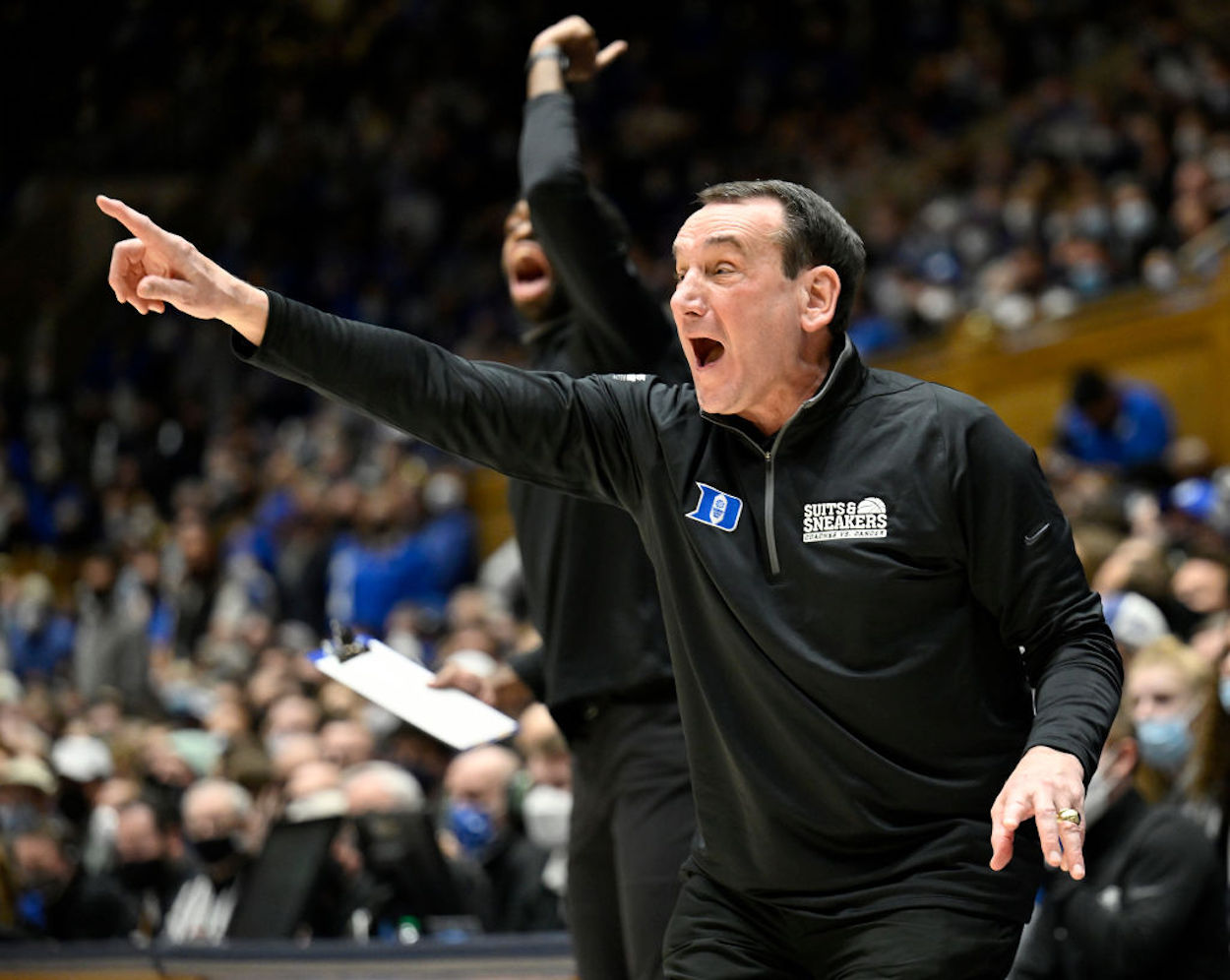 Coach K Once Charged Into the Duke Locker Room With a Sword to Motivate His Team
Coach K is willing to go to extreme measures to ensure his Duke Blue Devils are ready to win, including breaking out his military sword.
While coaches have plenty of responsibilities, motivating their team is near the top of the list. Over his time at Duke University, Mike Krzyzewski has used plenty of tricks of the trade to get the best out of his Blue Devils. He's given countless of speeches and provided multiple silent treatments, but the NCAA veteran has also resorted to some less than conventional tactics. Take, for example, one instance 2005.
Ahead of a game against Georgia Tech, Coach K tried to inspire his team with a clip from Braveheart. Then, he channeled William Wallace and burst into the locker room, wielding a sword of his very own.
Coach K used a sword to inspire his Duke Blue Devils before a home game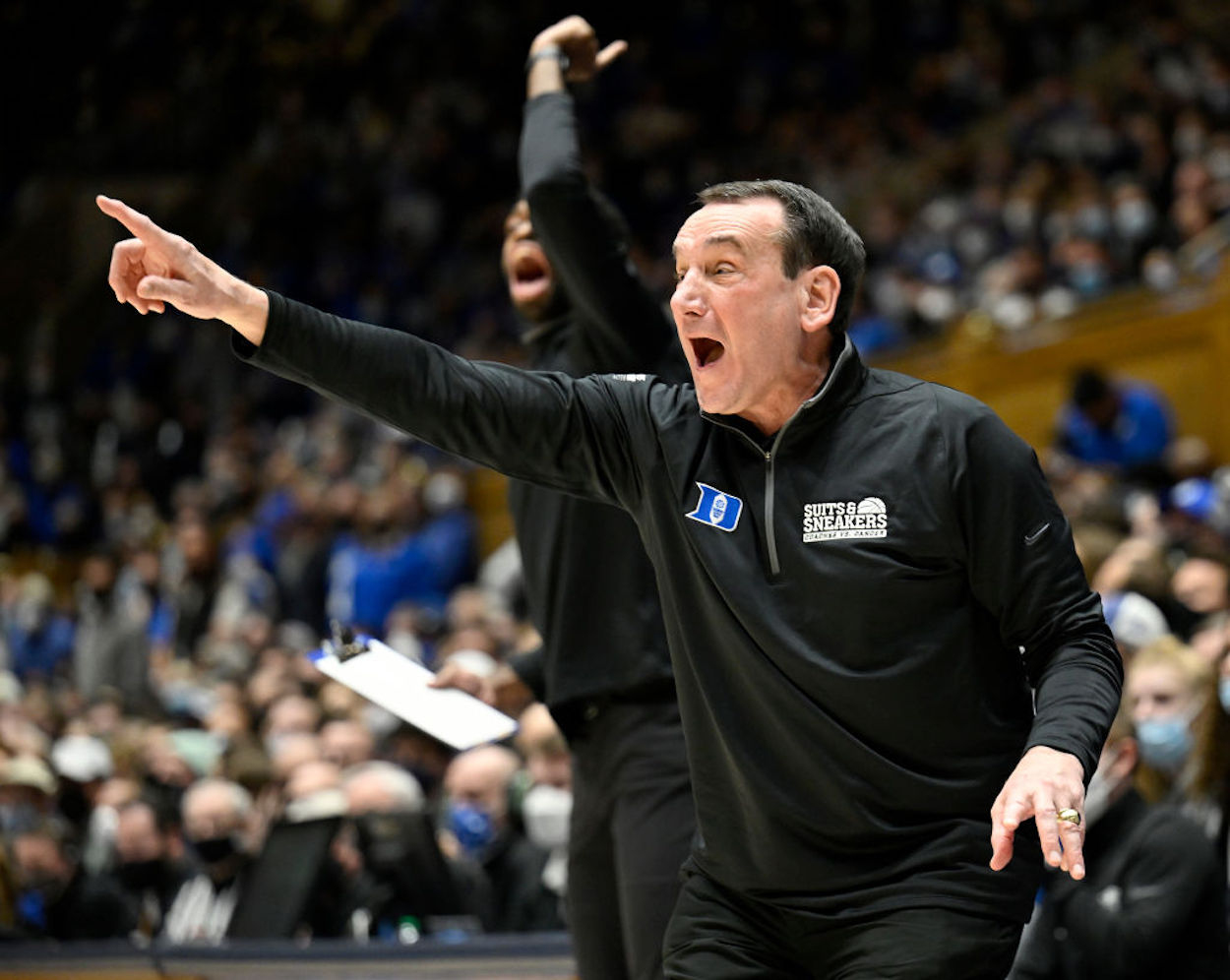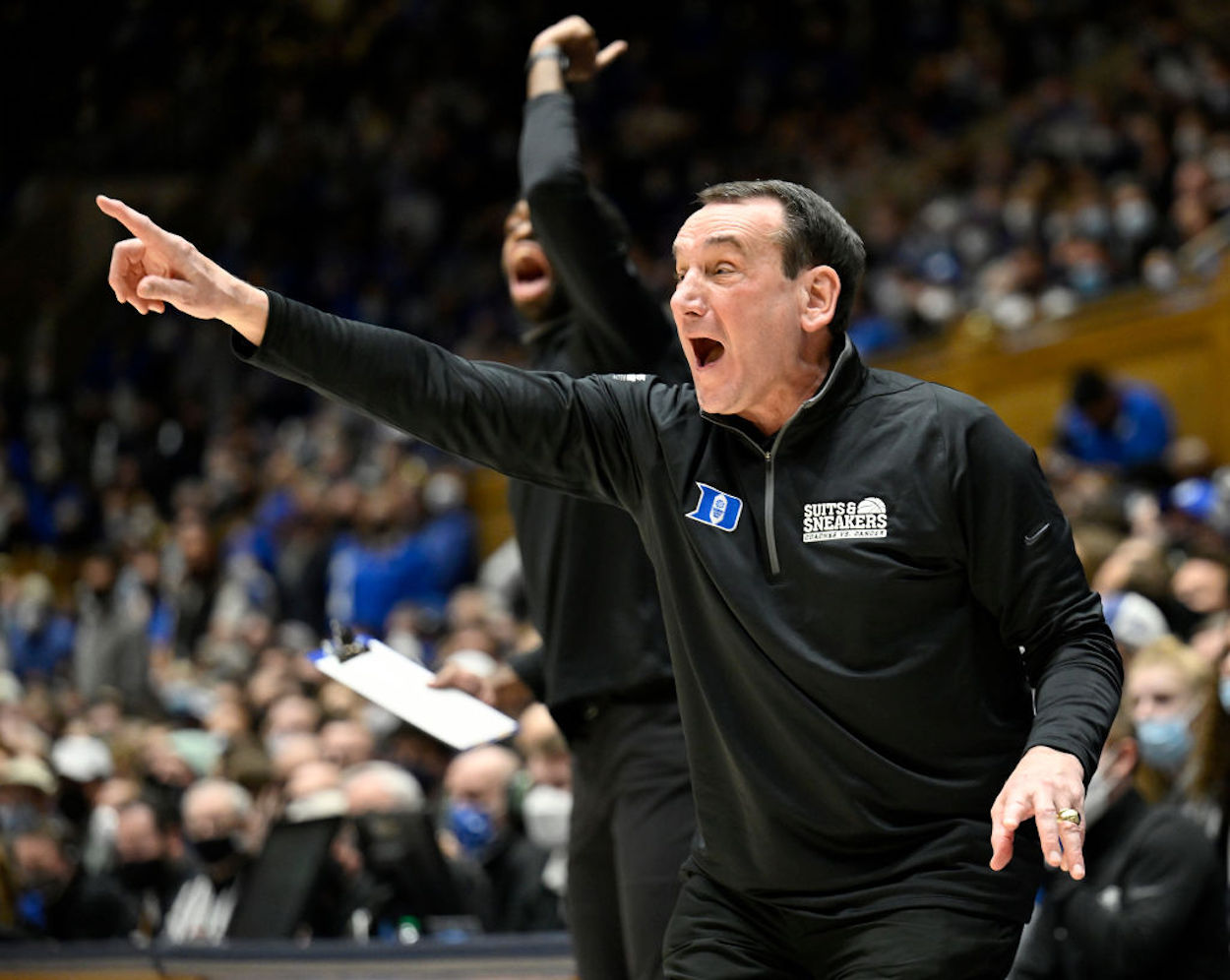 Although its pop-cultural relevance has somewhat faded over the years, there was a time when just about everyone was familiar with Braveheart. Even Coach K, it seems, was no stranger to Mel Gibson's work.
"He's lost 365 times in his career, each of them a small death, and there are four decades of his extreme reactions to them," Wright Thompson wrote in an ESPN feature looking at Coach K's life and career. "You could pick any of them to get a sense of how his main coaching strategy seems to be setting himself on fire and hoping his team will be drawn to the light. Here's one. In February 2005, as his team prepared to play Georgia Tech, Krzyzewski hit peak intensity. The night before the game, he played the team a battle scene from Braveheart, showing William Wallace lopping off heads and planting a sword in the ground."
While that was probably enough to fire the team up, Coach K didn't stop there. After warmups, he decided to throw himself fully into the role.
The following day, the team ran out for layups and then returned to the locker room. The Cameron crowd was booming. The assistants put on Braveheart again and as Wallace planted his sword, Krzyzewski came screaming into the room, waving his old Army saber. He planted his sword into a big planter of dirt an assistant had strategically placed.

"Let's go, motherf******!" Krzyzewski yelled.

Wright Thompson
 While Krzyzewski famously collapsed during that game, the Blue Devils did enough to comfortably defeat Georgia Tech that night. It's unclear how much his pregame performance played a role in the result.
That fiery performance seems bizarre, but it certainly fits with everything we know of Coach K
Given his status as one of basketball's elder statesmen, it's almost comical to imagine Coach K bursting into a room of confused teenagers brandishing a sword. Given everything we know of the living legend, though, his actions make sense.
As those well-versed in Krzyzewski's biography know, he attended West Point and played under Bob Knight. At the risk of delving into the distasteful cliche of comparing sports to war, that's an environment that expects the best and doesn't tolerate losing. He then began his coaching career on Knight's Indiana staff, where defeat was an uncommon occurrence.
Even though there was plenty of losing during his early years in North Carolina, Coach K refused to let it become an accepted part of Duke's culture. Thompson's feature is full of colorful examples reflecting that reality. There's an entire section, for example, dedicated to the "battle mode" that accompanies the beginning of ACC play each year. At that point, life devolves into a series of routines that allow he and his staff to devote their focus to on-court success. The veteran coach, who could afford any creature comfort he desires, is even described as loving "this spartan way of living," which includes little more than work and the occasional piece of pizza.
It goes beyond enjoyment, though. Getting into the metaphorical bunker is a key part of each Duke campaign. 
"He really believes battle mode is one of the reasons they win," Jay Bilas explained in Thompson's piece.
From afar, it's easy to look at Krzyzewski and view him as an uptight old man who has little time for anything other than yelling at referees and making slightly out-of-touch comments. At his core, though, Coach K is a leader who has designs on winning just about every competition available.
Even something as seemingly out of character as putting in his own Braveheart performance in the locker room is fair game in pursuit of a win.