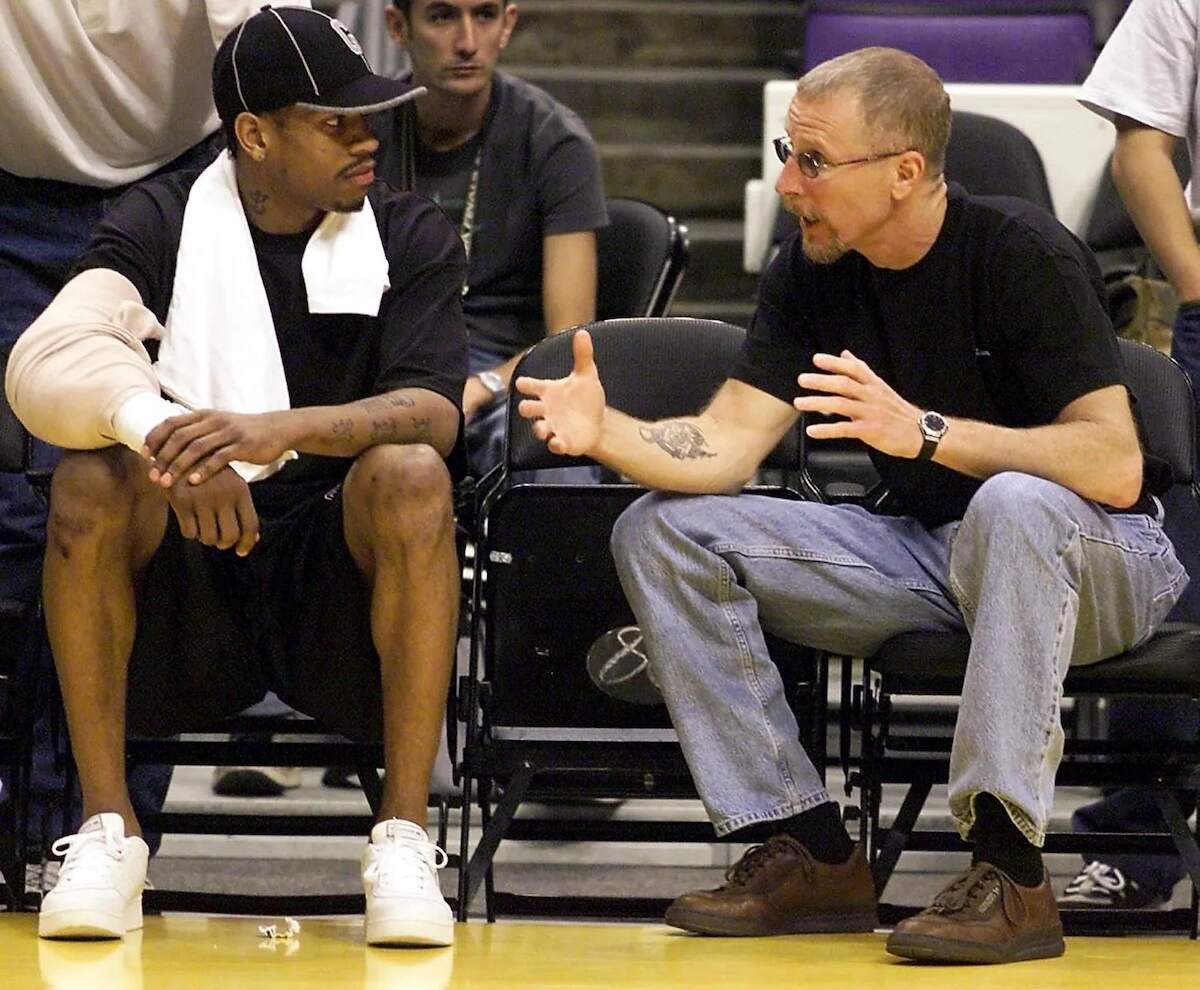 Philadelphia 76ers Owner Pat Croce Fired His Own Family Member for Robbing Allen Iverson
Former 76ers owner Pat Croce was forced to fire his own brother when he committed a petty crime against franchise star Allen Iverson.
For more than a decade, Allen Iverson collected paychecks from the Philadelphia 76ers. Along the way, he tantalized fans and frustrated opponents with his signature crossover that often ended with the diminutive guard putting the ball in the basket.
However, it turns out that one member of the 76ers managed to steal a few dollars from the NBA legend. As a result, then-team owner Pat Croce had to fire one of his own family members for committing a petty crime against the face of his franchise.
Allen Iverson made almost $100 million during his 76ers career
Although he didn't boast the prototypical frame of an NBA player, Allen Iverson still dominated as one of the best pure scorers in league history.
The 6-foot, 165-pound guard entered the league as the No. 1 overall pick of the 1996 NBA Draft. He wasted little time showing why the Philadelphia 76ers took him over a number of other future stars, including Kobe Bryant, Ray Allen, and Steve Nash.
During his rookie season, AI averaged 23.5 points, 7.5 assists, and 2.1 steals for a 76ers squad that finished with an ugly 22-60 record. However, thanks to Iverson's offensive brilliance, the team eventually became an annual playoff contender.
During his time in Philadelphia, the 2016 NBA Hall of Fame inductee led the league in scoring four times. In 2000-01, Iverson almost singlehandedly carried the 76ers to an NBA Finals appearance against the Lakers' dynamic duo, Shaq and Kobe. In 22 postseason games that year, he played a whopping 46.2 minutes per game and poured in nearly 33 points per contest.
Although he left Philadelphia without a championship ring, Iverson did earn quite a bit of money starring for one of the league's most historic franchises. The 11-time NBA All-Star earned just north of $97 million in 11 seasons with the 76ers. However, one member of the organization tried to keep some of AI's cash for himself.
Pat Croce fired his own brother for committing a petty crime against the face of the franchise
For Pat Croce, having the opportunity to call Allen Iverson the face of his franchise represented a once-in-a-lifetime opportunity. After all, 76ers games became must-watch TV simply because of the presence of the former Georgetown star.
Unfortunately, Croce's own family member committed a crime against the most beloved player ever to don a 76ers uniform. As a result, he had to fire his own flesh and blood.
According to UPI, on April 3, 2001, Croce announced that his brother, John, had been dismissed as the team's strength and conditioning coach. So why did Philadelphia's team president have to cut ties with one of his own family members?
It turns out John Croce had been caught on videotape stealing money from Iverson's pants in the locker room.
"I found out about it the day Billy King [76ers general manager] showed me the video, the day we fired my brother," Pat told the Philadelphia Inquirer. "Billy showed me the video. I said, 'Call [John] in. Ask him pointed questions. Investigate this. If this is true, we'll have to take immediate action.'"
Ironically, the crime against Iverson got captured on camera only because other players had complained about missing money. The new security upgrade ended up catching the unlikely culprit. "This is so painful," Pat said. "We had to take immediate action. There was no way I was going to cover this over."
Allen Iverson will finally be able to turn his financial situation around … in 2030
Allen Iverson lost a few bucks because of a rogue 76ers employee. But even though Pat Croce made him a rich man, the former NBA star has squandered away most of his fortune.
According to Celebrity Net Worth, the 47-year-old has an estimated net worth of just $1 million. Of course, Iverson earned well over $150 million during his Hall of Fame basketball career.
But between overspending, an expensive divorce, and other financial issues, the NBA legend no longer has the flexibility to lose a few dollars. Luckily for AI, he will get a substantial boost to his bank account … in 2030.
Thanks to his lifetime contract with Reebok, Iverson has a $32 million trust fund coming his way on his 55th birthday. At that point, whatever money John Croce stole won't even matter.
Contract data courtesy of Spotrac. Statistics courtesy of Basketball Reference.