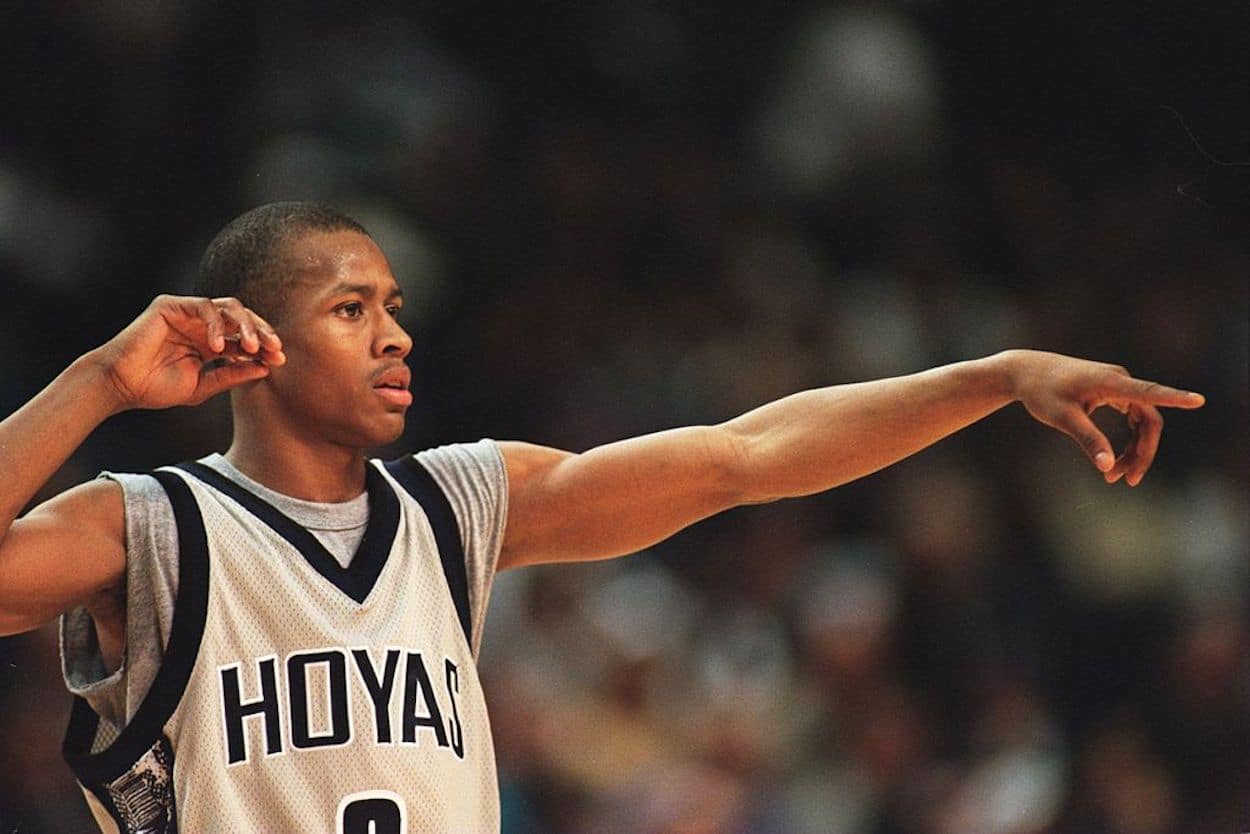 Allen Iverson Owes At Least Some of His Legend to a Forgotten Georgetown Walk-On Named Dean Berry
College is a place for learning. Thankfully for basketball fans, AI learned his signature crossover at Georgetown.
While it's been a while since he hit the NBA hardwood, no one will forget Allen Iverson anytime soon. Not only was the guard incredibly talented, but he brought an entirely new attitude to the Association. AI had cornrows and tattoos; he hung out at TGI Fridays and produced plenty of soundbites. And who could forget his killer crossover, which was even capable of embarrassing Michael Jordan?
That signature move, however, wasn't Iverson's own creation, stemming from hours in the metaphorical lab (He obviously didn't invent the crossover, but you know what I'm saying). Believe it or not, he learned it from a forgotten man in Georgetown basketball history.
Allen Iverson learned his signature crossover from a rarely-used Georgetown walk-on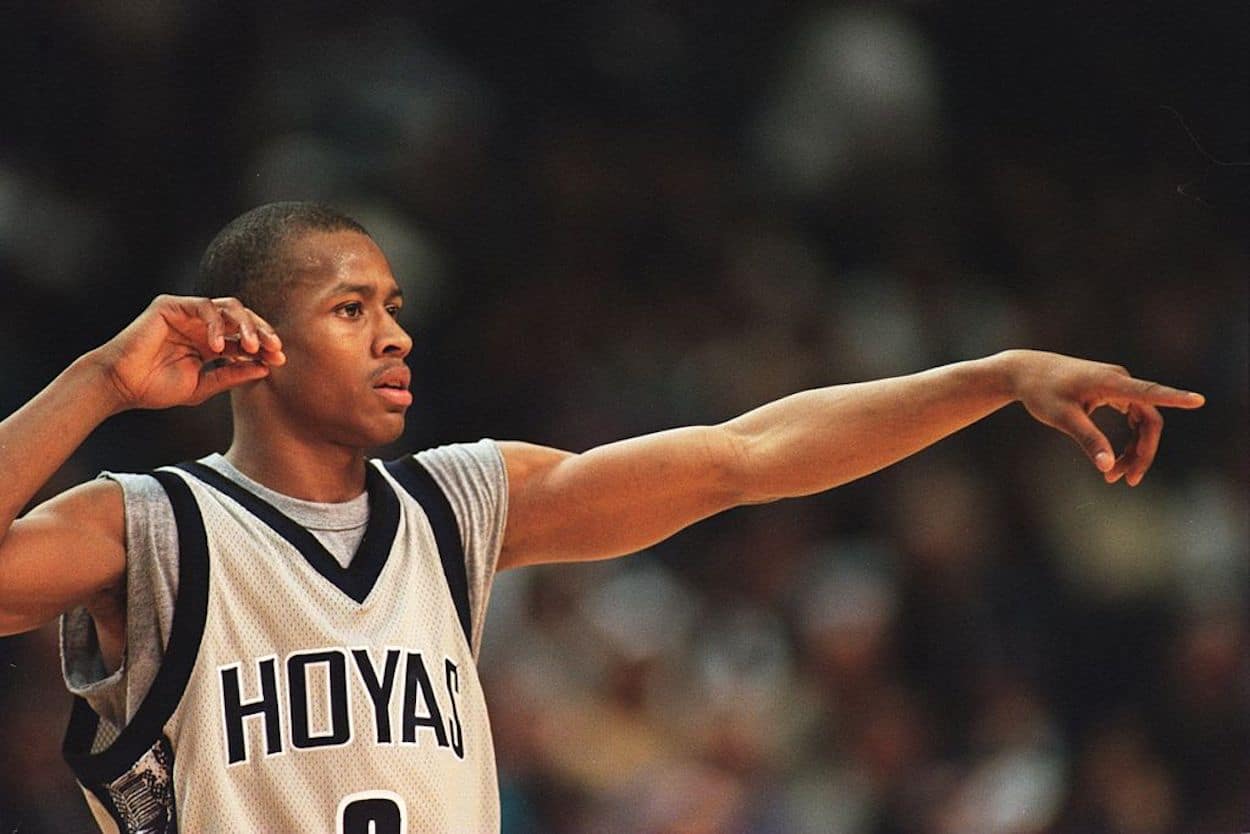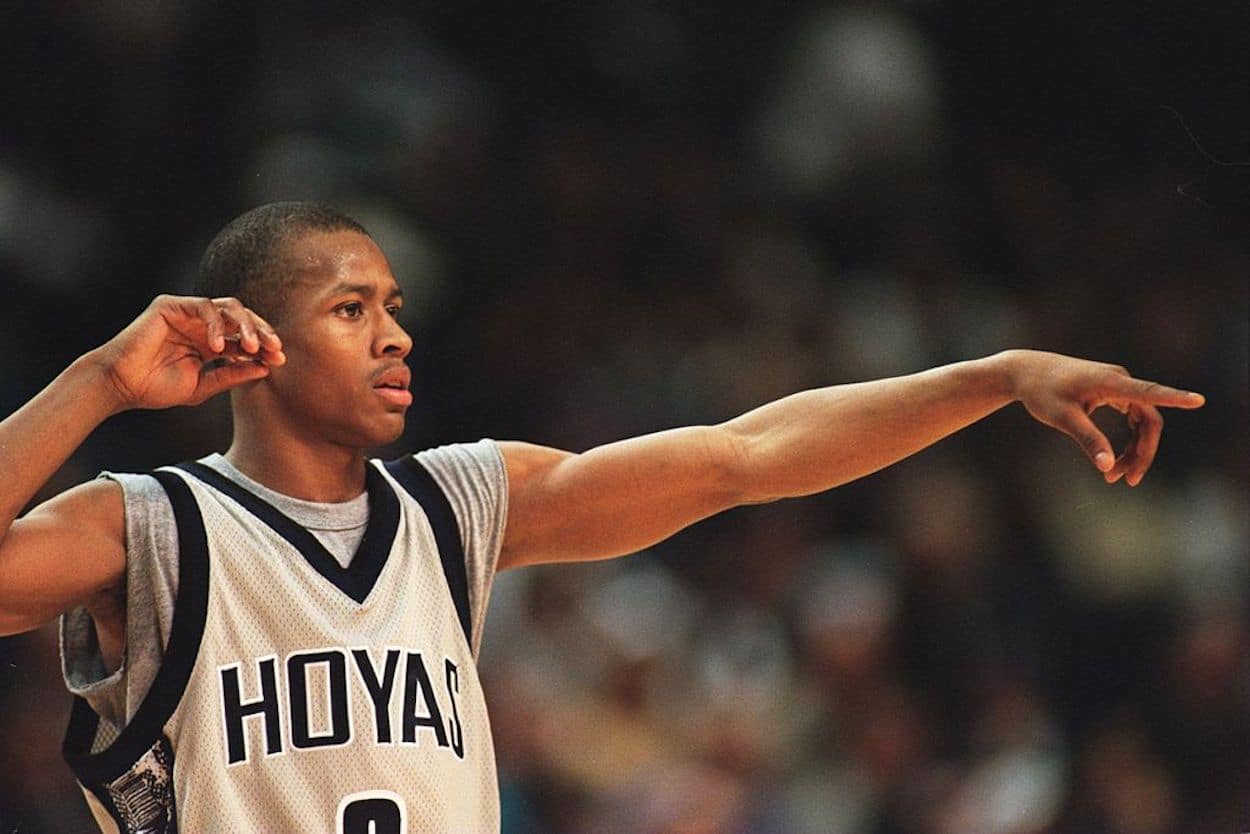 These days, the name Dean Berry has probably been forgotten by even the most devoted Georgetown basketball fans. Without that guard, however, Allen Iverson would have lacked his signature move.
"He was killing me every day in practice, so I finally asked him to show me how to do the move," AI told Bleacher Report's Chris Palmer in 2015.
The Georgetown Basketball History Project also contains some quotes supporting that anecdote.
In his 2002 book, author Larry Platt explained that "Berry, with his limited skills, had spent years developing his game. A cerebral player, he started studying tapes in the seventh grade of great ball handlers. Over and over again, he'd watch Tim Hardaway's crossover dribble, commonly referred to as the 'UTEP two-step.' He watched Isiah Thomas's unique version of the same move. He saw John Stockton remove all the bells and whistles and confound opposing guards with it…

"The reason Iverson kept playing Berry after practice was that he couldn't stop Berry's crossover, even when he knew it was coming. He'd tell himself not to go for the fake, and he knew he was quicker his teammate, the twelfth man on the team, but then Berry would drop a cross on him and the next thing you knew, the walk-on was around him. 'Man,' Iverson finally said, 'you gotta show me that…' From then on, Berry taught his superstar teammate his favorite move."

The Georgetown Basketball History Project
That page also contained a record of Berry's stats. Across four seasons with the Hoyas, he played a grand total of 347 minutes, averaging 2.3 points per outing. While that might not earn him a place in Georgetown history, his impact on Iverson does mean he (indirectly) changed the entire basketball world.
Without that crossover, Iverson's legacy would probably look a bit different
Based on his incredible talent, it's safe to assume that Allen Iverson would have had quite the career — be it in basketball or football — even without learning Dean Berry's crossover. With that being said, though, the move did play a key part in AI's legendary image.
As I mentioned in the introduction to this piece, Iverson was largely different than anything that basketball had seen before. As explained in an Andscape piece, the 76ers guard was part of the change in NBA tattoos. While guys like Dennis Rodman had sported ink before, the 76ers guard's arms were adorned with parts of his story — like, "Only The Strong Survive," "CRU THIK" (which honored his group of friends), plus names of relatives — rather than images of pin-up models, barbed wire, and other more generic images.
Beyond that, Iverson rocked cornrows, had a killer crossover, and played like someone on the blacktop in the best possible way. While that led to him being labeled a thug and blamed for the rise of isolation-heavy basketball, it also made him the representative for an entire population.
A 2020 story in SLAM explains that sentiment perfectly.
"Between '96 and 2010, when he reluctantly retired, Iverson left dozens of defenders grasping for air—as he crossed them over or just used his speed to run by them—and even more fans gasping for air. He was inducted into the Hall of Fame in 2016, Tzvi Twersky wrote. "Along the way, Iverson popularized arm sleeves, braids, headbands, tattoos and more. He didn't invent any of it—it was authentic to the Black community he came from—but he was the first superstar to bring it with him to a national audience.  In doing so, Iverson changed the NBA and, in ways, America."
The piece quoted Master Tesfatsion of Bleacher Report as saying Iverson "was the first [NBA player] to genuinely be himself that I noticed." LeBron James also shared similar sentiments, once telling Sports Illustrated, "[Iverson] represented what Black kids were all about, and he resonated with every inner-city kid in the world who had a struggle. Michael Jordan inspired me, and I looked up to him, but he was out of this world. AI was really the god."
Having a killer crossover was a part of that image.
These days, Allen Iverson is rightfully remembered as both an incredible NBA talent and someone who was more than an athlete. As time marches on, though, Dean Berry at least deserves to be credited with an assist.
Have thoughts on this topic? Keep the conversation rolling in our comments section below.