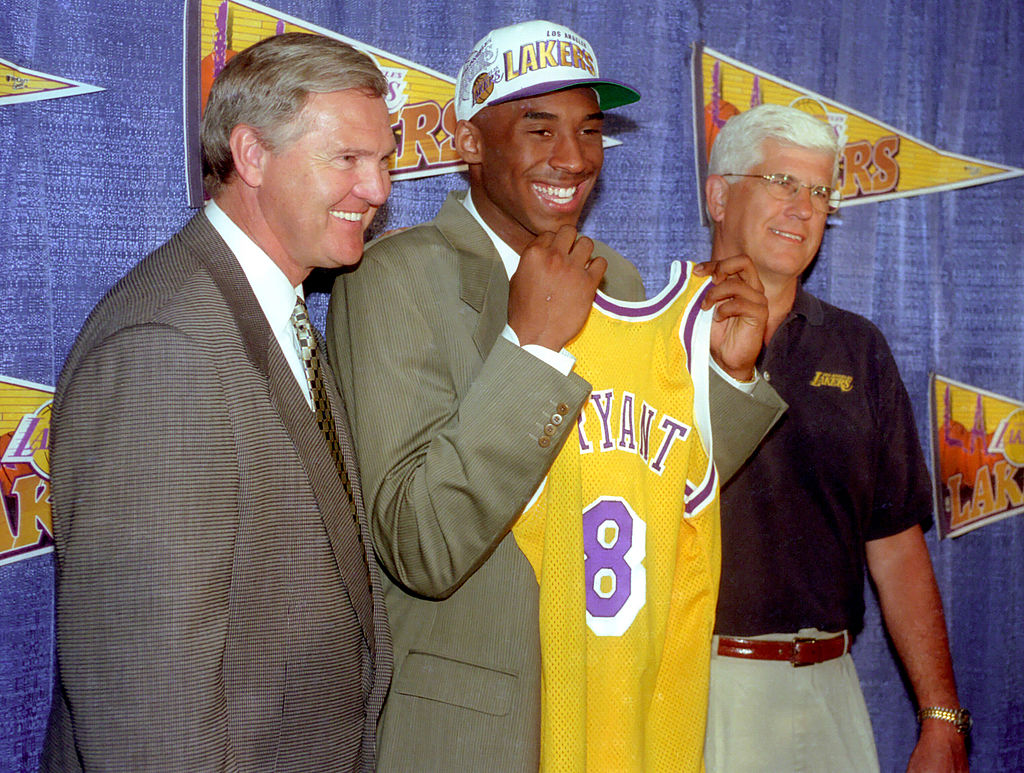 Which NBA Players Were Drafted Before Kobe Bryant?
Surprisingly, Kobe Bryant wasn't even a top-10 pick in the 1996 NBA Draft. Who was drafted before the Lakers legend?
When you think of the best NBA players to ever set foot on a court, Kobe Bryant is nearly always in the conversation. The Los Angeles Laker had one of the most decorated careers in NBA history. After retiring in 2016, he dedicated his life to his family and business ventures.
Tragically, on January 26, 2020, Bryant and his 13-year-old daughter Gianna died in a helicopter crash. One thing bereaved fans will always remember about him is his legendary work ethic. The NBA star outworked everyone on his rise to the top.
Surprisingly, Bryant wasn't even a top-10 pick coming out of Pennsylvania's Lower Merion High School. Let's look at some of the players drafted before Bryant in the 1996 NBA Draft to see how their careers turned out compared to the Lakers icon.
Allen Iverson (No. 1 overall)
Coming out of Georgetown, Allen "The Answer" Iverson was everything the Philadelphia 76ers needed in a point guard. He was built tough, playing for the Hoyas' John Thompson, and had the charisma to handle the criticism of Philadelphia media.
Iverson averaged 26.7 points per game for his career — currently seventh all-time. The four-time scoring champ made 11 All-Star teams and seven All-NBA teams. He entered the Naismith Memorial Basketball Hall of Fame in 2016.
Marcus Camby (No. 2 overall)
The second pick in the 1996 draft class, Marcus Camby was a big man who could dominate on both ends of the floor. The 2007 NBA Defensive Player of the Year averaged 11 points, 11 rebounds and three blocks per game. During his career, Camby made four All-Defensive teams and led the league in blocks four times.
Ray Allen (No. 5 overall)
One of the best perimeter shooters the league has ever seen, Ray Allen was a lights-out shooter. He won two championships (one with Boston and one with the Heat) and made 2,973 three-pointers during his 19-year NBA career.
Allen always had a knack for finding open spots in a defense. His tireless workout sessions before games helped him shoot 40% from behind the arc for his career. The 10-time All-Star entered the Basketball Hall of Fame in 2018.
Samaki Walker (No. 9 overall)
Iverson and Allen had successful NBA careers; the next two NBA players drafted before Bryant weren't so lucky. The Dallas Mavericks chose Samaki Walker No. 9 overall. Although he saw playing time, the power forward was never a force on the floor. 
For his career, Walker averaged just five points and five rebounds per game. He did play a small part on the 2002 Lakers team that capped off their three-peat, ironically as Bryant's teammate.
Todd Fuller (No. 11 overall)
To put it bluntly, Todd Fuller simply wasn't good enough to have a sustainable NBA career. He started just 23 games in his five seasons in the league, averaging three points and three rebounds per game before retiring in 2001.
How did Kobe Bryant's career stack up?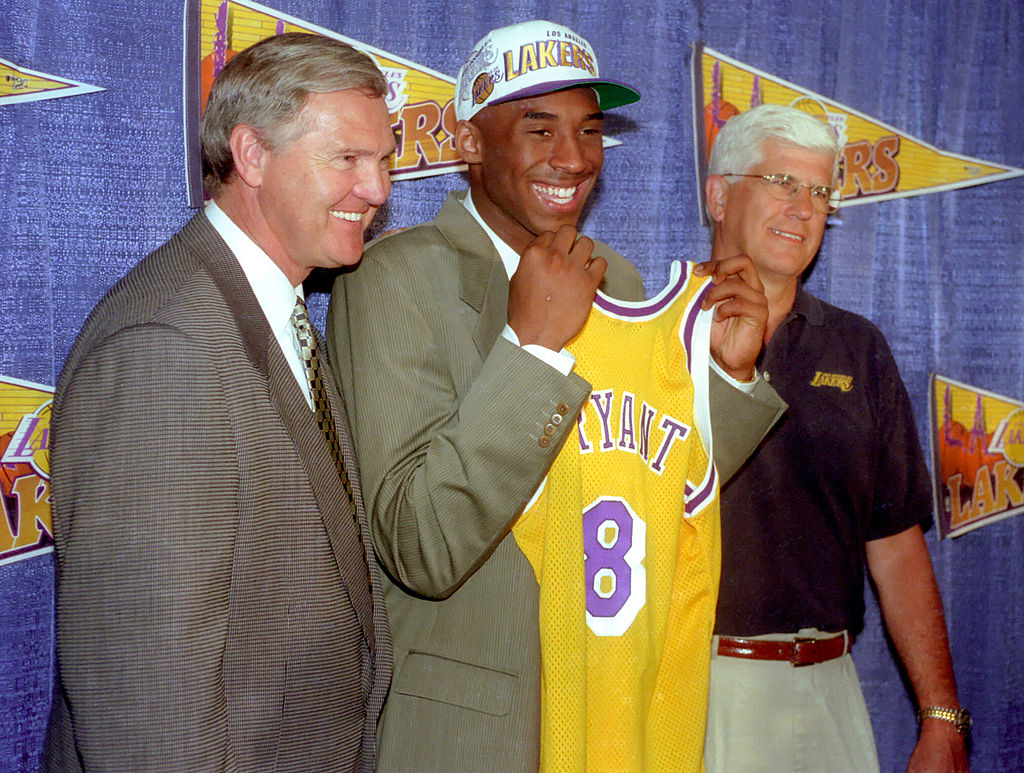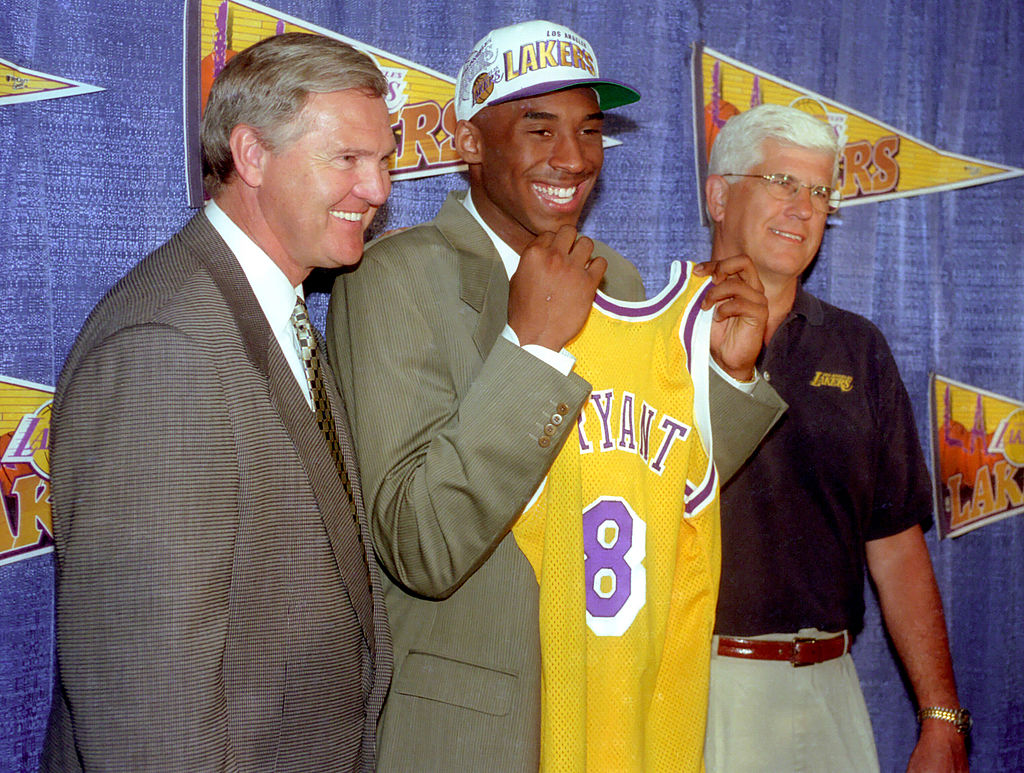 The only career that comes close to Bryant's is Iverson's. Yet even "The Answer" wasn't as dominant on the court as the "Black Mamba." He won five NBA championships, scored a career-high 81 points (still second-most in league history), and made 15 All-NBA teams.
If we had to redo this draft, there's no doubt the 76ers would've selected Bryant with the first pick.
Follow more updates from Sportscasting on our Facebook page.