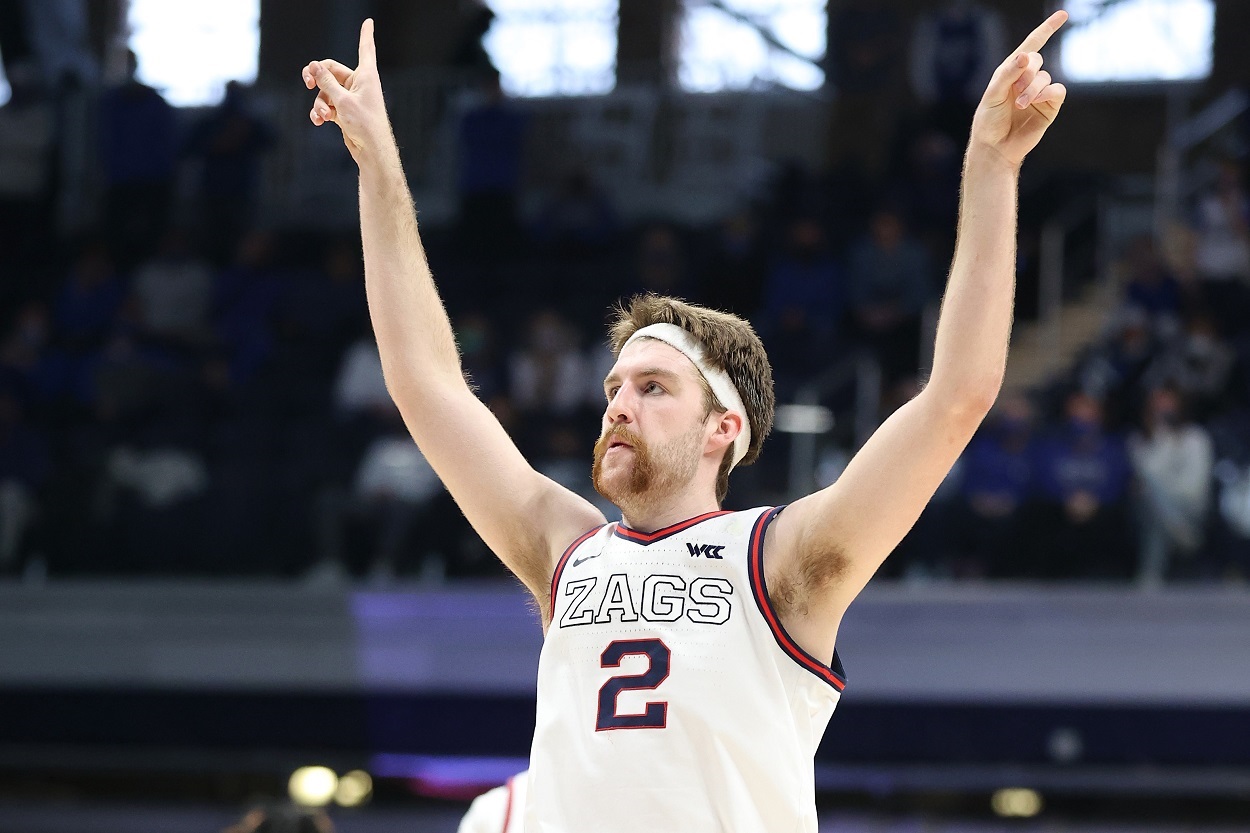 Gonzaga Bulldogs Star Drew Timme's Signature Mustache Celebration Was Inspired by a High-Profile WWE Superstar
Gonzaga Bulldogs forward Drew Timme's signature celebration after a big score was inspired by a very high-profile WWE superstar.
The NCAA Tournament has long been an event in which stars are made and Gonzaga Bulldogs sophomore Drew Timme has certainly taken advantage of the big stage in this year's edition.
After not being able to experience March Madness as a freshman due to the coronavirus pandemic, the 6'10" forward has been an absolute beast for Gonzaga as the Bulldogs attempt to become the first undefeated team to win a national championship since 1976.
And he's shown quite a bit of flair in doing so as his facial hair and signature pose have become stars in their own right on the way to the Final Four. So just where did that signature pose come from? Well, it was actually inspired by a WWE superstar, who, like Drew Timme, is about to perform on the biggest stage of his career.
Drew Timme was a Naismith Player of the Year semifinalist and a second-team All-American
In helping lead the Gonzaga Bulldogs to a perfect 24-0 record in the regular season, Drew Timme was named a Naismith Player of the Year semifinalist, as was teammate Corey Kispert.
After spending his freshman season as a key reserve making the occasional start, a season in which he averaged 9.8 points and 5.4 rebounds before it was shut down, Timme was a full-time starter in 2020-2021 and had a phenomenal regular season, averaging 18.9 points, shooting 64.1% from the floor, and 7.1 rebounds, stats that also earned him consensus second-team All-American honors.
He certainly didn't need to be spectacular in the WCC Tournament as Gonzaga scored easy victories over Saint Mary's and BYU, wins that improved the Bulldogs' record to 26-0, but still averaged 16 points and 7.5 rebounds. But he's really stepped it up in the NCAA Tournament.
He's been on a tear in the NCAA Tournament
Expectations were high for the Gonzaga Bulldogs as they entered the NCAA Tournament as the No. 1 overall seed and they've lived up to all of them thus far as they prepare for their Final Four matchup on Saturday night with the surprising UCLA Bruins. And Drew Timme has led the way.
In the four games Gonzaga has played on the way to the Final Four, Timme has averaged 21.3 points, including a 30-point outburst against eighth-seeded Oklahoma in the second round, 7.5 rebounds, and 4.3 assists. The Bulldogs won those four games by an average of 24 points and have actually only had one game this season decided by single digits, an 87-82 win over West Virginia in their third game of the year.
At 30-0, Gonzaga has the chance to become the first team since Bob Knight's 1975-1976 Indiana Hoosiers to win a national title with an undefeated record.
Drew Timme's signature celebration was partly inspired by WWE star Bobby Lashley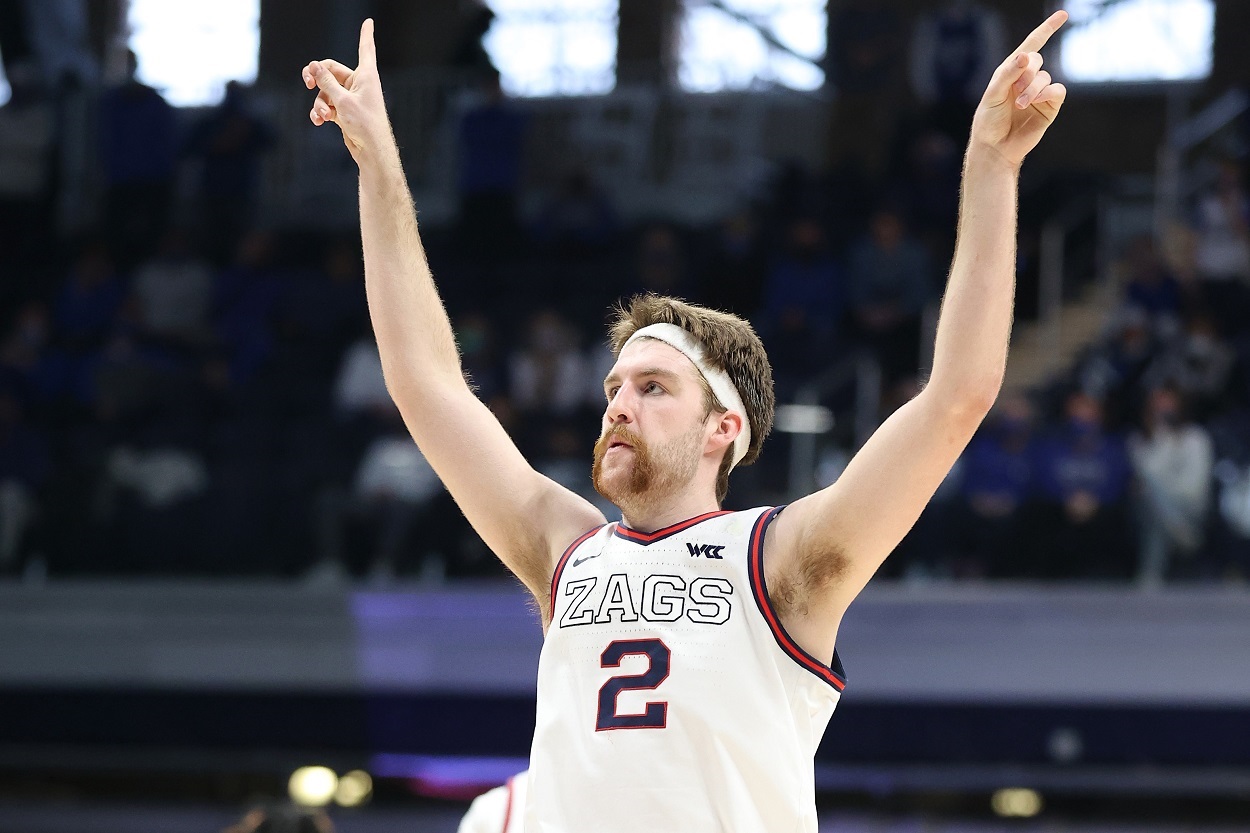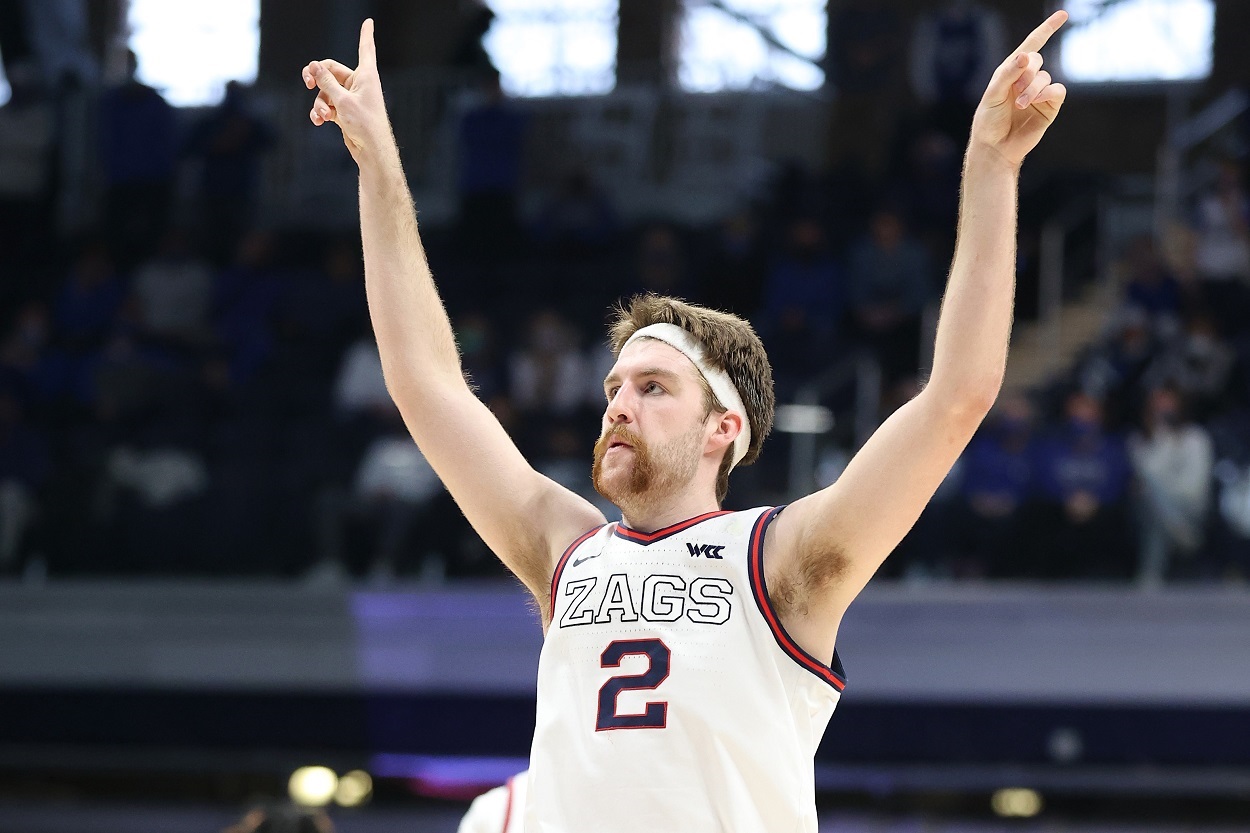 If you've watched at least one Gonzaga Bulldogs game during the NCAA Tournament, you've surely noticed that when Drew Timme scores a big bucket, of which he's obviously scored many, he essentially combs his mustache, which changes constantly much to the delight of the internet, and then points to the sky in celebration.
So where did this celebration come from? Well, as it turns out, Drew Timme is a huge WWE fan and was inspired by the signature pose of current WWE champion Bobby Lashley, as he recently told Gonzaga insider Alyssa Charlston. Take a look.
See the similarity?
Like Timme, Bobby Lashley is preparing for the biggest weekend of his career when he defends his WWE Championship on night one of WrestleMania 37 against Drew McIntyre, easily the biggest match of his career, which takes place on Saturday, April 10.
As for Drew Timme, the biggest game of his young career takes place this Saturday as the Gonzaga Bulldogs take on the UCLA Bruins in the second game of the Final Four, which is currently set to begin at approximately 8:34 p.m. Eastern on CBS.
Stats courtesy of Sports Reference