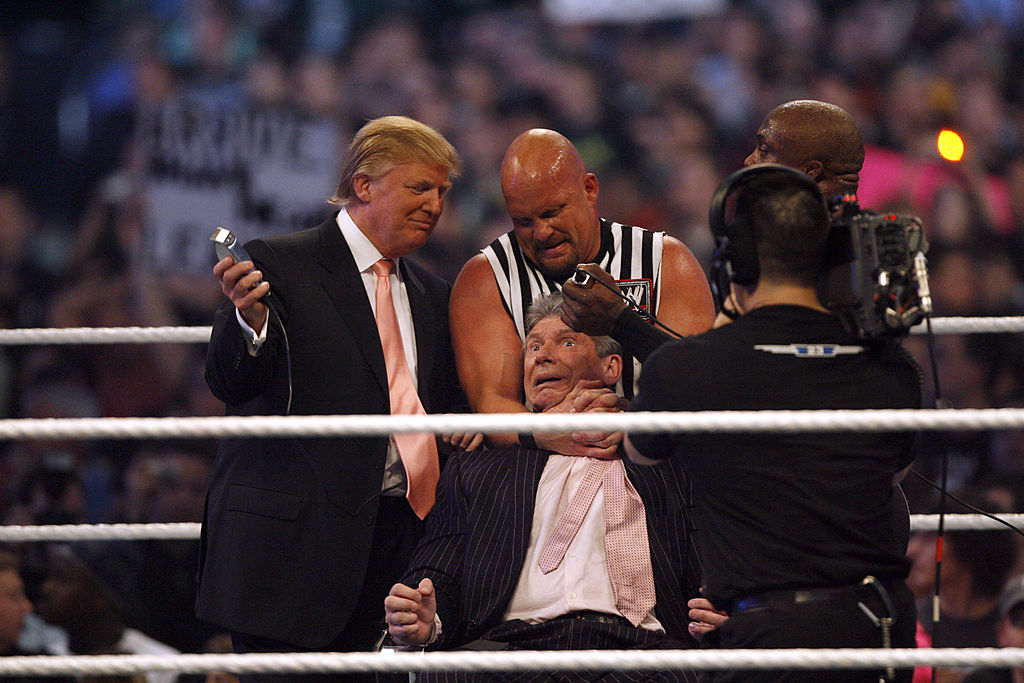 Never Forget That Donald Trump Once Shaved Vince McMahon's Head and Is a Member of the WWE Hall of Fame
A look back at President Donald Trump's history in WWE, which includes shaving Vince McMahon's head and being inducted into the Hall of Fame.
Given the fact that he's currently the leader of the free world, it's sometimes easy to forget that President Donald Trump has a long history with WWE and is actually a member of their Hall of Fame. Longtime pals with Vince McMahon, Trump has been a part of numerous storylines over the years, including one in which he actually shaved McMahon's head right in the middle of the ring in front of 80,000 people.
Here's a quick look back at Donald Trump's history with WWE.
Donald Trump hosted WWE WrestleMania twice
Following the record-setting WWE WrestleMania III event in 1987 that saw Hulk Hogan slam Andre the Giant in front of 93,173 people at the Pontiac Silverdome, Donald Trump saw the dollar signs that a WrestleMania could bring in and wanted a piece of the action. He signed a deal to have Trump Plaza sponsor WrestleMania IV and hosted it at his convention hall in Atlantic City, which could fit close to 20,000 people inside and had already played host to multiple Mike Tyson fights, including the famous bout in which Tyson knocked out Michael Spinks in 91 seconds.
With Donald Trump himself right there in the front row, WrestleMania IV was a smashing success, featuring a 14-man tournament to crown a new WWE champion, won by "Macho Man" Randy Savage. Things went so well that WrestleMania returned to Trump Plaza the following year when Savage lost his title to Hulk Hogan in the culmination of one of the greatest storylines in history.
But Trump certainly wasn't done with WWE.
Donald Trump shaved Vince McMahon's head at WrestleMania 23 and then took a Stunner from Stone Cold Steve Austin
In the years after hosting WrestleMania, Trump would pop up from time to time at various WWE events, including WrestleMania XX at Madison Square Garden in 2004, where he was asked if he would ever consider running for the presidency. Yeah, that happened.
But his biggest moment in WWE came three years later at WrestleMania 23. Trump had gotten involved in an odd storyline in which Vince McMahon, who by the way was using "You're fired!" long before Trump ever did on "The Apprentice," was looking to capitalize on the real-life beef between Trump and Rosie O'Donnell, even going so far as to have impersonators compete in an actual match, which was absolutely terrible.
As the storyline played out, a storyline in which Donald Trump was the "good guy" if you can believe that, a match was set up in which both McMahon and Trump picked a wrestler to represent them in a "hair vs. hair" match at WrestleMania, billed as "The Battle of the Billionaires." The price for losing was a shaved head. With Stone Cold Steve Austin serving as special guest referee, Trump's representative, Bobby Lashley, defeated McMahon's guy, the late, great Umaga, and Trump shaved Vince's head right there in the middle of the ring in Detroit but then hilariously took a Stone Cold Stunner, or at least tried to anyway.
And let's not forget that clothesline during the match.
Hilarious.
He was inducted into the WWE Hall of Fame in 2013
In 2013, Donald Trump was inducted into the celebrity wing of the WWE Hall of Fame, which includes the likes of Mike Tyson, Pete Rose, and Snoop Dogg. Trump called it one of the greatest honors of his career.
Once he became the president, Trump appointed Vince McMahon's wife, Linda, to his cabinet as the Administrator of the Small Business Administration, a position she held until last year.