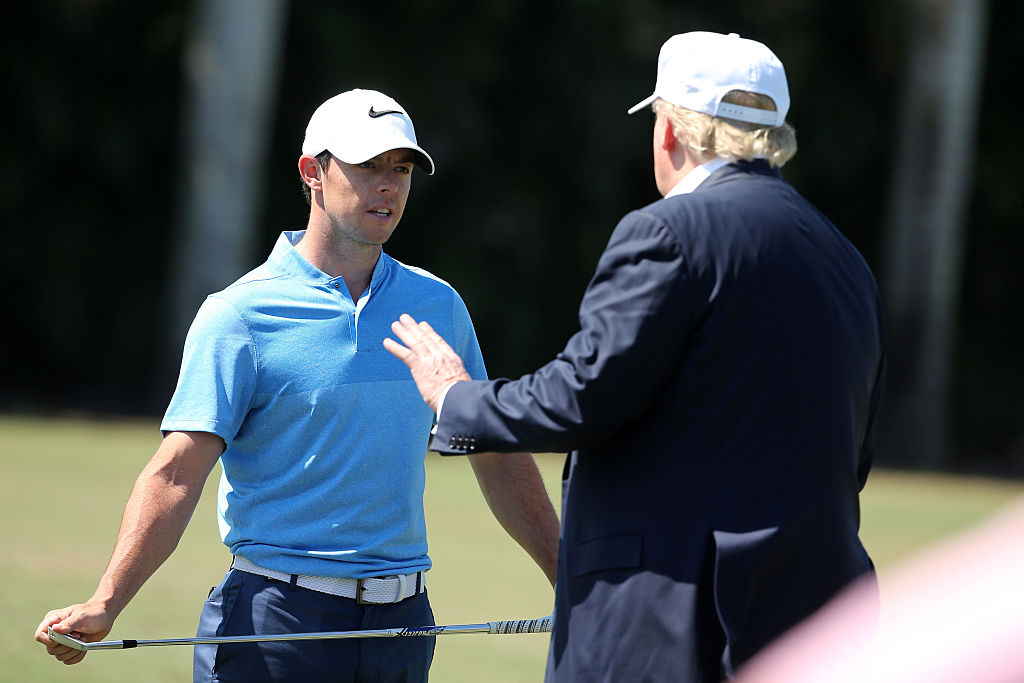 Why Rory McIlroy Won't Be Teeing It Up With Donald Trump Again Anytime Soon
Four-time major champion Rory McIlroy says in a new interview that he doubts he'll ever play golf with President Donald Trump again.
In 2017, Rory McIlroy took a lot of heat for playing a round of golf with President Donald Trump. While the 18-time PGA Tour winner initially defended the decision, he later said that he'd think twice about it and now says that it's not likely that he'll ever tee it up with Trump ever again. McIlroy is not pleased at all with how the President has handled the COVID-19 crisis, the crisis that's led to a major overhaul of the golf calendar, including The Masters being played in November.
Rory McIlroy said he enjoyed his round with Donald Trump in 2017
As mentioned, Rory McIlroy took a lot of heat for playing a round of golf with Donald Trump in early 2017. However, he defended the decision, as you can see in the above tweet, saying that although he might not always agree with Trump, he respects the office of the presidency and plays golf with friends and family that he doesn't agree with on certain things. In a recent interview, he reiterated that he enjoyed himself that day.
"I'll sit here and say that the day that I did spend with him and others was very enjoyable. He's very charismatic. He was nice to everyone. It didn't matter whether you were me or the guys in the cart barn or the pro at the golf club."

Rory McIlroy on Donald Trump
But it's not likely that Rory McIlroy tees it up with Donald Trump again anytime soon.
Rory McIlroy does not like how Donald Trump has handled the COVID-19 crisis
Everyone certainly has their own opinion on the COVID-19 crisis, including Rory McIlroy and certainly Donald Trump. While McIlroy may have enjoyed the day he spent with Trump three years ago, he certainly doesn't agree with how the President has handled the COVID-19 crisis, the pandemic that's caused more than 303,000 worldwide deaths, including more than 85,000 in the United States. Not only does McIlroy not agree with how Trump and his staff have handled the coronavirus outbreak, but he also says he doesn't agree with anything that comes out of Trump's mouth.
"So I will sit here and say that the day I had with him I enjoyed but that doesn't mean I agree with everything.

"Or, in fact, anything that he says.

"We're in the midst of something that's pretty serious right now and the fact that he's trying to politicize it and make it a campaign rally, saying that (the U.S.) administers the most tests in the world like it's a contest. … It's just not the way a leader should act and there is a bit of diplomacy that you need to show and I just don't think he's shown that, especially in these times."

Rory McIlroy on Donald Trump
Rory McIlroy has a pretty clear understanding of what these comments mean moving forward.
He knows he won't be teeing it up with the president anytime soon and really doesn't want to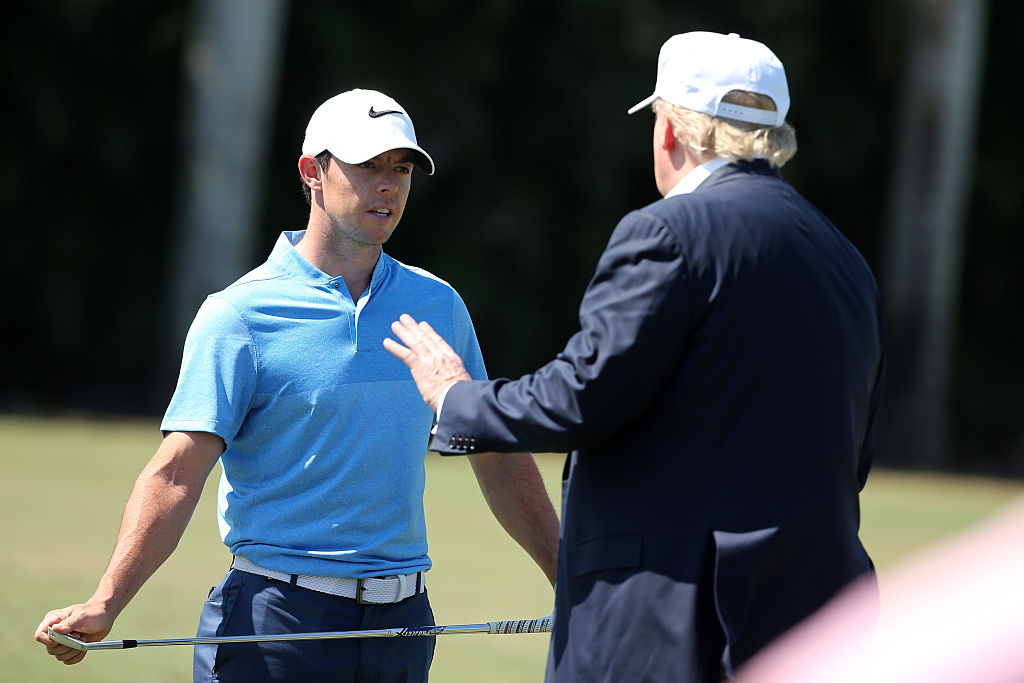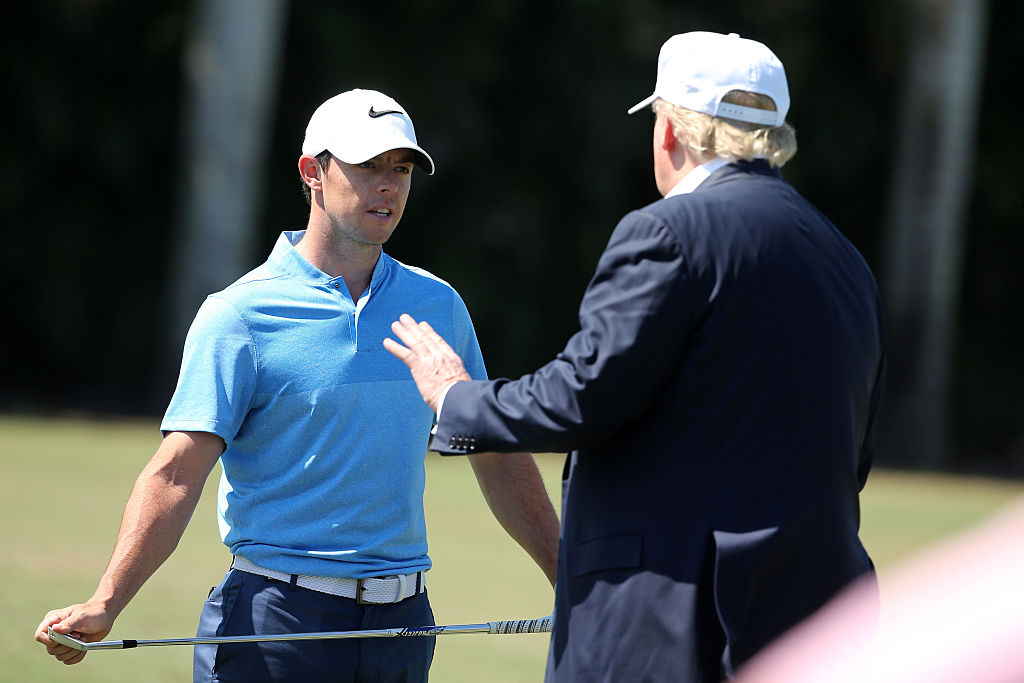 Rory McIlroy knows that the comments he made won't sit well with Donald Trump. Trump is known to hold grudges against those who don't agree with them and the four-time major champion is keenly aware he's probably not getting another invitation to Trump International, not that he'd accept it anyway. When asked if he'd play with the president again, Rory said it wasn't likely.
"I don't know if he'd want to play with me again after what I just said. I know it's very self-serving of me to say 'No' and if I don't, then it means then I'm not putting myself in position to be put under scrutiny and that I'm avoiding that.

"But I probably wouldn't, no."

Rory McIlroy on if he'd tee it up again with President Trump
It's not as if Rory McIlroy would have much time to play with Donald Trump anyway. The PGA Tour is set to resume play next month and McIlroy has committed to playing the first three events, the Charles Schwab Challenge in Texas, the RBC Heritage in South Carolina, and the Travelers Championship in Connecticut.
*All quotes courtesy of the McKellar Golf Podcast.