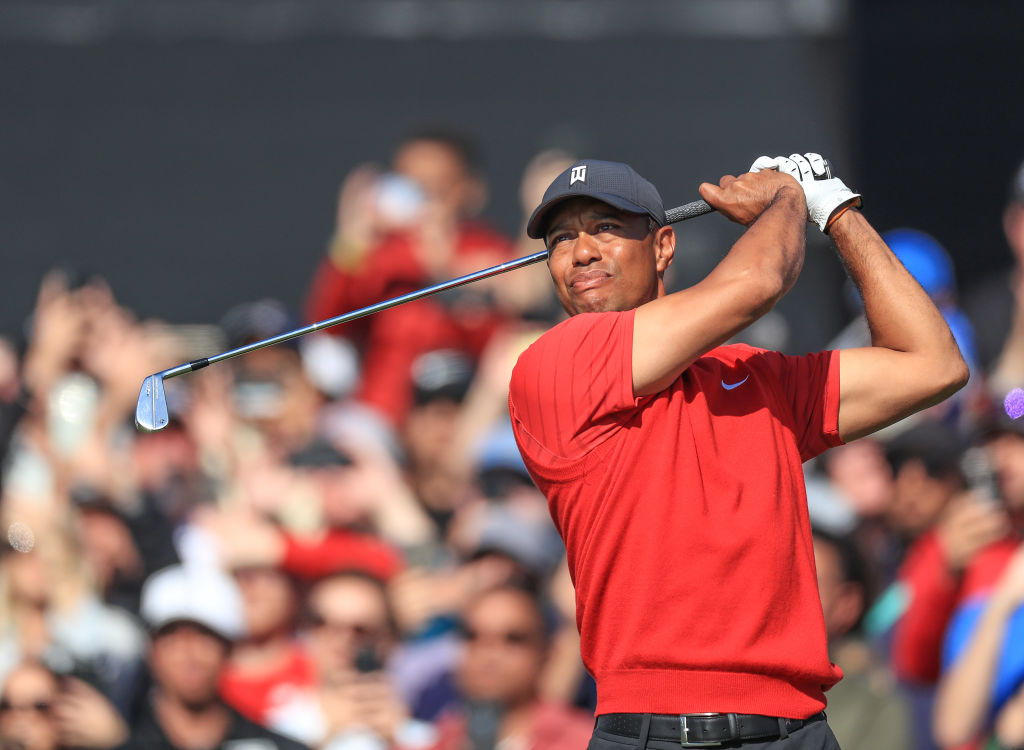 Watching Tiger Woods' Moves Has Made Rory McIlroy $300 Million
Tiger Woods was the role model for Rory McIlroy when it came to making lucrative endorsement deals.
Enthusiastic golf fans follow Tiger Woods around on the course, but fellow PGA star Rory McIlroy is the guy smart enough to be tailing him off the course. McIlroy, the winner of four major championships and a regular in the top 10, has become enormously wealthy by following Woods' most important endorsement deals.
PGA Tour winnings are less than half the story for stars
Business Insider did a story last year about how endorsement money dwarfs salaries and winnings for many top athletes. In tennis, Roger Federer makes 84% of his money from endorsements and Rafael Nadal checks in at 65%. The numbers for golfers leap off the page:
The Website pegged Woods' endorsement income at $42 million and McIlroy's at $34 million. Bridgestone and Monster Energy are a couple of Woods' lesser deals, and the same could be said for McIlroy's relationships with Omega and UpperDeck. But where the subject of endorsements gets interesting is when the two golfers' decisions converge.
Tiger Woods had been the face of Electronic Arts' PGA golf video game from 1998 to 2013, with the arrangement ending around the time that his back injuries severely limited Woods' presence in the sport. EA announced in 2013 that the next version of the game would feature another golfer. When it was time to make the announcement in March 2015, that golfer's name was Rory McIlroy, who was coming off victories the previous season in the U.S. Open and PGA Championship.
Tiger Woods and Rory McIlroy pick their clubs carefully
Nike locked Tiger Woods into an endorsement deal in 1996, but equipment wasn't part of the arrangement since the industry behemoth didn't start manufacturing golf balls until 1998 or clubs into 2002. When Woods won the WGC-AMEX in Ireland that year while using the new clubs it looked like Nike had found a license to print money since even double-digit handicappers want to play the same brand that champions use.
Woods stuck with Nike equipment and continued his domination of the sport, including 31 PGA Tour titles from 2005-09. Along the way, Nike accumulated a handful of other top golfers. The company scored big when Rory McIlroy followed in Woods' footsteps for the first time by signing a 10-year endorsement deal reportedly worth $200 million in 2013 and then proceeded to double his total of victories in majors to four the following season.
Taking over Woods' Electronic Arts deal was the second time McIlroy followed in the footsteps of the man with 15 major championships. The third time came after Nike dropped a bombshell in 2016 by announcing that it was exiting the golf equipment business. Players signed to Nike deals would continue getting paid for wearing Nike shoes and apparel, but they were all free agents when it came to choosing sets of clubs.
There was essentially free money to be made, and Woods jumped first in January 2017 by endorsing TaylorMade clubs. McIlroy followed Woods again four months later, signing with TaylorMade for $100 million over 10 years.
Two golf decisions in the footsteps of Woods earned McIlroy $300 million.
Two giants on the golf course
As noted, the endorsement money for top golfers often exceeds what they earn from tournaments by a lot. But it's not as though Tiger Woods and Rory McIlroy are hurting in that department, either. Woods is the PGA Tour's career leader in earnings at $120,660,780.
Meanwhile, McIlroy is eighth at $52,552,481 and is still only 30 years old. He has led the season money list three times and finished in the top 10 three other times.
When his existing deal with Nike expires, McIlroy will be positioned to sign another big endorsement agreement – with or without Woods paving the way.