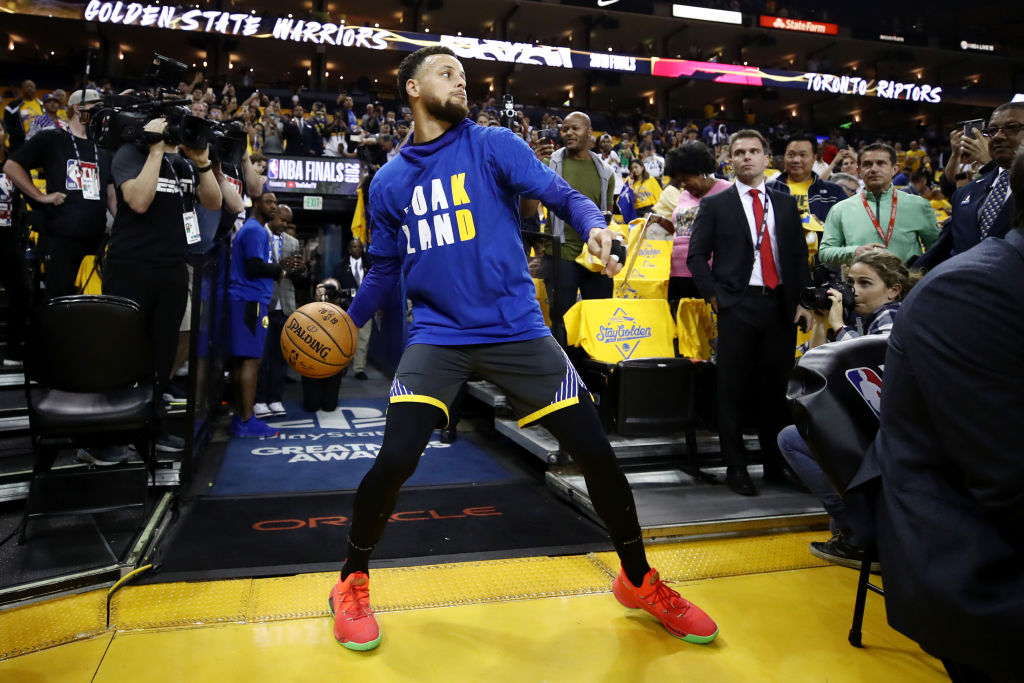 Steph Curry's Pregame Routine Will Shock You
One thing Warriors fans love to see: Stephen Curry's pregame routine. Over 10,000 fans pack Oracle Arena before games to watch.
From lightly recruited high-school prospect to NBA superstar, Stephen Curry has evolved into one of the NBA's most influential players of all time. His ability to shoot from the three-point line is unmatched, as he routinely puts on a show during games.
One thing Curry's supporters love to see: his pregame warmup routine. On a regular basis, over 10,000 fans pack Oracle Arena before games to watch. So check out the surprising customs Chef Curry must complete before every game.
The entrance
The point guard's pregame routine begins when he enters the arena wearing a hood over his head. Head security official Norm Davis announces, "Warrior coming out," and then Curry states, "Hold them up!" This allows security to clear the entryway so Curry can get to the floor without obstacles.
Dribbling
The routine began with Charlotte Hornets Assistant Coach Stephen Silas, who was a Golden State Warriors assistant during Curry's rookie year. They started by dribbling two balls at the same time. This focuses on Curry's hand-eye coordination while improving his overall dribbling. This drill has helped immensely as No. 30 has one of the nastiest crossovers in the NBA. (Kyrie Irving may be the only player with a better arsenal.)
Curry starts by dribbling from the scorers' table to the other end of the floor, performing crossovers and moves between his legs. Once he gets to the end of the floor, he repeats the process backward.
Getting loose
After the first part of his routine, Curry takes left-handed hook shots on the left side of the basket. After he makes five, he moves to the left elbow and takes passes from Davis to attempt left-handed floaters.
When the 31-year-old makes five, he alternates to the right elbow, where he proceeds to make five hook shots with his right hand. Curry finishes this portion of the routine with difficult right-handed shots in the paint.
With help from Assistant Coach Bruce Fraser, the six-time NBA All-Star practices dribble drives, trying to make an up-and-under scoop layup with his right hand. Once Curry finishes, he starts shooting the ball.
Putting up shots
Curry starts by taking 20-foot baseline jumpers. Some are catch-and-shoot attempts while others come off the dribble. Then, he takes shots behind the arc, as fans yell his name. After he makes a handful of shots, No. 30 practices more circus shots, trying not to even touch the net. 
This leads to Curry make 15 shots from five different areas of the floor, anywhere from long two-point attempts to deep threes on the Warriors half-court logo. After these shots are complete, he practices different isolation maneuvers while heading toward the basket. But most fans don't know that Curry is saving the best for last.
An excellent finale
To finish his pregame routine, Curry takes 40-foot attempts from the entranceway tunnel of the court. Over the last five seasons, this has become part of the routine, and it's always a treat for fans.
Curry has used his pregame routine to win two NBA MVP awards (including the first unanimous MVP). He's led the Warriors to three championships in five consecutive NBA Finals appearances.
What's your favorite part about Curry's pregame routine?
We think the best part of Curry's pregame custom is the left-handed hook shots. He normally doesn't include those in games, but it'd be exciting to see him pull it off on a more regular basis.