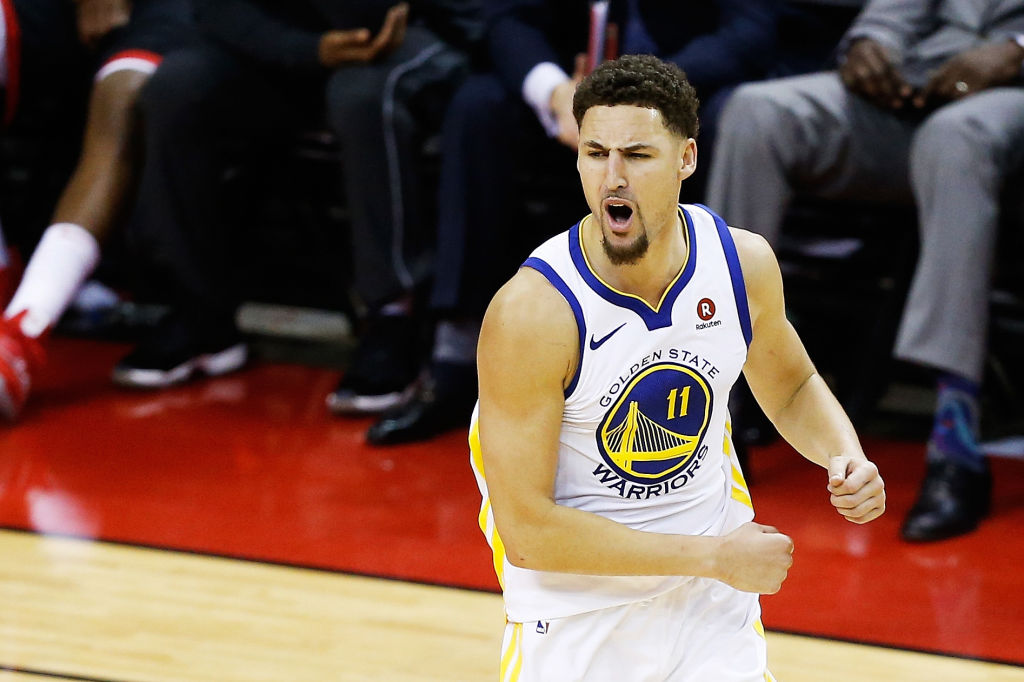 Klay Thompson Once Scored 60 Points on 11 Dribbles
Golden State Warriors guard Klay Thompson once scored 60 points in an NBA game and dribbled only 11 times.
Back in December of 2016, Golden State Warriors sharp-shooting guard Klay Thompson played in a game as if the basketball was on fire. Thompson certainly was on fire, scoring 60 points in a 142-106 victory over the Indiana Pacers. Imagine if this had been a close game.
As impressive as the 60 points were, Thompson did all that scoring while dribbling the ball just 11 times. Although Thompson managed the 60 points, he was on pace for a much bigger game, but Warriors coach Steve Kerr took him out at the end of the third quarter because the game was out of hand. He played just 29 minutes.
Klay Thompson explodes for 40 points in the  first half

Klay Thompson got off to a quick start in the game, pouring in 40 points by halftime, as the Warriors took an 80-50 lead into the locker room.
After a 17-point first quarter that saw him go 8-for-12 from the floor, Thompson went 7-for-10 (4-for-7 from 3-point land) and went 5-for-5 from the foul line to finish with 23 second-half points.
Thompson continued his torrid shooting in the second half, putting up 20 more points in the third quarter on 6-for-11 shooting, including 3-for-5 from 3-point range. He made five of six free throws. He never saw the floor in the fourth quarter.

"I felt great, obviously. It was fun. I was in a great rhythm. I took all good shots, for the most part. Still missed a few wide open threes I wish I could get back. It was a fun night, to say the least."

Klay Thompson
Thompson didn't waste any time
The lack of dribbling isn't the only staggering stat from this game. The fact that Klay Thompson was able to put up 60 points while only touching the ball for 90 seconds is mind-boggling. His scoring pace was just shy of Wilt Chamberlain when the big man scored 100 points in a game.
It's pretty clear that Thompson isn't a big fan of putting the ball on the floor. This wasn't the only game Thompson had mind-blowing statistics when it came to points per dribble.
In a game against the New York Knicks in January of 2019, Thompson racked up 43 points and dribbled just four times in the entire game. He scored 21 points before he ever dribbled the ball.
Thompson's devastating ACL injury
Klay Thompson hasn't played in a game this season as he suffered a devastating ACL injuring during the 2018-1029 finals against the Toronto Raptors. Initially, he thought the injury was a sprain.

"I knew I did something. But I've never had the severity of an ACL injury or an injury that bad. So me, personally, I didn't think it was that bad, initially. My adrenaline was so high being Game 6, whatever. I thought I sprained my knee; that's all I thought it was."

Klay Thompson
Thompson's return date remains undetermined, just like the return of the NBA season due to the coronavirus (COVID-19).