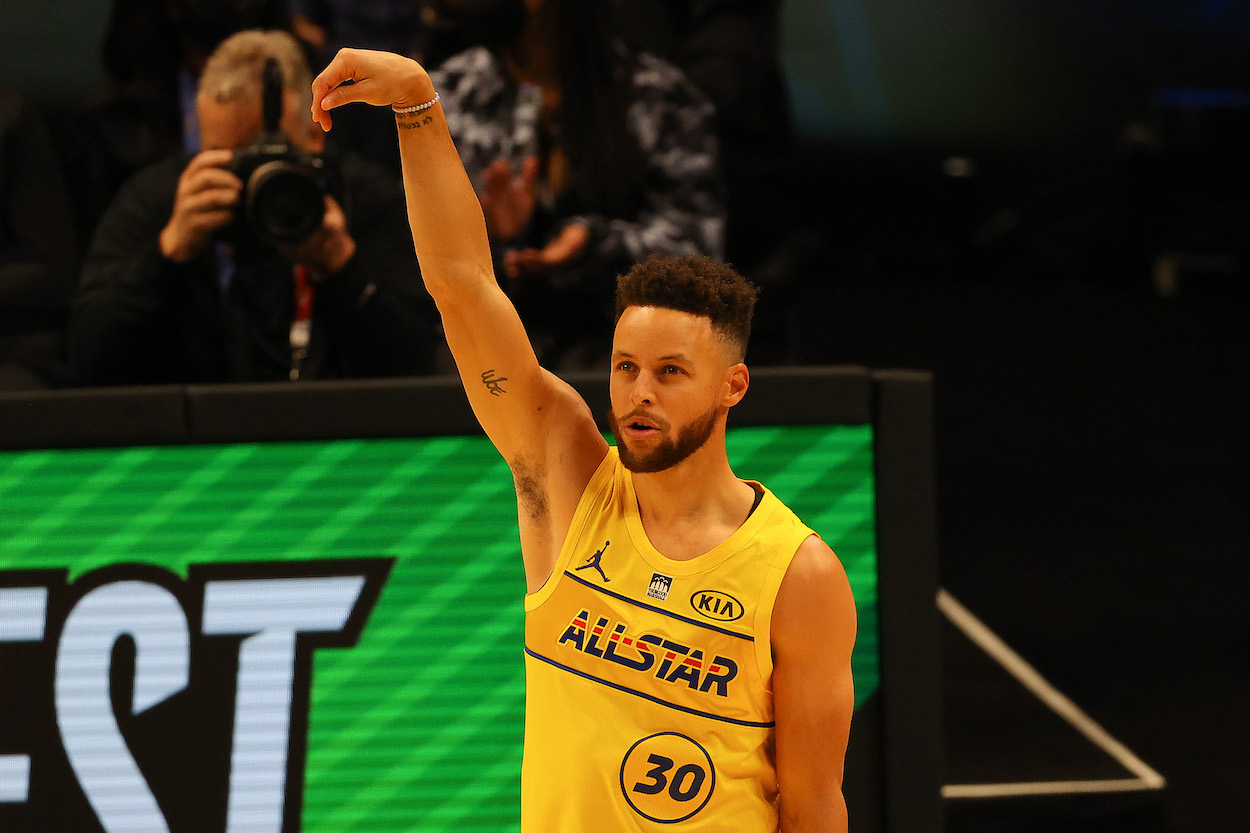 Stephen Curry Throws Shade and Describes How He Intimidated 3-Point Competition With Just 1 Move Before the Contest
Stephen Curry won his second NBA 3-point contest on Sunday and afterward threw some shade when he shared how he intimidated his competition by what he did before the contest.
Stephen Curry is a future NBA Hall of Famer. His credentials are plentiful, including the best 3-point shooter in NBA history. While he hasn't achieved the level of success you might expect in his previous 3-point contest appearances, in the 2021 edition, Curry displayed his sharpshooting skills with deadly accuracy, and outlasted Utah's Mike Conley for the title.
Curry carried that same momentum into the game, where he finished the first quarter draining six 3-pointers and tying an All-Star Game record. Late in the first quarter, TNT's Reggie Miller, who was also known for his long-range accuracy, asked the three-time NBA champion about the 3-point contest. Curry responded by throwing some shade at his competition.
Stephen Curry has just one 3-point title to his credit
Despite being known now as the greatest 3-point shooter in NBA history, Stephen Curry hasn't always performed well during All-Star weekend and the contest that highlights his unique skill. He made his debut in 2010 and did so in impressive fashion, eventually losing in the finals to Paul Pierce.
In 2013 and 2014, he failed to advance past the first round. The 2015 All-Star Game Curry had his breakthrough performance, including one point during his second round where he made 13 straight shots. He won with a final round score of 27, which at the time was the highest single-round total in the event's history. 
In 2016 and 2019, Stephen Curry shot average by top 3-point shooters' standards and it wasn't enough in either contest. He bowed out in the second round both times. 
Wins 2021 contest in last-second fashion
There wasn't any question for the 2021 NBA 3-point contest Stephen Curry was the prohibitive favorite. In the first round, he backed up all the expectations, scoring an impressive 31 points to lead the field and advance.
Curry, who leads the NBA this season with 169 3-pointers made, needed 28 points in the championship round to beat Utah's Mike Conley. With one rack to go, it appeared Curry might come up short unless he rallied late. He did just that.
Needing to make the final two balls of his final rack, Stephen Curry came through in the clutch and drained them both, edging out Conley by a single point to claim his second 3-point shooting contest. He joined Larry Bird, Craig Hodges, Mark Price, Jeff Hornacek, Peja Stojakovic, and Jason Kapono as multiple-time winners.
Stephen Curry throws shade at 3-point contest competition  
After using the 3-point contest as his warmup, Stephen Curry came out firing from deep in the All-Star Game, including one make from just inside the half-court line. He finished the first quarter with six threes, tied for most in All-Star Game history.
Late in the first quarter, while sitting on the bench, Curry visited with TNT's Reggie Miller about the game and his win in the 3-point contest. Miller asked Curry if before the contest he pulled a Larry Bird, who after winning the 3-point contests in 1986 and 1987, asked his competition before the 1988 event, "So who's coming in second?" Bird backed it up and won.
Stephen Curry didn't dodge Miller's question. He told Miller he didn't need to say a word.  
"Hey Reg, you know, sometimes you don't even have to say anything. You just gotta walk into the locker room. You just got that look," Curry said laughing, with a big smile. 
He then backed it up.
Like Sportscasting on Facebook. Follow us on Twitter @sportscasting19.