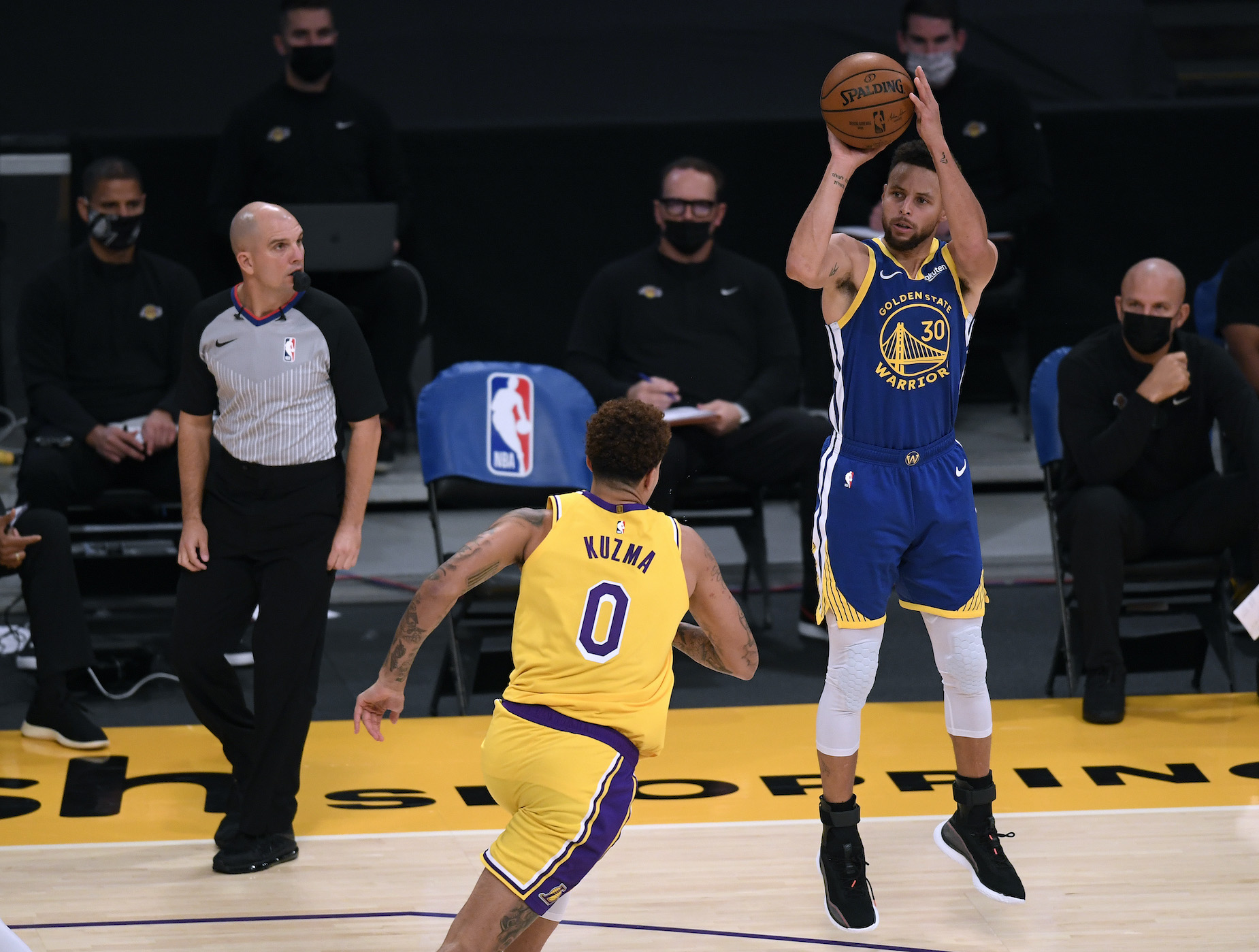 Warriors Star Steph Curry Isn't the 'GOAT Shooter,' According to a Veteran NBA Marksman
Everyone knows that Golden State Warriors guard Steph Curry is deadly from three-point range. Is he the NBA's GOAT shooter, though?
While old-school fans might not like it, the modern NBA is all about three-point shooting. No one has benefitted more from that fact than Steph Curry. During his time with the Golden State Warriors, the guard's near-limitless range has made him one of basketball's biggest stars.
Although Steph Curry has quite the NBA resume, that's not enough for Ray Allen. In a recent interview, the veteran sharpshooter said that Reggie Miller, not Curry, is the GOAT shooter in basketball history.
Stephen Curry has put together an impressive NBA career
Stereotypically, basketball is thought of as a sport where height provides a massive advantage. Stephen Curry, however, has proven that size doesn't always matter.
As the son of Dell Curry, Steph wanted to play his college basketball at Virginia Tech, but the school wasn't sure about his small stature; their loss proved to be Davidson's gain. Curry joined the Wildcats and quickly made a name for himself as a silky shooter and explosive scorer. During his three seasons in college, he averaged 25.3 points per game and was named a 2009 consensus First-Team All-American.
When the 2009 NBA draft rolled around, Curry joined the Golden State Warriors as the seventh-overall pick. While the guard didn't miss a beat, averaging 17.5 points per game during his rookie year, that was only the beginning.
Since then, Steph Curry has developed into one of the NBA's top talents. Despite the Warriors' recent struggles, the guard has proven to be an elite shooter, capable of tickling the twine from virtually anywhere on the court. Even if you think his shooting range is just showing off for social media, it's impossible to argue with three NBA championships, two MVP awards, and a scoring title.
Ray Allen gives Reggie Miller the crown as GOAT shooter
It's safe to say that Ray Allen knows a thing or two about shooting; the guard, after all, still holds the NBA record for the most three-pointers ever made. The sharpshooter, however, doesn't think Warriors guard Steph Curry is the GOAT three-point shooter.
During an interview, CBS Sports' Macklin Stern asked Allen about the identity of "the GOAT shooter." In his mind, that title belongs to one man alone/
"Reggie [is the GOAT shooter] because of the way he set the game up, the way he played the game," Allen explained. "Obviously, I incorporated a lot of who he is into how I played. He was the standard-bearer. Without him, we don't have a formula for moving forward. So that's how I view it because it allowed me to do the things that I was capable of doing."
Allen also explained that, while Curry has made plenty of threes during his time in the hardwood, he falls into a different category than someone like Reggie Miller.
"I think it comes with categories when you talk about shooters. Steph is in a category of his own, the way he plays the game," Allen added. "Steph is more on the ball, the point guard shooter. So it's a different approach to the game. He's an extremely incredible ball-handler, so it's a different mentality when you're handling the ball and not coming off screens. But I look at Reggie Miller and what he did — run off screens and just the fluidity of the game when he played it."
Steph Curry has a place in NBA history, whether he's the GOAT shooter or not
At the risk of avoiding a decision, Steph Curry, Reggie Miller, and Ray Allen are all great shooters; trying to crown one as the GOAT delves into personal preferences as much as anything else. One thing, however, is clear: the Warriors guard has earned a place in NBA history.
If we set aside the statistical arguments—since Curry is still active so the numbers will change, but he'll almost definitely set the record for three-pointers made and is close to the top of the list in three-point percentage—it's undeniable that the Warriors guard has changed basketball. As Allen noted about Miller's career, prompting a stylistic shift is certainly a sign of greatness.
As Bill Reiter explained in another CBS Sports post, Curry changed the way we look at basketball. Three-point shooting isn't a unique skill set reserved for players who can't survive in the paint; it's a legitimate way to win championships. The entire game has evolved with that reality. With big men taking outside jumpers and defenses stretching toward the three-point line, today's NBA is different than what anyone could have imagined a few decades ago.
At the end of the day, it's unlikely sports fans will ever universally agree about a GOAT. Steph Curry and his shooting touch, however, will never be forgotten.
Stats courtesy of Sports-Reference and Basketball-Reference