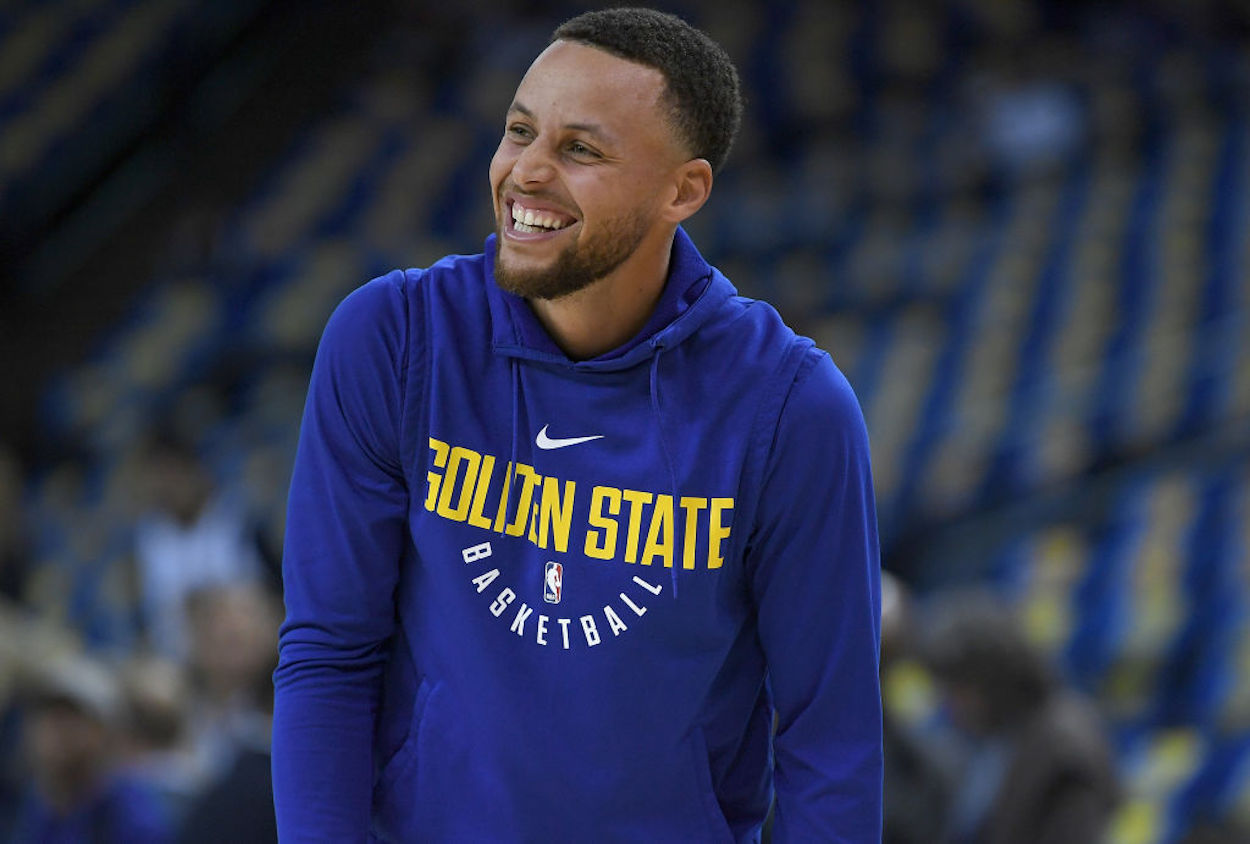 Did You Know: 'Stephen' Isn't Steph Curry's Real Name
Stephen Curry is simply known as "Steph," the greatest shooter to ever live. But did you know Stephen isn't even his real name?
Stephen Curry has become a worldwide phenomenon simply known as "Steph." If you ask any basketball fan who the greatest shooter in NBA history is, most of them will give you the same answer. "Easy. Steph."
That simple, yet iconic name will litter the NBA record books for years to come after he eventually hangs up his sneakers, but did you know Stephen isn't even Curry's real first name?
Steph Curry's father, Dell, played in the NBA for 16 years
Stephen Curry didn't come out of nowhere to set the NBA on fire. His father, Dell Curry, was an NBA sharpshooter himself back in his day, and Steph was constantly with him in the locker rooms and on the court before and after games.
Dell was selected 15th overall by the Utah Jazz in the 1986 NBA draft out of Virginia Tech. He spent his rookie season mostly riding the bench for Utah and was traded to the Cleveland Cavaliers after his first year as a pro. Dell spent just one year in Cleveland before switching teams again, this time to the Charlotte Hornets via the 1988 Expansion Draft.
It was clear from his first season in Charlotte that Dell had finally found his home in the NBA. He went on to play 10 seasons with the Hornets in which he made 929 threes. After a decade in Charlotte, he joined the Milwaukee Bucks and led the NBA in 3-point percentage (47.6%) during the 1998-99 season.
Dell finished his impressive NBA career with a three-year stint in Toronto with the Raptors. He retired in 2002 with 1,245 career threes and a 40.2% shooting percentage from deep.
Steph Curry is named after his father
Steph Curry's father went by Dell during his NBA career, but his legal first name is Wardell. So, when Dell had his first child in 1988, he passed his name down to him. That's right, Steph's real first name is actually Wardell.
Steph spoke to Warriors World in 2010 and explained how the name came to be.
My parents just never called me—I went by Stephen from what I can remember. I'm actually a Jr., my Dad is named Wardell too, so he took off the "War" part of it and just went by Dell so it's just our family name, and I go by Stephen so that's turned into "Steven," "Steph," all sorts of names, all my close friends call me Wardell, not many people know that (laughs), they kind of joke around, call me "Wardell."

Stephen Curry
Wardell Stephen Curry II. The greatest shooter to ever live.
Steph Curry passed his family name down to his firstborn son
As a tribute to his father, Steph recently passed down the Curry family name to his firstborn son. Steph and Ayesha Curry welcomed their third child and first son in 2018, and they named him Canon Wardell Jack Curry.
If the Curry trend continues, two-year-old Canon will eventually make 10,000 threes in the NBA.
All stats courtesy of Basketball Reference