Klay Thompson Could Disappear From the NBA Entirely Once He Retires, According to His Own Dad: 'I'd Be Shocked if He Sticks Around the NBA Scene'
"Boat Klay" has become an absolute vibe during Klay Thompson's injury recovery for the Golden State Warriors. However, could it ultimately become a full-on lifestyle? It's possible, according to his own father, former NBA player Mychal Thompson. 
In fact, Mychal said he doesn't think his son will hang around the NBA once he retires from basketball. Instead, he could spend his life at sea.
Klay Thompson spends a lot of time on his boat
Klay Thompson has missed the last two NBA seasons due to injury, and during that time, he has spent a lot of days on his boat. He has shared his experiences on Instagram, too.
Dubbed as "Boat Klay" by NBA fans, Thompson recorded an Instagram Live while out on the water in June, which later went viral. Rapper and superstar artist Drake even recreated the video, per NBC Sports. Warriors assistant Mike Brown also revealed to 95.7 The Game that Thompson has driven his boat to games.
Of his latest Instagram posts as of July 8, 2021, Thompson has several from his boat, including one to celebrate World Ocean Day, and another where he showed his followers that he likes to stay warm while swimming.
"One day, I will rid the wet suit and embrace the frigid waters of the Northern Pacific," Thompson posted. "Until then ima cozy seal."
However, as mentioned earlier, "Boat Klay" may evolve from a vibe to a complete lifestyle for the NBA star.
Klay Thompson's dad doesn't think he'll stick 'around the NBA scene'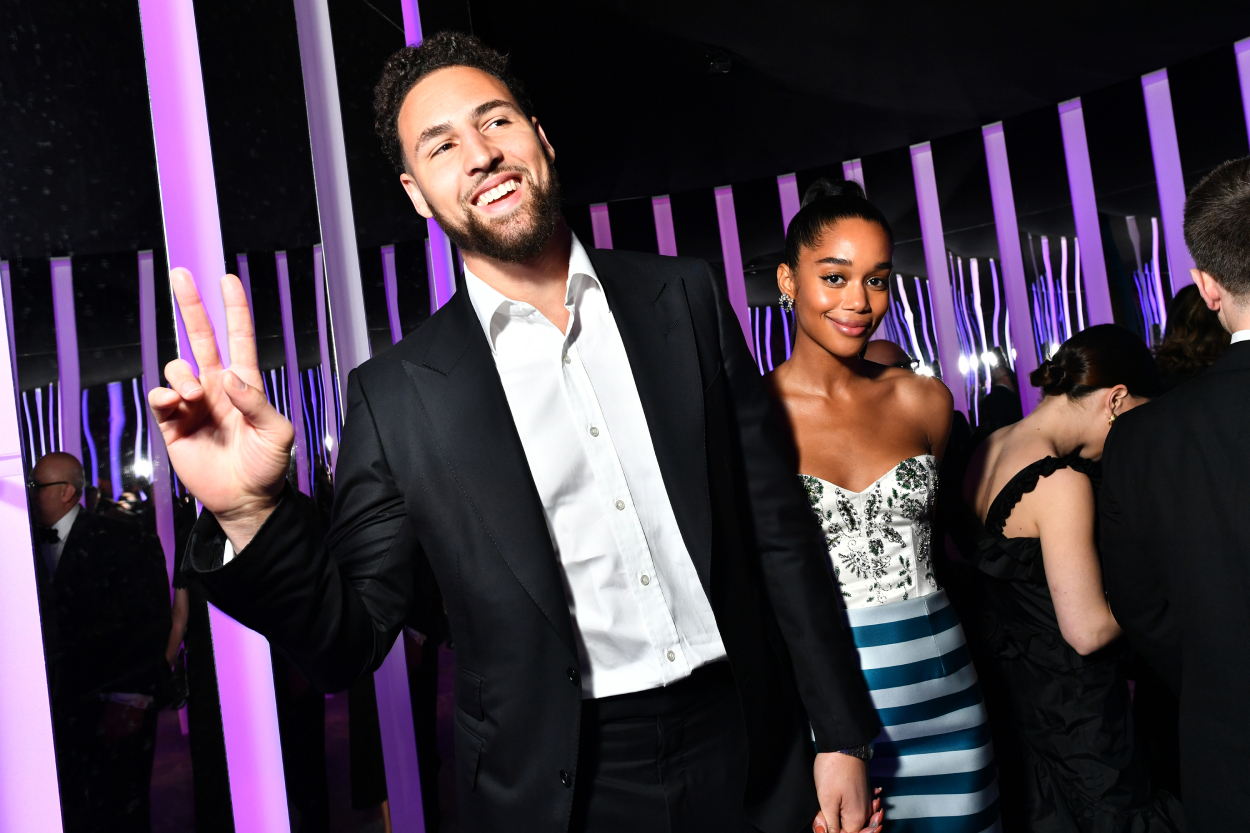 Klay Thompson's dad, Mychal, who won two championships with the Los Angeles Lakers, recently went on KNBR's Tolbert, Krueger, and Brooks and discussed how his son is doing.
"He's doing well. He keeps everybody up to date on his Instagram feed," he said, per NBC Sports. "I get my updates from what he says on Instagram."
He then gave some insight into what he thinks Klay will do once he retires from basketball.
"I'd be shocked if he sticks around the NBA scene," Mychal said, per NBC Sports. "He's really into the ocean, really into his boat. I could see him getting on a boat and just sailing the world — cruising the world."
He continued: "Becoming an old sea captain in The Bahamas, and taking tourists out for excursions and stuff. I could see him doing that. And if you've ever been to The Bahamas, you'll understand why he'd want to do it. It's the most beautiful sailing or boating water in the world."
So, will the Warriors star go from being known as Boat Klay to Captain Klay? It sounds possible, and as long as he keeps fans updated on Instagram, they will probably support him 100%.
Klay Thompson still has some work to do in the NBA
Klay Thompson has lost two of his prime years in the NBA in 2019-20 and 2020-21, but he should still have plenty of good seasons left. He is only 31 years old and has a chance to make the Warriors title contenders again in 2021-22.
If Thompson can pick up where he left off before his injuries, he could ultimately put himself back on a path toward the Naismith Memorial Basketball Hall of Fame. He earned five consecutive All-Star selections from 2014-15 through 2018-19, and led the Warriors to five straight NBA finals in those seasons, winning three titles.
Thompson averages 19.5 points for his career, but he averaged 21.6 points and 3.7 rebounds on 42.3% 3-point shooting during those All-Star campaigns. He is one of the best players in the league.
Given the track record he had before his injuries, Thompson could very well cap off his NBA career with a Hall of Fame induction at some point. The biggest question, though, is whether he'll drive his boat to the ceremony or not.
Stats courtesy of Basketball Reference