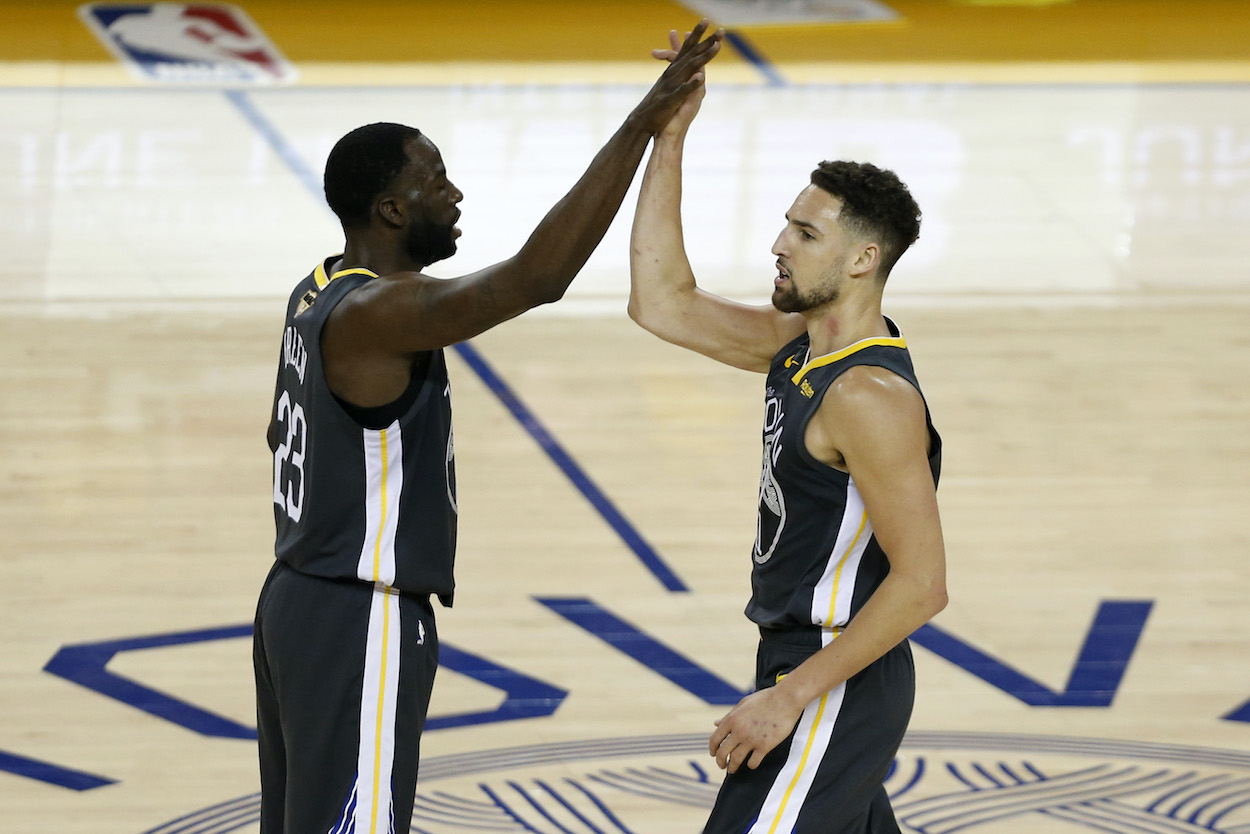 Klay Thompson Gets Clowned by Drake and Draymond Green Seems to Enjoy It
Golden State Warriors guard Klay Thompson and Canadian rapper Drake have a long-running beef that goes back to the 2019 NBA Finals. Drake recently took to social media to mock Thompson. The Toronto native hit-maker took shot at the injured star on Instagram which many notable people found hilarious, including Thompson's Warriors teammate, Draymond Green.
The last time the Golden State Warriors Klay Thompson was on an NBA basketball court, his team was about to lose in the 2019 NBA Finals to the Toronto Raptors.
One of the indelible images from that series is rapper, Toronto native, and Raptors superfan Drake sitting courtside and cheering on his team. He even talked a little trash throughout the series with Thompson.
Now, even though Thompson hasn't played since that series due to two major injuries, Drake is still taking shots at the Bay Area star, and some of Thompson's teammates seem to enjoy it.
Klay Thompson and Drake have a contentious history
Throughout the 2019 Finals, Drake became almost as much of the story as the players on the court. He sat courtside, reacted to every play, and talked trash to opposing players. Drake even gave Raptors coach Nick Nurse a quick in-game shoulder rub at one point in the previous series.
The beef between Drake and Thompson seemed to start in earnest during a post-game press conference with Thompson. Asked if he would listen to Drake songs during the Toronto series, he said he would, but "if it's a bad song, I'll skip it.
After being mostly complimentary of the Canadian actor/rapper, Thompson did throw a little more shade at the end of his answer:
I will definitely skip his song if I don't like it. And, if it's one of his soft R&B songs, I'll skip it because I'm in kill mode right now trying to get these four games. So, I'll skip 'Hotline Bling' or anything along that line.
The Drake/Klay beef heated up during a confrontation outside the Warriors locker room. A video showed then-Warrior Kevin Durant and Thompson going back and forth with Drake following Game 2.
Drake engaged with opposing players during a Game 1 Raptors win, but after Thompson's 25-point Game 2 that gave the Warriors a 109-104 win, the Golden State stars seemed to have quite a bit to say to the rapper in the tunnel post-game.
Drake mocked Klay Thompson's Instagram live, and Draymond Green responded with laughing emojis 
Following the Raptors NBA championship win, both Toronto and Golden Stat have fallen from their perch atop the league. The Raptors lost Kawhi Leonard to the Los Angeles Clippers, and the Warriors lost Durant to the Brooklyn Nets and Thompson to injuries.
Even though the California and Canadian teams are no longer rivals, it doesn't mean Drake forgot about his dustup with Thompson.
The former Washington State sharpshooter recently posted an Instagram live enjoying himself on a boat. He gave his former courtside rival a shout-out for being the "artist of the decade," and he said that series was his "last taste of hoops" and talked about how much he missed it.
Drake took that video and posted it to his Instagram account with the rapper and baller side-by-side. Drake mouthed along to the words of the video, mocking Thompson.
The video received over 1 million likes and has comments from all types of athletes and celebrities. NBA players like Deandre Ayton and P.J. Tucker, along with comedian Kevin Hart the rapper RiFF RAFF all responded with laughing emojis.
Two other notable commenters were Thompson's Golden State teammate Draymond Green and Stephen Curry's wife, Ayesha Curry. They both joined in on the laughing emoji trend.
Thompson should be back for the 2021-22 NBA season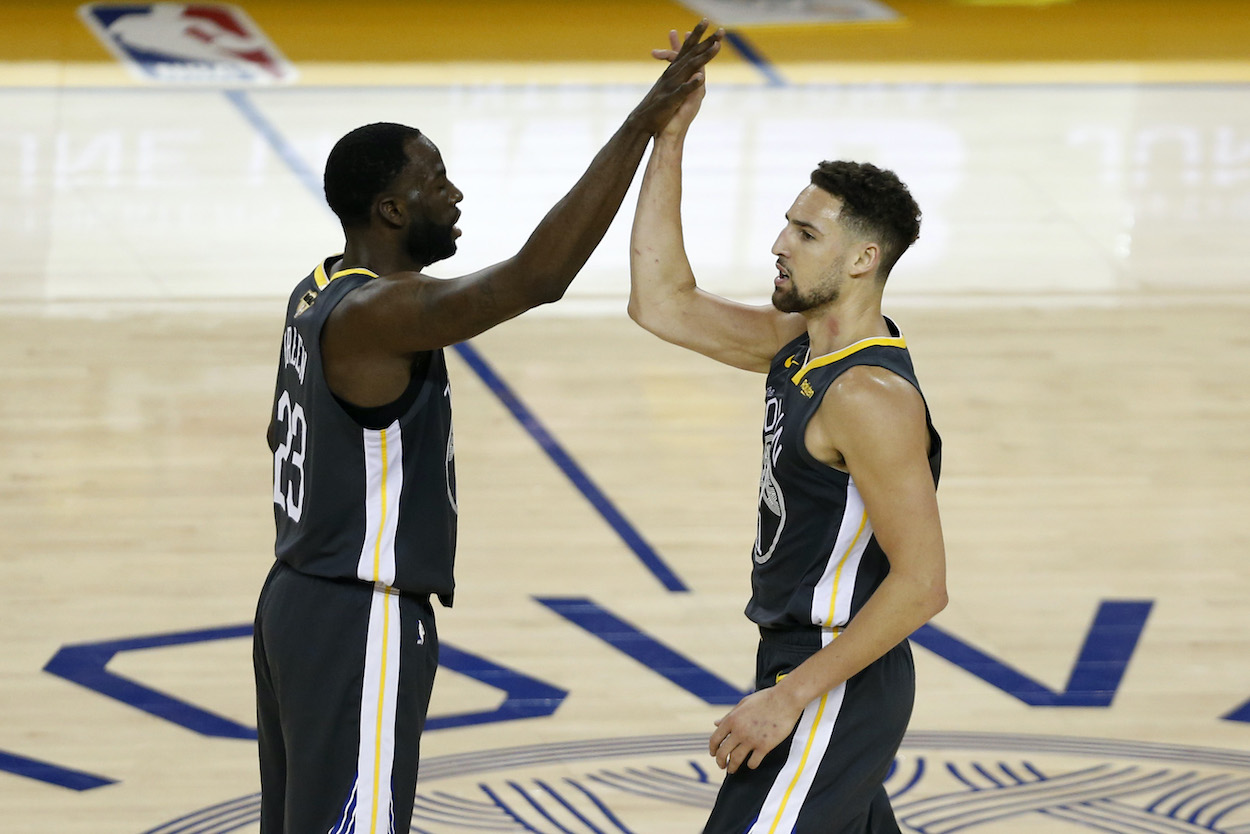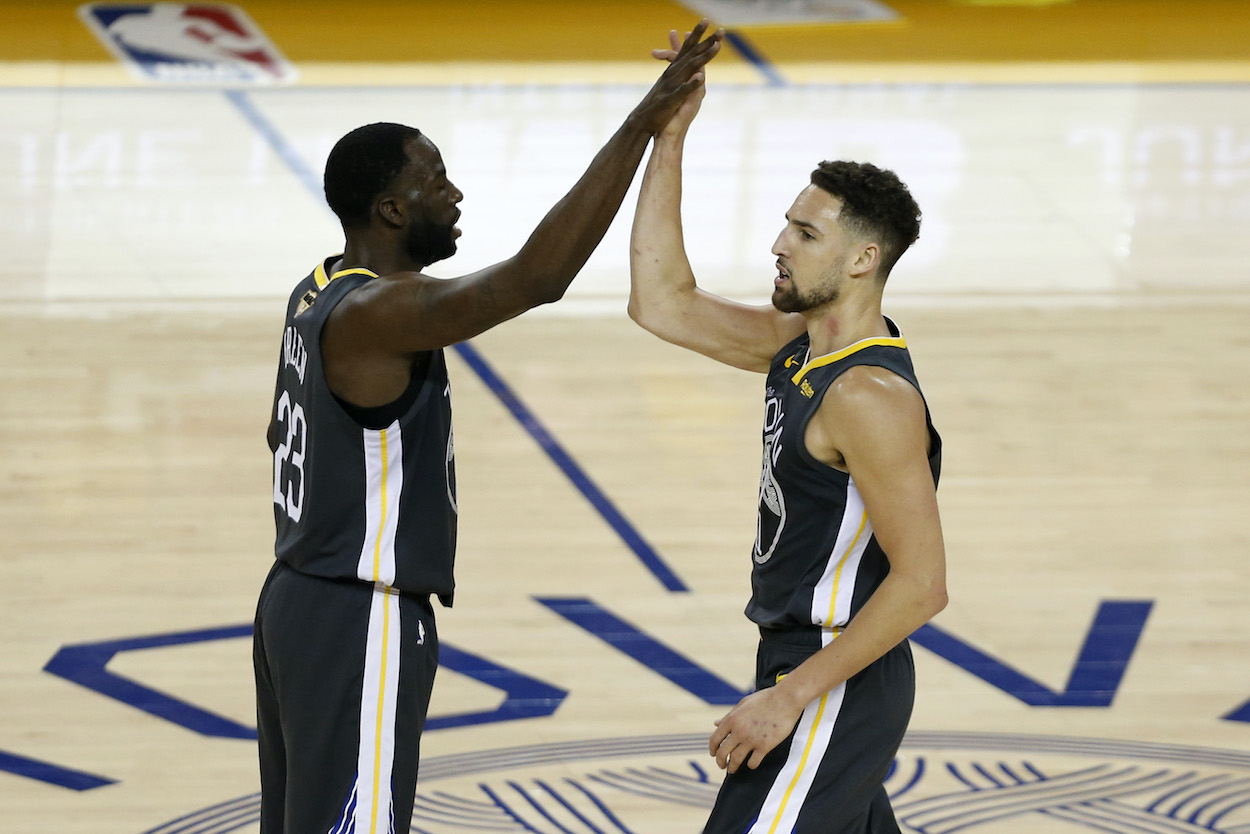 As Thompson mentions in the video, he hasn't played in an NBA game since that 2019 series. He tore his left ACL in Game 6 of the Toronto series and missed the entire 2019-20 season. While training to get back for the 2020-21 season, he tore his right Achilles tendon and lost another whole year.
Without their third star to go with Curry and Green, the Warriors struggled the last two seasons. They finished last in the Western Conference in 2019-20 and this season, lost in the play-in games to the Los Angeles Lakers and Memphis Grizzlies.
In May 2021, a reporter asked Warriors GM, Bob Meyers, when he expects Thompson to return. Meyers said the guard might not be ready for game one next season and the organization is more focused on, "when do we expect Klay to be Klay?"
As one of the best shooters the modern NBA has ever seen, all NBA fans should hope that Thompson makes a full recovery and once again shows off his talents on an NBA floor. Despite their long-running beef, Drake probably feels the same way.
All stats courtesy of Basketball Reference