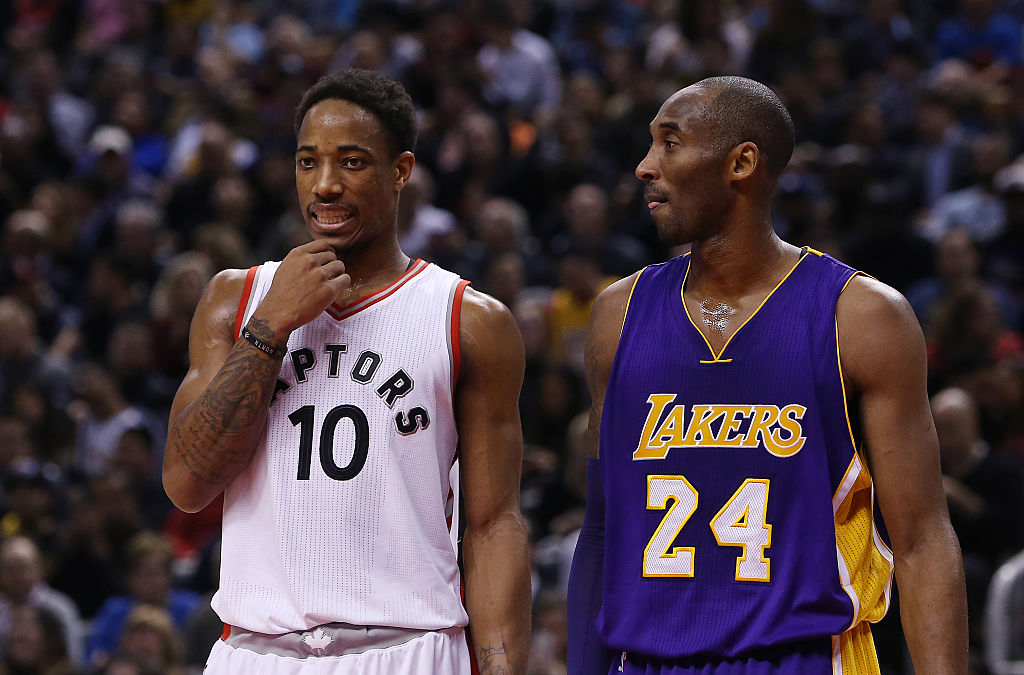 Kobe Bryant Once Got Upset With DeMar DeRozan for Wearing the Wrong Shoes
In a recent Instagram conversation, DeMar DeRozan revealed that Kobe Bryant was once legitimately mad at him for wearing the wrong shoes.
Over the years, and even more so since his tragic passing in January, there has been no shortage of Kobe Bryant stories. Tales of his competitiveness have been discussed at length and some have been downright hilarious. A combination of both came from DeMar DeRozan, who currently plays for the San Antonio Spurs but made a name for himself with the Toronto Raptors, earning four All-Star selections.
In a recent conversation with former NBA star Nate Robinson, DeRozan recounted the time that Kobe got upset with him over the simplest thing: his shoes.
DeMar DeRozan grew up idolizing Kobe Bryant
As many players of the current NBA generation did, DeMar DeRozan grew up idolizing Kobe Bryant, which makes plenty of sense given the fact he played his high school ball about 15 miles away from Staples Center, the same building where Kobe Bryant made so many great memories with the Los Angeles Lakers.
DeRozan was an instant star at Compton High School in the mid-2000s. He averaged 26.1 points as a freshman, 22.6 points as a sophomore, and 22.3 points as a junior before becoming a McDonald's All-American his senior year, averaging 29.2 points.
After entertaining offers from North Carolina and Arizona State, DeRozan chose to stay close to home for his one year of college ball, enrolling at USC. He averaged 13.9 points for the Trojans during the regular season but stepped it up in the postseason, earning Pac-10 Tournament MVP honors and playing well in USC's two NCAA Tournament games. In five postseason games, he averaged 19.8 points per game and he was off to the pro game to try his luck against Kobe Bryant and the rest of the NBA.
DeRozan's early games against Bryant
Taken with the ninth overall pick in the 2009 NBA draft, DeMar DeRozan struggled a bit in his rookie campaign. While he started 65 of the 77 games in which he appeared, he averaged just 8.6 points per game in 2009-2010.
Meanwhile, Kobe Bryant and the Lakers were enjoying great success. The same summer DeMar DeRozan was drafted into the NBA, Kobe won his fourth title. After DeRozan's rookie season, Bryant won his fifth. And Bryant was getting the better of the youngster that looked up to him. In their first meeting, although the Raptors came out on top, Bryant outscored DeRozan 27-10. In their second meeting, Bryant went off for 32 in a Lakers win with DeRozan scoring 11.
But it was the thrill of a lifetime. Playing against your idol isn't something many people in the world get to do. But DeMar DeRozan was doing it, even if he managed to upset Bryant in one of their early meetings.
Kobe got mad at DeRozan for not wearing his shoes
As a tribute to his favorite player, DeMar DeRozan liked to wear Kobe Bryant shoes. It's just what a lot of players do, right? So many players were wearing Jordans or Kobes but one night when the Raptors were hosting the Lakers, DeRozan made the wrong choice and Kobe Bryant called him out on it. In an Instagram conversation with Nate Robinson, DeRozan told the hilarious story.
"It's different now, but I remember my first couple years in the league, if you played against a person, you wouldn't wear their shoes. I always wore Kobes, bro, but whenever we played the Lakers, I didn't wear them, right? So there was one game we were playing the Lakers in Toronto, and I said 'Man, screw that, he ain't about to kill us'…I'm guarding him. So I wore some Jordan 10s. As soon as he walked on the court, he was mad as a mother******. He said 'This is what you want? That's what you're doing?' … I said, 'My bad bro, I got you, I got you.'"

DeMar DeRozan on Kobe Bryant
Classic Kobe.