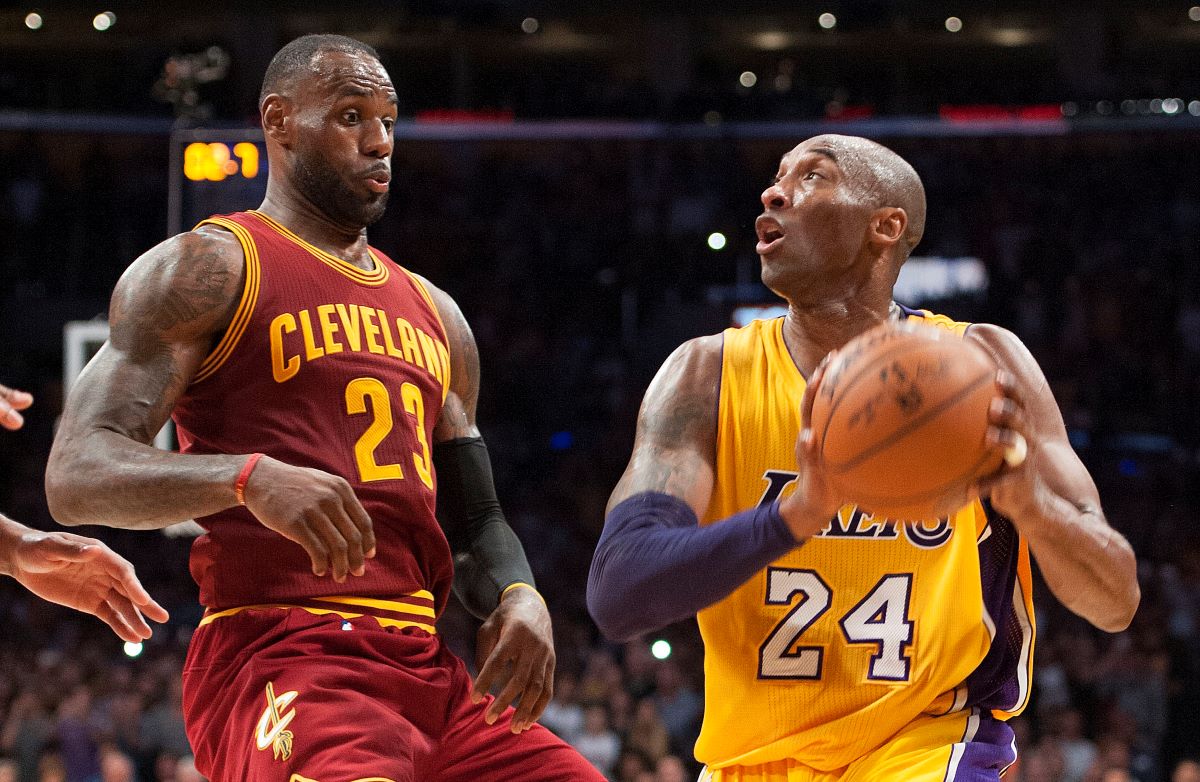 Kobe Bryant Won More Championships Than LeBron James, but He Struggled Against the King in the Regular Season
Kobe Bryant and LeBron James loved playing against each other.
Kobe Bryant and LeBron James are two of the greatest players in NBA history. The two legends have combined to win nine championships, six Finals MVPs, five regular-season MVPs, and seven All-Star Game MVPs.
Bryant won five rings during his storied run with the Los Angeles Lakers. Meanwhile, LeBron has captured four championships with the Cleveland Cavaliers, Miami Heat, and Lakers. The Black Mamba and the King never faced each other in the NBA Finals, but they had several battles during the regular season.
Kobe Bryant had a 6-16 record versus LeBron James in his career
LeBron and Bryant were close friends, so they always went at each other on the hardwood. The former, though, came out on top more than the latter.
Bryant was only 6-16 versus LeBron during his Hall of Fame career. The Lakers icon averaged 24.6 points, 5.0 rebounds, and 5.2 assists in 22 games against LBJ, who put up 28.2 points, 7.4 rebounds, and 7.3 assists per game versus Bean.
Bryant's best game against LeBron came on March 19, 2006. The one-time MVP put up 38 points, six rebounds, five assists, and three steals. However, LeBron and the Cavaliers defeated the Lakers, 96-95. The Akron Hammer finished with 29 points, eight rebounds, and seven assists.
March 10, 2016, is likely a date LeBron will never forget. That's the last time he faced Bryant. Even though the Cavaliers destroyed the Lakers by 12 points at the Staples Center, Bryant went toe to toe with LeBron at 37.
LeBron James, Kobe Bryant last duel was fun
The Cavaliers defeated the Lakers by a final score of 120-108. Cleveland was much more talented than Los Angeles, so no one was surprised to see the outcome. Fans paid more attention to the LeBron-Kobe matchup anyway.
Bryant scored 26 points while shooting 11-of-16 from the field and 3-of-4 from beyond the arc in 32 minutes. Meanwhile, LeBron finished with 24 points, five rebounds, and seven assists. Both superstars never took playing against one another for granted, which is why they savored their final matchup.
"I wish I could play against him every single night," LeBron said. "Just that competitive juice, that feeling of just going against one of the greatest, you can never take that for granted."
Added Bryant: "It was just fun. I enjoy the physicality of it. Playing against him is fun because of his size. It's always fun to bump with him and to have that physicality, backing him down and driving and bumping. That's fun."
Bryant and LeBron will always be linked since they went straight to the NBA from high school and lived up to grand expectations. The latter passed the former on the NBA's all-time scoring list during the 2019-20 season to move into third place. Bryant's last post on Twitter is a congratulatory tweet toward LeBron.
Unfortunately, the two stars never met again since Bryant tragically died in a helicopter crash on January 26, 2020.
It's been two years since we lost the Black Mamba
It's been two years since Bryant died, and it still doesn't seem real. LeBron and the 2019-20 Lakers were on a plane when they found out the 18-time All-Star was no longer with us. Every Los Angeles player was in tears on January 31 against the Portland Trail Blazers when the franchise honored Bryant before the game.
"I think everybody was emotional tonight," LeBron said postgame. "We all have our individual reasons why emotion hits us, and then we all have this brotherhood and this family, being a part of this Laker organization, which automatically brings in even more emotion."
The Lakers made it a point to win the 2020 championship to honor Bryant. LeBron and Co. defeated the Heat at the Walt Disney World bubble for the Lakers' 17th title in franchise history. Bryant would have undoubtedly been proud of his friend for leading the purple and gold to the promised land for the first time since he did it in 2010 against the Boston Celtics.
Stats courtesy of Basketball Reference