Kobe Bryant's 'Other' Side Detailed by Longtime Lakers Trainer in Emotional Interview: 'Most of My Fondest Memories Have Nothing to Do With Basketball'
Most NBA fans know the basketball side of Kobe Bryant. The late Los Angeles Lakers star and Hall of Famer racked up five NBA championships, had 18 All-Star appearances, and won two scoring titles. That's just the beginning of his basketball accolades. Bryant's competitive fire has also been well documented.
According to longtime Lakers trainer Gary Vitti, there were two Kobe Bryants. One was the one everyone knew. The other was one that behind-the-scenes guy who wasn't talked about nearly enough. Vitti recently got choked up when describing that "other" Bryant.
Kobe Bryant was 'two different people,' according to longtime Lakers trainer Gary Vitti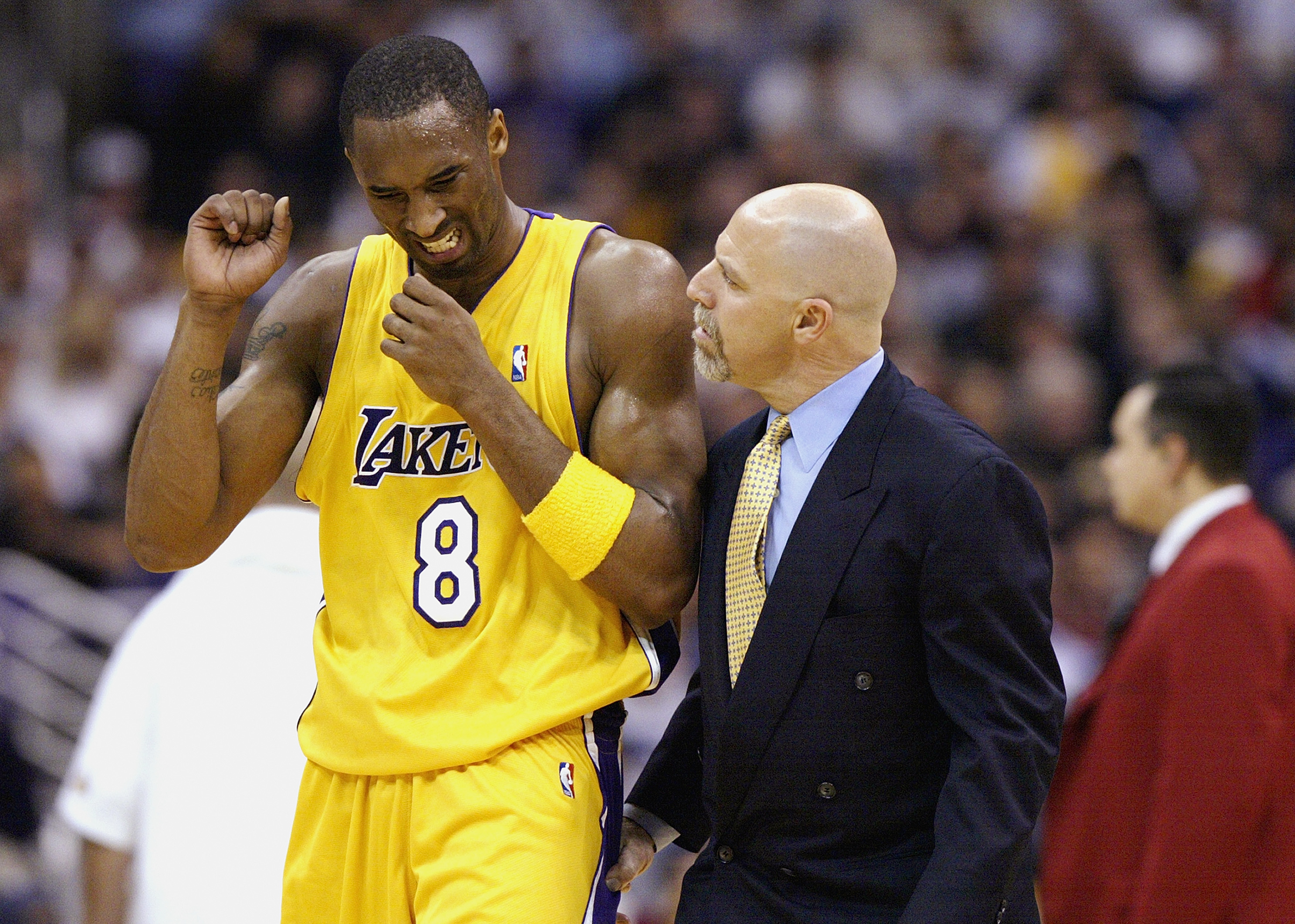 Gary Vitti spent 32 years as the trainer for the Lakers. He was part of eight NBA titles and had a front-row seat to the sport's great, including Bryant, Magic Johnson, Shaquille O'Neal, and Kareem Abdul-Jabbar. Vitti, however, developed a strong bond with Bryant, who came to the Lakers as a kid right out of high school and turned into one of the greatest NBA players of all time.
"There were two different people," Vitti said to former Laker Byron Scott on Scott's Off the Dribble podcast. "The person that the world saw on the basketball court, that was not Kobe Bryant. That's the Black Mamba. That's his alter ego — the vicious, ruthless, competitive, killer, tough…
"There's lots of things we could talk about that made him great. I've often said that he was not the most physically talented guy, so how does he end up with five rings and more talented guys have none?
"Then there's this other guy. His name is Kobe Bryant. He's a completely different guy."
Viti explained how that vicious and ruthless demeanor disappeared off the court.
"Once he walked into licker room, training room, weight room, or basketball floor, that Kobe Bryant didn't exist," Vitti said.
Vitti gets choked up talking about that 'other' side of Kobe Bryant
Vitti got emotional when speaking about Bryant, who died in a helicopter crash on Jan. 26, 2020. He was 41.
"I get sappy," Vitti said. "I'm Italian, an emotional guy. It's really, really hard for me to talk about this. Most of my fondest memories have nothing to do with basketball."
Vitti composed himself and spoke about the Kobe Bryant that wasn't in the spotlight.
"He's a guy that, if my daughters came to practice, which they did on occasion when they were small, he would take one look at them and melt," Vitti said. "My wife would take our goddaughter to a game and bring her down toward the bench before the game started during warmups. He saw her and stopped and would run over to the sideline.
"A Make-a-Wish kid, the time he would spend. It was never like, I can't wait to get out of here. Those things aren't easy. He always made it look easy. He always wanted those people to feel like he cared about them, and he did."
Vitti even went against his own wishes to praise Bryant.
"I don't like using analogies about war, like the word "battle," "foxhole," "war," playing a game and calling it a war," he said. "There's actually guys who went to war and battle. It's not the same. Just for this moment, for lack of a better way to describe this, if I was in a foxhole and I looked to my left and I saw him, and I looked to my right and I saw you, I knew I was going to be OK. He was that guy."
When Vitti's father passed away, he saw the real Kobe Bryant
Vitti and Bryant became close throughout their years with the Lakers. They had their arguments and disagreements, but they became close friends.
There was one time when Bryant injured his thumb during a game and Vitti saw a rare change from the Black Mamba to Kobe Bryant while still on the court.
Vitti insisted on taking a look at Bryant's thumb and Kobe refused, saying "just tape it," per Fox Sports. Vitti stood up to Bryant, refusing to tape it until he examined it. Bryant grew more upset until Vitti dug deep and finally got through to the Black Mamba,
"It's me," Vitti told Bryant, who finally relented and let him check out the thumb.
When Vitti's father died, that's when the trainer knew he had a true friend in Bryant.
"He called me, and you could tell that he kind of felt my pain," Vitti recalled to Scott. "He left me this message, and if people can hear that message, they would understand the difference between Kobe Bryant and the Black Mamba."