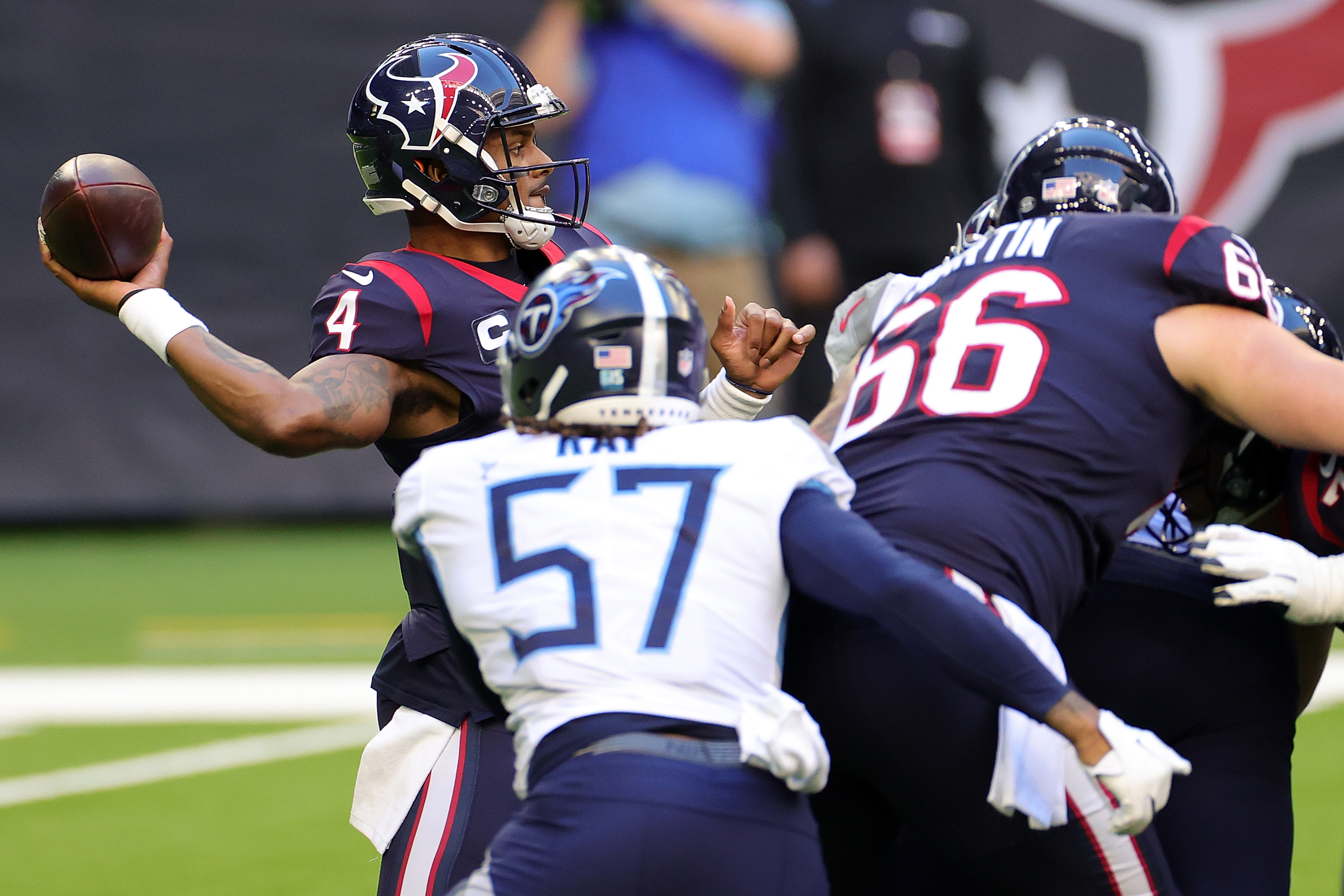 Kurt Warner Explains Why Deshaun Watson Won't Win a Super Bowl
Hall-of-Fame quarterback and football analyst Kurt Warner explains why Deshaun Watson isn't likely to win a Super Bowl.
If you're an NFL team licking your chops at the possibility of acquiring disgruntled quarterback Deshaun Watson, you might want to talk things over with Hall-of-Fame quarterback Kurt Warner. Warner's been around a long time and knows a thing or two about quarterbacking and Super Bowls. Although he didn't point the finger specifically at the Houston Texans quarterback, Warner doesn't believe a Super Bowl is in Watson's future unless there are some changes.
Kurt Warner is a two-time MVP
By now, you've heard the story. Kurt Warner went undrafted and was offered an NFL tryout by the Green Bay Packers. After getting released, Warner was stocking shelves at a grocery story waiting for another call from an NFL team. He didn't get one, so he wound up playing in the Arena Football League, where he opened some eyes.
Warner's play in the AFL drew some interest from NFL teams and he eventually signed with the St. Louis Rams as a backup. He was eventually named the starter in 1999 when Trent Green went down with an ACL injury in the preseason. Warner started all 16 games that season and led the league in touchdown passes (41) and completion percentage (65.1). The Rams went 13-3 and led the Rams to a victory in Super Bowl 34. Warner was named the MVP of the game.
For three straight seasons, Warner made the Pro Bowl. In 2001, Warner and the Rams were back in the Super Bowl after going 14-2 in the regular season. Warner led the league for the third straight season in completion percentage at 68.7 and also threw for an NFL-best 36 touchdowns and 4,830 yards. Warner was named the league's MVP in 1999 and 2001. He was inducted into the NFL Hall of Fame in 2017.
Deshaun Watson is very unhappy in Houston
There's no denying that Houston Texans quarterback Deshaun Watson is athletically gifted. Watson has put up some big numbers ever since he came into the league as a first-round pick in 2017. The Texans selected Watson out of Clemson with the 12th overall pick. Recently, things haven't gone so well for Watson and the Texans.
Just months after Watson signed a four-year extension worth nearly $40 million per season, he's asked to be traded. things didn't go so well for the Texans on the field as they finished the 2020 season with a 4-12 record. Off the field, things have been just as bad.
The Texans have been in disarray for a while. The front office and coaching staff have been a mess. Watson said he was told he'd have some input in the hiring process and did not have a say in the general manager search, according to ESPN. Watson has since demanded a trade and things have gotten ugly in Houston.
Warner explains why he feels Watson won't win a Super Bowl
On Wednesday, Kurt Warner was a guest on Doug Flutie's new podcast, Flutie Flakescast, and the Hall-of-Fame quarterback gave his opinion on the state of the game today. Although he didn't single out Watson, he did mention him among others, saying he doesn't think his style of play is the type that can win a Super Bowl. Warner believes it the more traditional pocket passers who get it done.
"I continue to believe this, Doug," Warner said. "If you can't play inside the pocket, it will be rare that you will find yourself competing for championships year after year after year. It is tough at the NFL level to live in that world. We've got the greatest athletes in the world playing quarterback that we've ever seen at our level. We see 'wow' plays every week. but go back and show me the guys that are doing that and are winning in the playoffs consistently by being a special quarterback athletically. We're going to see the Deshaun Watsons and the Russell Wilsons and those guys because who doesn't want to have their best athlete with the ball in their hands every play, right?
"I'm waiting for these athletic quarterbacks, and I use that term. I'm waiting for one of these guys to show me if he can be the athlete, but can he also just play a game and win a game inside the pocket, 35 throws, carry you with his right arm and his decision-making. Because that, to me, is what's separating them and we're not seeing those guys play at this (Super Bowl level)."