Kyle Busch Called Out for Being Disrespectful in Giving Joe Gibbs Cold Shoulder After Pocono
Kyle Busch is under fire this week from fans and some in the industry for his treatment of Joe Gibbs after Pocono, in an incident many view as the driver being disrespectful to the team owner.
Kyle Busch and Joe Gibbs Racing are currently in their 15th season together. According to the latest reports, it could very well be the last. And as often happens when a long-term relationship sours, things can get contentious at the end.
That's what some are suggesting happened this past weekend after Pocono when the two-time Cup Series champion offered a less-than-friendly response when the longtime owner stopped by to visit him on pit road. The Door Bumper Clear podcast addressed the situation, and the show's co-hosts didn't hold back.
Kyle Busch barely acknowledges Joe Gibbs after race
Kyle Busch had hoped to finish one spot better at Pocono. The second-place finish (later changed with the disqualification) while solid, was a disappointment for the future NASCAR Hall of Famer because it was the M&M's Fan Appreciation 400. He had hoped to show appreciation for his longtime sponsor by winning the race.
Moments after the race ended, Busch didn't attempt to hide his disappointment when team owner Joe Gibbs walked up to the driver and offered a few words of encouragement. In the video posted on NASCAR's official Twitter account, Busch never looked directly at the three-time Super Bowl-winning coach when he approached or when he patted the driver's arm and hip several times. 
Instead, Busch looked forward and never spoke directly to his boss, stepping forward as Gibbs walked behind him, and mouthing something to a representative from the No. 18 team standing in front of him. 
Door Bumper Clear crew blasts Busch for disrespectful move
On this week's Door Bumper Clear podcast, the three co-hosts talked about the video of Busch and Gibbs, and didn't sugarcoat what they thought about the driver's move.
"As far as Kyle's reaction, for one thing, this is not really a surprise to see Kyle reacting this way after finishing second," said Freddie Kraft, who spots for Bubba Wallace. "Anybody that walks up to Kyle in that situation is probably going to get a similar reaction, but I mean, come on. This is a guy, Brett, how much money has Joe Gibbs paid Kyle Busch?"
"100 million dollars, probably, plus" Brett Griffin, who spots for Justin Haley, responded. 
"I looked it up last night," Kraft continued. "Kyle Busch has a 147 wins in the last 15 years in JGR cars. Like when Joe Gibbs walks up, maybe you take a break from pouting and being mad to being like, acknowledge the guy's presence at least. Maybe that's too much to ask for. I'm sure that they're not happy with each other."
Moments later, Griffin offered his thoughts and didn't hold back.
"What Kyle Busch did yesterday in that video I saw on NASCAR is disrespectful," Griffin said. "Where is your gratitude, buddy? Where is your grace? Because you don't ever display any. So maybe that's why you're not marketable enough to warrant a $25 million sponsor right now. 
"I'm sorry. Most talented in the garage? Yeah, he's one of them. Best personality for NASCAR? Probably. Last person I think NASCAR wants to see go away is Kyle Busch because you don't need a hundred Chase Elliotts. You need guys that are out there doing what Kyle's doing. But, man, in that video, holy disrespectful. I thought it was bad." 
Are Busch and Gibbs headed for a divorce?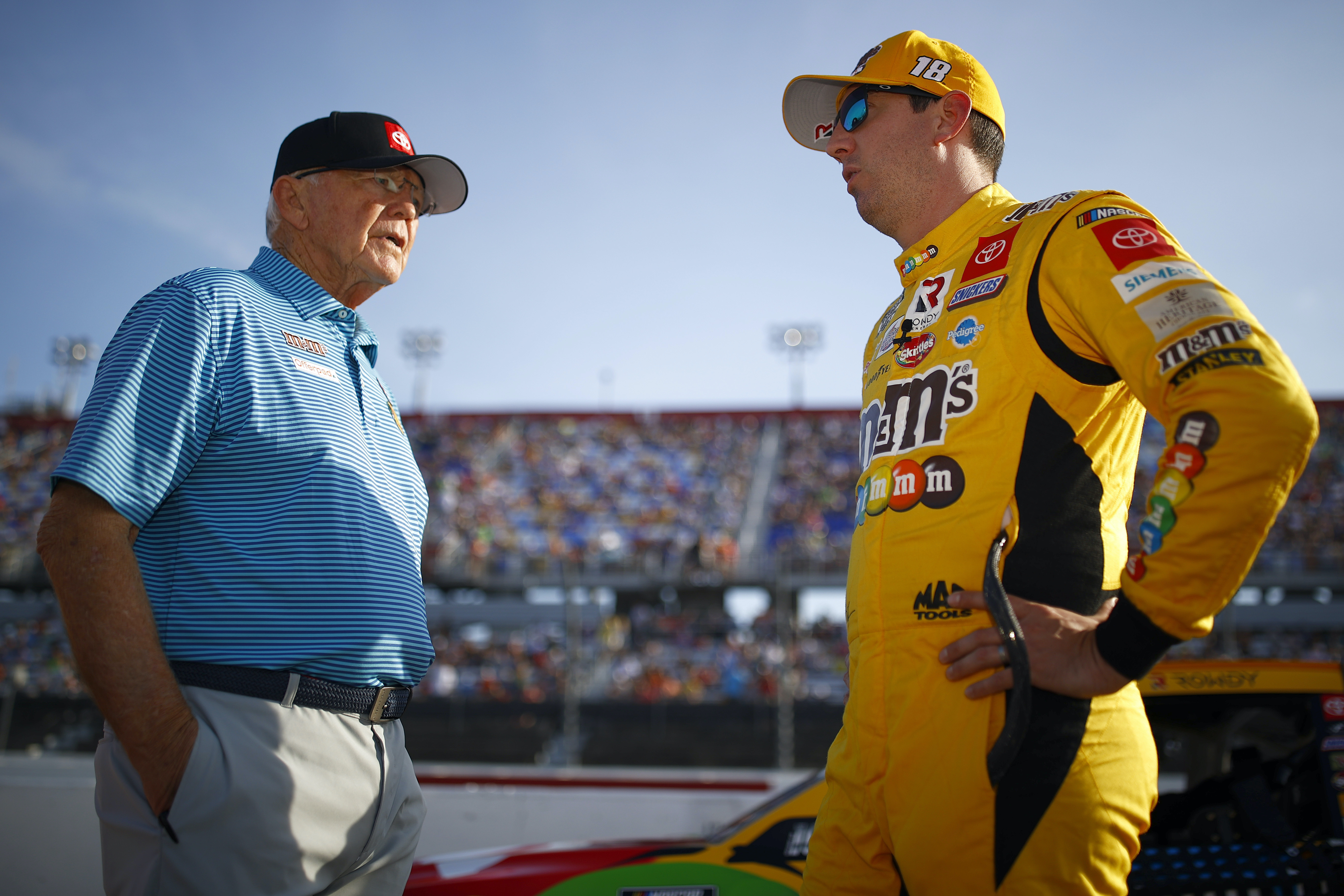 The Door Bumper Clear crew's reaction was similar to most in the Twittersphere. Some called the one-sided exchange awkward, while others said Busch appears to be done with JGR.
In April, when Busch met with reporters before the race at Talladega, he made it clear that the relationship with the organization wasn't on the best of terms. No one would have believed that months later, nothing would have changed, but here we are. 
2022 has been a season full of eye-popping headlines with the Next Gen car, Trackhouse, and a feud between Ross Chastain and Denny Hamlin. If Kyle Busch doesn't re-sign with JGR in 2023, which looks more and more likely with each passing day, that will unquestionably be the year's biggest story. 
Like Sportscasting on Facebook. Follow us on Twitter @sportscasting19 and subscribe to our YouTube channel.