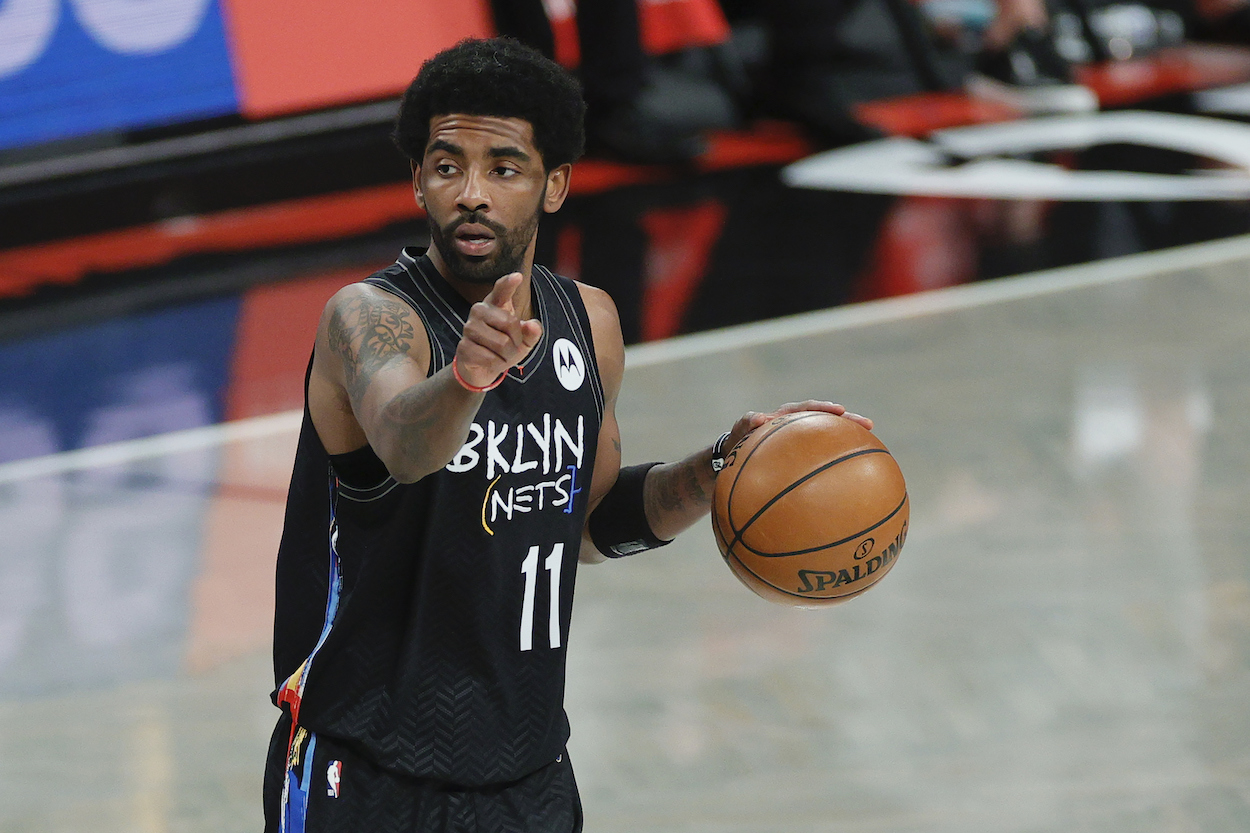 Kyrie Irving Goes Off on Tangent in Press Conference and Delivers Impassioned Message on Various Topics, Including Situation in Israel
Kyrie Irving didn't want to talk basketball in a postgame press conference but instead addressed a variety of topics, including racism and the situation in Israel.
Kyrie Irving sat down at the microphone Saturday in the postgame press conference following the Brooklyn Nets matchup with the Chicago Bulls and could have talked about the team's win and his team-leading 22 points. He could have talked about the Big 3 — Irving, Kevin Durant, and James Harden — playing together for the first time since February. He did neither. Irving instead delivered an impassioned message about the struggles of many people around the world, and addressed the situation in Israel and Palestine.
Kyrie Irving, Kevin Durant, joined by James Harden to form Big 3
Most experts viewed the Brooklyn Nets as a contender in the Eastern Conference at the start of the 2021 NBA season. James Harden joining the team in January considerably improved those odds. 
However, the formation of the Big 3 has hardly played out like anyone expected. That's because the three superstars have hardly played together since Harden joined the team.
In fact, before Saturday, the last time the three players played together dates back to Valentine's Day, a stretch of 91 days and 42 games. During that time, Durant missed 23 games with a strained left hamstring. When he returned, Harden went out with a right hamstring strain and missed 18 games. 
During Saturday's matchup, the three played together for just the eighth time this season. Irving led the way with 22 points, followed by Durant's dozen, and Harden added five.  
Kyrie Irving delivers impassioned statement on global problems
Following the game, a 105-91 win over the Bulls, Irving wasn't in the mood to talk about the game or the Big 3, and he made that very clear from the outset.
"For me personally, I'm not going to lie to you guys, a lot of stuff is going on in this world, and basketball is just not the most important thing to me right now. There's a lot of stuff going on overseas. All my people are still in bondage all across the world, and there's a lot of dehumanization going on. I apologize if I'm not going to be focused on y'all questions. There's just too much going on in the world for me to just be talking about basketball. 
"I got to focus on this s***, 24/7. It's sad to see this s*** going on. And it's not just in Palestine. It's not just in Israel. It's all over the world and I feel it. I'm very compassionate to all races and all cultures and to see a lot of different people being discriminated against based on their religion, color of their skin, what they believe in, it's just sad. We all say we're human beings and we care and we're compassionate, but what are you doing to help?"
Irving concluded his message by talking about basketball, albeit briefly, expressing his gratitude to have an opportunity to play the game.
"So if you guys want to ask me questions about the game, you know I really don't care about it except everybody leaving out of the game healthy and being able to go home and see their families." 
Gets personal and discusses his faith
Irving's impassioned statement comes less than a month after he opened up about his personal life in April, where he detailed being part of the Muslim community. He described what it's like observing Ramadan, the Islamic holy month, which includes fasting every day of the month where there is no consumption of food or liquids from sunrise to sunset.
"All praise is due to God, Allah, for this… For me, in terms of my faith and what I believe in, being part of the Muslim community, being committed to Islam, and also just being committed to all races and cultures, religions, just having an understanding and respect. I just want to put that as a foundation. There's such a divisive energy out here, or it's been that way in our society, it's just so divisive… bringing that into the game, I don't want to, but obviously a lot of people have questions.   
"But yeah, I am taking part in Ramadan with a lot of my Muslim brothers and sisters. And it's been an adjustment. That's really what I can say. It's just being committed to my service to God, Allah, and then continuing on with whatever I'm guided with. I'm just happy to be part of my community and doing the right things. So, fasting is definitely part of it — if you know anything about the Muslim community. But yeah, just really blessed and grateful to be taking part of this."
Irving has had his share of critics throughout his career for his various odd positions, like saying he believed the earth is flat. That said, no one should question his willingness to use his platform and the sincerity of his passion in delivering a message that raises awareness for those who are suffering around the world and cannot speak for themselves.
Like Sportscasting on Facebook. Follow us on Twitter @sportscasting19.