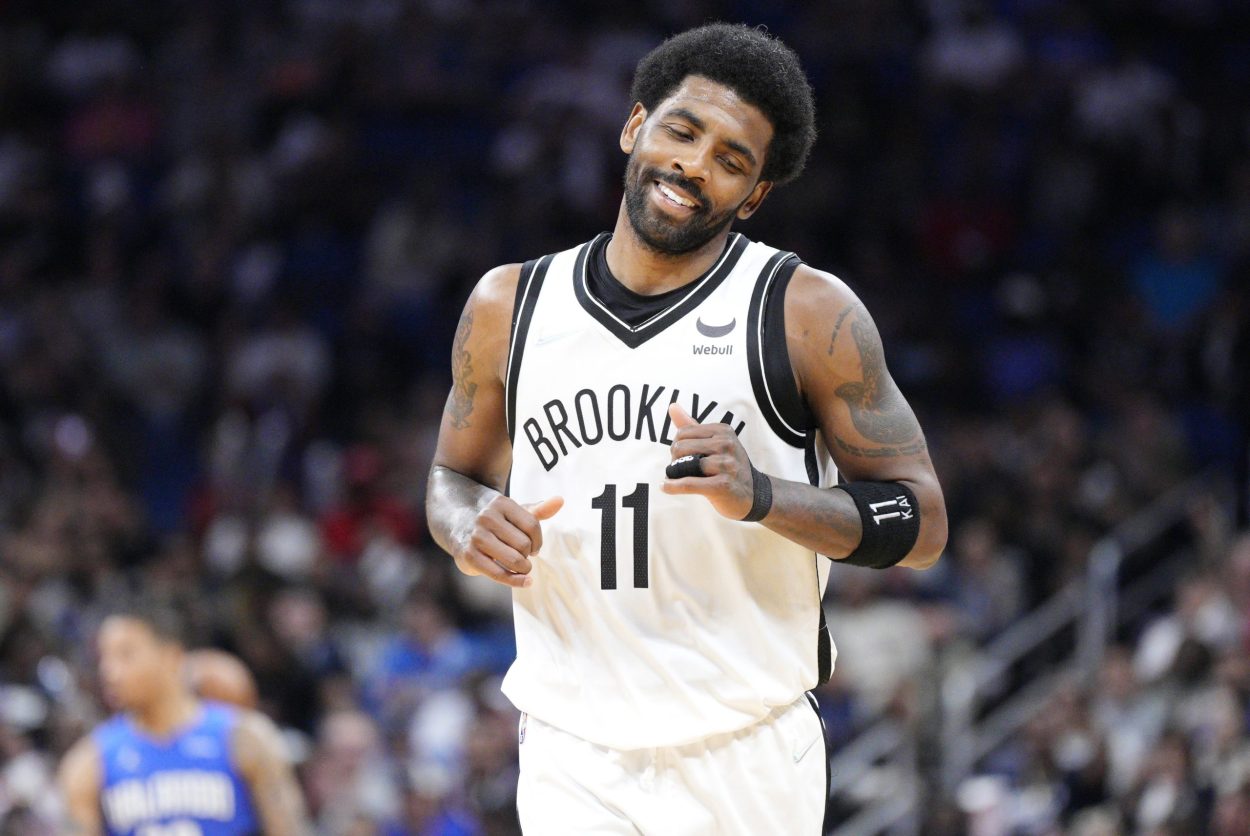 Kyrie Irving's Historic Night Elicits 'Most Skilled Ever' Take From Evan Fournier
Evan Fournier declared Kyrie Irving the most skilled player in NBA history after Uncle Drew's historic scoring outburst.
For a while, it looked as though Kyrie Irving would enter Kobe Bryant territory during the Brooklyn Nets' 150-108 drubbing of the Orlando Magic on Tuesday. Uncle Drew didn't quite get there, but he did enough to earn incredibly lofty praise from New York Knicks wing Evan Fournier.
One week after scoring 50 points in a win over the Charlotte Hornets, Irving hung a franchise-record 60 points on the Magic. Amid all the controversy surrounding the New York City COVID-19 mandate and his status as a part-time player, Irving again reminded fans just how gifted he is on the hardwood.
In fact, from a skill perspective, Fournier would take Kyrie against anyone else in NBA history.
Kyrie Irving put up gaudy shooting stats en route to his 60 points
Irving's 50-point game served as a reminder of his remarkable scoring efficiency. He was every bit as methodical against the Magic on Tuesday.
Uncle Drew scored at all three levels. He shot 20-of-31 from the floor, including 8-of-12 from beyond the arc. Irving also attacked the basket with consistency, knocking down 12-of-13 free-throw attempts. It's the kind of all-around brilliance one might expect from a guy who recently joined the 50-40-90 club.
But the numbers only explain part of the story.
Orlando couldn't contain Irving in the first half. He scored 41 points in under 23 minutes. At one point, it appeared as though he could challenge Kobe Bryant's 81-point performance in January 2006, the second-highest scoring mark in NBA history.
That never happened. The Nets subbed Irving out shortly after he reached the 60-point mark early in the fourth quarter. Still, the virtuoso performance attracted the attention of the masses, including one of Kyrie's crosstown rivals.
Evan Fournier labeled Irving the "most skilled" player in NBA history
Evan Fournier was in awe watching Kyrie Irving work on Tuesday.
Fournier took to Twitter after Nets-Magic with the assertion that Irving is the "most skilled player ever." Not only does Fournier believe that to be the case, but he also suggested it's not much of a debate.
Indeed, Uncle Drew pulled out all the stops in his record-breaking performance.
Irving went at and around Magic defenders. He drilled pull-up triples off the dribble with ease and routinely got into the paint as the ball-handler in pick-and-roll. Kyrie's handle and ability to get to his spots make him unguardable when he's in rhythm, and he uses his blazing speed to score at will in transition.
There are certain subtleties to Irving's game. He beats defenders off the dribble with both hands, with the ability to stop on a dime and pull up for jumpers or hop-step into the lane and use crafty finishes in traffic. His body control is up there with some of the greatest scorers ever to grace the court.
Kyrie has also gotten that much better off the ball. He cut backdoor for multiple scoring chances on Tuesday and used the spacing to hunt catch-and-shoot opportunities.
The totality of Irving's talent is wondrous to behold. But is Fournier right in his assessment that the Nets guard is the most skilled player in NBA history?
A nuanced argument
Trying to determine the "most skilled player" is a bit difficult.
In terms of total packages, Kyrie Irving is right there. He has arguably the greatest handle in NBA history and shoots the lights out. He's one of the better shot-creators in the league and a playmaker on and off the ball.
But plenty of other legends have a case. LeBron James' combination of size, athleticism, intellect, and court vision make him an anomaly. Michael Jordan skill was unprecedented for his era, and Kobe Bryant followed in MJ's footsteps as a guy who used exceptional footwork to dominate. Though he lacked outstanding athletic ability, it's hard to argue against Larry Bird's ability to stuff the stat sheet in all categories. Not to mention, Irving's own teammate, Kevin Durant, is one of the most lethal scorers ever and a uniquely gifted 7-footer.
Regardless of where fans stand on Evan Fournier's take, however, this much cannot be argued: If the Nets hope to make a run at an NBA championship, they need Kyrie on the floor.
Stats courtesy of Basketball Reference.