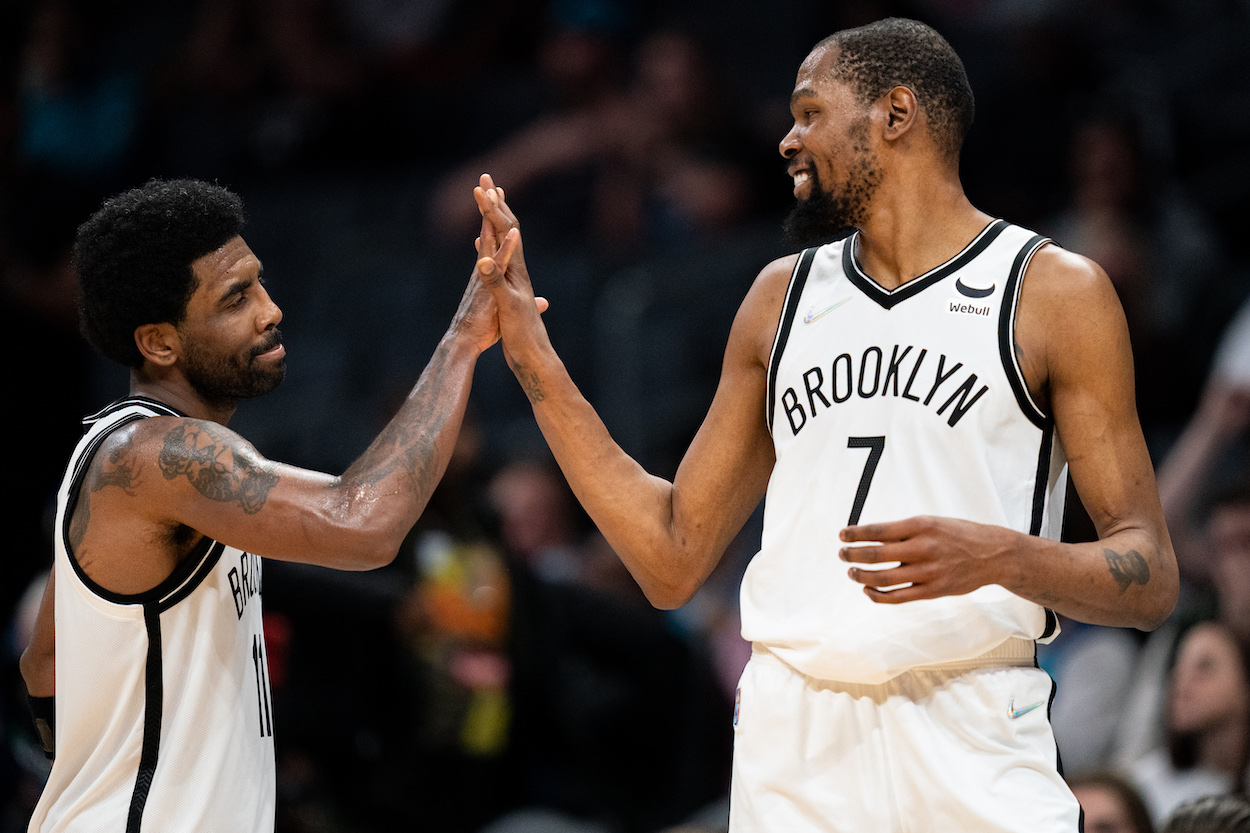 Kevin Durant Sticks up for Kyrie Irving by Bashing New York City's Vaccine Mandate
Kevin Durant is understandably upset that Kyrie Irving can attend home games but not suit up to play.
On Sunday afternoon, an unvaccinated Kyrie Irving was able to sit next to his Brooklyn Nets teammates on the bench without wearing a mask. He joined them in the locker room at halftime and was able to go anywhere inside the Barclays Center that he pleased. But he wasn't allowed to put on his uniform and play against the New York Knicks due to the city's vaccine mandate.
Yes, it's as ridiculous as it sounds.
After the game, Kevin Durant stuck up for his teammate and bashed the nonsensical rule making it impossible for Irving to suit up for home games.
Kyrie Irving still isn't allowed to play in home games
At the beginning of the season, it seemed as if Irving might not play a single game for the Nets. New York City's COVID-19 mandate made it so that unvaccinated players in the state weren't allowed to play in home games. Brooklyn didn't want Irving on the roster as a part-time player, so it announced before the season-opener that the guard won't be suiting up until he gets vaccinated.
That lasted a few months, but Irving has now played in 18 away games for the Nets this year.
Irving hasn't been allowed to attend home games in any capacity, but New York City discontinued vaccine requirements for indoor public spaces on March 7, making it so that he could be inside the Barclays Center during home games. Except, he still can't play.
On Sunday afternoon, Irving was able to sit on the bench alongside his teammates, but he wasn't allowed to suit up. Durant, like most of us, can't seem to understand that rule.
Kevin Durant sticks up for Irving and bashes vaccine mandate
Brooklyn didn't need Irving to squeak past the Knicks, 110-107, on Sunday, but Durant still wasn't happy after the game.
"It's ridiculous. I don't understand it at all," he told reporters. "It just feels like at this point now somebody's trying to make a statement or a point to flex their authority. But everybody's looking for attention and that's what I felt like the mayor wants right now, some attention.
"We're all confused. Pretty much everybody in the world is confused at this point. Early on in the season, people didn't understand what was going on but now, it just looks stupid. Eric, you gotta figure this out." 
New York City mayor Eric Adams didn't impose the current vaccine mandate. Former mayor Bill de Blasio was responsible for that, but Adams now has the power to change it. Only, he doesn't want to make an exception for one person, so Irving will remain on the bench for home games until that changes.
Durant makes MVP statement without Kyrie
Without Irving in the lineup on Sunday, Durant knew he was going to have to play the role of Superman against the Knicks. And that's exactly what he did.
Durant dropped 53 of Brooklyn's 110 points on 19-for-37 shooting. He also added nine assists and six rebounds in the contest to power the Nets to a much-needed win.
It's possible Durant leaped right back into the MVP conversation with his offensive explosion on Sunday, but he'll need Irving and Ben Simmons back on the floor if he wants to make another NBA Finals run.
Like Sportscasting on Facebook. Follow us on Twitter @sportscasting19.