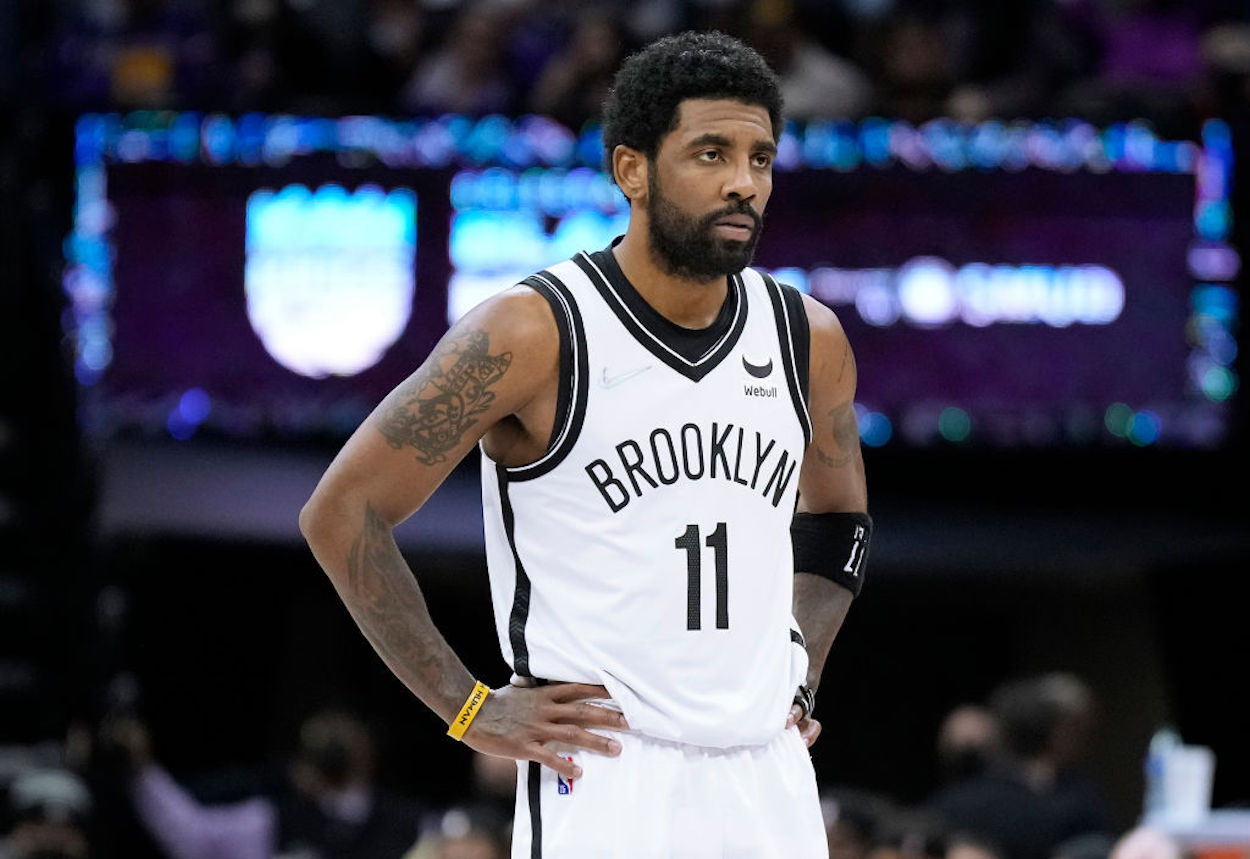 Kyrie Irving Might Not Be Able to Play in Brooklyn Nets Home Games After All
While Brooklyn Nets fans received a promising update about Kyrie Irving's availability, things might not be changing as drastically as it seemed.
On Wednesday, February 23, it seems like the Brooklyn Nets received a season-changing lifeline. New York City's new mayor, Eric Adams, suggested that vaccine mandates could change within a matter of weeks. In the blink of an eye, basketball fans connected the dots. In theory, that would mean Kyrie Irving would soon be eligible to play in home games, right?
The answer, unsurprisingly, is a bit more complicated.
While the repeal of a vaccine mandate would seem to change Irving's status, bureaucracy is rarely that cut and dry. In fact, according to another local report, things could remain completely unchanged for the Nets' star guard.
Kyrie Irving has been a missing piece of the Brooklyn Nets puzzle this year
As the cliche says, a large part of success simply comes down to showing up. Unfortunately for the Nets, one of their top talents has been ineligible for large portions of the 2021-22 campaign.
When the season began, Irving wasn't even in the lineup; Brooklyn refused to let him be a part-time player, and, since he couldn't dress for home games, they decided to make do without him. While they later backed down and welcomed Kyrie back into the fold, there were still some logistical hurdles.
Due to New York City's vaccine requirements, the point guard couldn't take the court in Brooklyn. Instead of suiting up for every game, he began playing in road games while sitting out during home contests. While it's far from a perfect solution, it still allowed the guard to get into the action.
On Wednesday, though, everything seemed poised to change. Eric Adams seemed to suggest that vaccine mandates would be phased out in the Big Apple; once Shams Charania tweeted about it, basketball fans around the world were bracing for Kyrie's return.
Kyrie's return could be still be more complicated than Nets fans thought
While no one quite started planning a championship parade, Wednesday's comments prompted plenty of speculation. When would Kyrie be back? How would his presence change the Nets' championship chances?
Those thoughts, however, may be putting the cart before the horse.
As explained by Chris Sommerfeldt of the New York Daily News, Adams' efforts could be focused on New York's "Key to NYC" program, which places requirements around indoor dining and other activities. As an employee of the Nets, Kyrie's eligibility could be tied to another set of rules.
But even if "Key to NYC" is lifted, Irving may not be able to play at Barclays because of the city's private employer mandate, which requires vaccinations for all employees of Big Apple-based private companies, including the Brooklyn Nets.

Though he's targeting "Key to NYC" for tweaks, Adams has no plans to revisit the private employer mandate, according to a City Hall official.

City Hall reporter Chris Sommerfeldt writing in the NY Daily News
So, where does that leave the Brooklyn Nets?
While it's somewhat of a cop-out, they're more or less in the same position they've been in all season. There's a bit more concrete hope that Irving could return soon, but nothing is set in stone. At the risk of delving into cliches, their best course of action is probably to continue hoping for the best while expecting the worst.
No matter what happens, though, don't expect the Kyrie storyline to go away anytime soon.
According to the Centers for Disease Control and Prevention (CDC), "More than 520 million doses of COVID-19 vaccine had been given in the United States from December 14, 2020, through January 10, 2022. … COVID-19 vaccines are safe and effective."