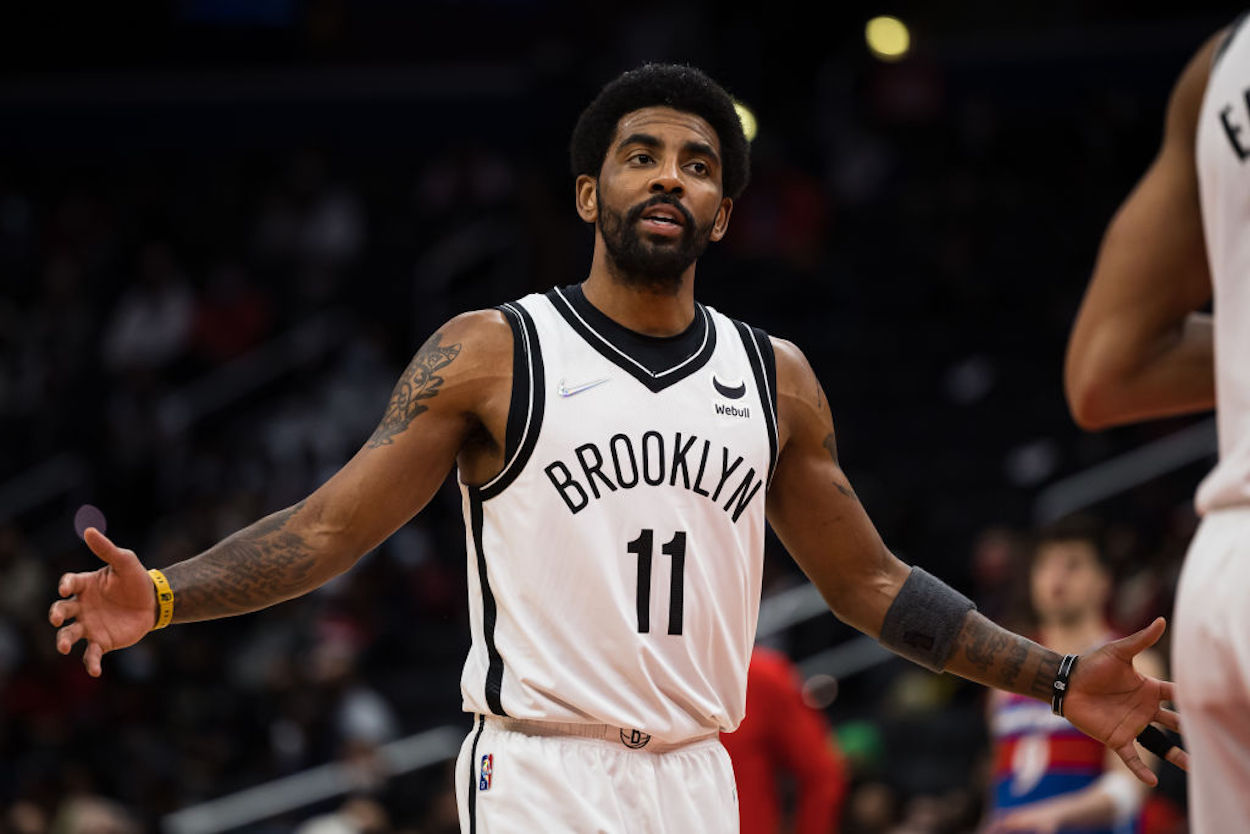 Kyrie Irving Will Be Able to Play in Brooklyn Nets Home Games 'In the Coming Weeks'
Kyrie Irving could be a full member of the Brooklyn Nets roster within a few weeks thanks to a changing vaccine mandate.
For most of the NBA season, Kyrie Irving has remained a metaphorical question mark. Due to his refusal to be vaccinated against COVID-19, the Brooklyn Nets guard has been little more than a part-time player, shuffling in and out of the lineup as his team travels the country. Under New York City's vaccine mandate, Irving was unable to play home games at the Barclays Center and only suited up for the squad on the road. In the coming weeks, however, that seems poised to change.
As shared by Shams Charania, New York City's (relatively) new mayor, Eric Adams, is planning to phase out the existing vaccine mandate. Once that happens, Irving will be free to suit up for every Nets game.
Kyrie Irving will be able to play Brooklyn Nets home games in the near future
On paper, the Brooklyn Nets began the 2021-22 season with a headline trio of James Harden, Kevin Durant, and Kyrie Irving. In reality, though, those three rarely hit the floor together. Now, Harden has headed south to Philadelphia, but Irving could be returning to the lineup.
On Wednesday, February 23, New York City Mayor Eric Adams revealed that he had a plan to repeal the city's vaccine mandate. While he didn't offer too many specifics, he suggested that changes could come within the next few weeks.
While that obviously has an impact on millions of people in the Big Apple, it also changes things for one very famous New Yorker: Irving.
As noted by Shams Charania, that change would mean Kyrie take the court at the Barclays Center. Given the basketball calendar, the implications of that change are clear. With the season's biggest games approaching, Irving could be back in the lineup, allowing Steve Nash to theoretically send out a trio of Ben Simmons, Kevin Durant, and Irving for the playoffs.
The finer details remain to be seen; as Charania noted, NYC's restrictions remain in place as of now. Within the next few weeks, though, things could get much different for the Nets and the entire Eastern Conference.
According to the Centers for Disease Control and Prevention (CDC), "More than 520 million doses of COVID-19 vaccine had been given in the United States from December 14, 2020, through January 10, 2022. … COVID-19 vaccines are safe and effective."