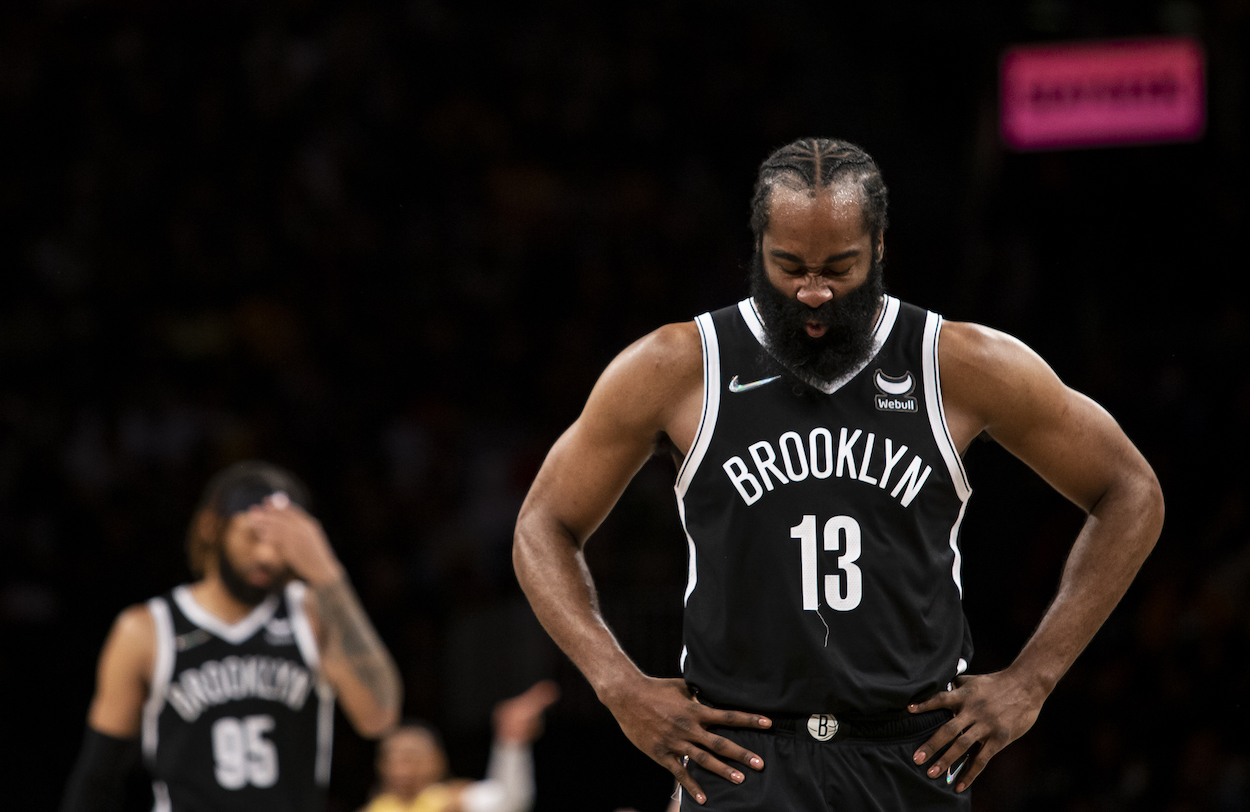 James Harden Never Wanted to Be Traded to the Nets in the First Place: 'Philly Was My First Choice, It Just Didn't Happen'
James Harden didn't seem happy on the Nets, and that's likely because he wanted to play for the 76ers all along.
When James Harden forced his way out of Houston and joined the Brooklyn Nets in January of 2021, he couldn't have asked for a better landing spot. Teaming up with Kevin Durant and Kyrie Irving immediately gave Harden the best opportunity of his career to win a championship, but the trio ended up playing only 16 games together before The Beard decided he wanted out.
At the NBA trade deadline last week, Harden got his wish when the Nets traded him to the Philadelphia 76ers in exchange for a hefty Ben Simmons package. Many fans wondered why Harden would give up on Brooklyn's dynamic Big Three after just one year, but he never wanted to be traded to the Nets in the first place.
It turns out Philadelphia was always his target destination.
James Harden didn't look happy on the Nets all season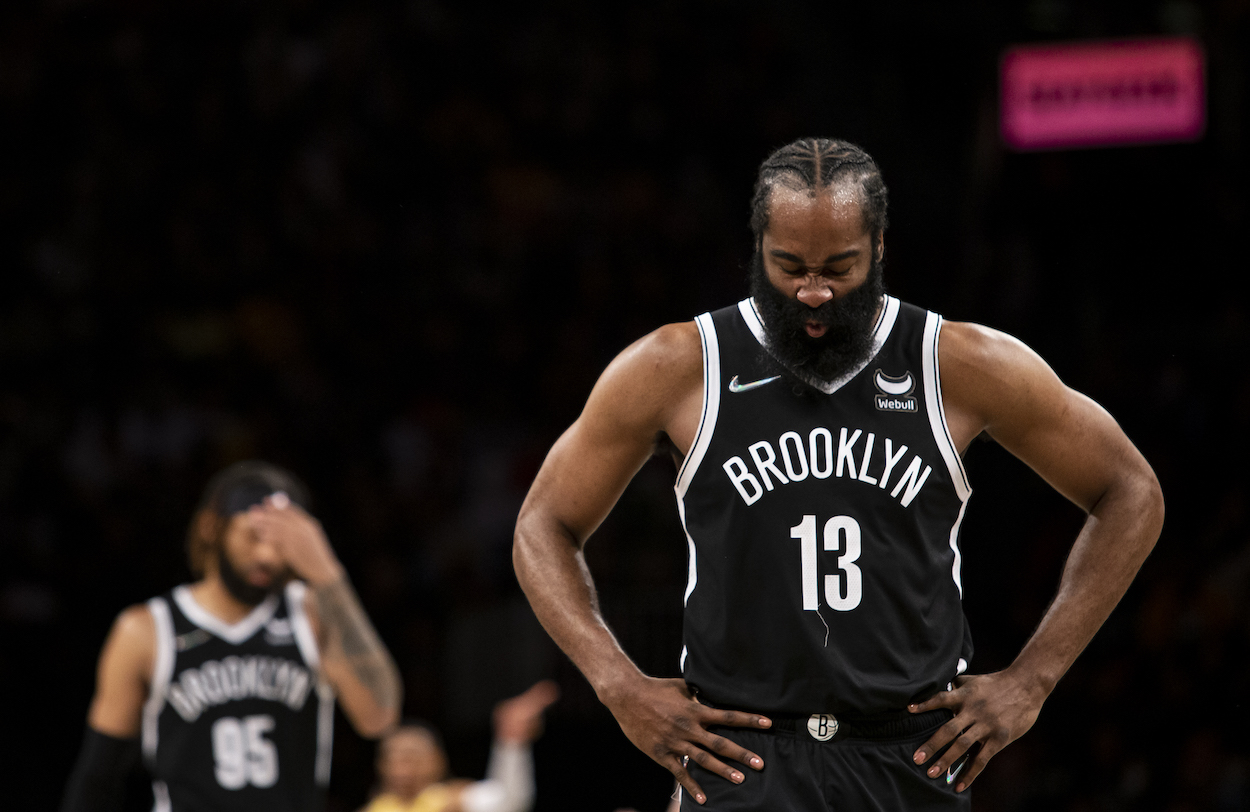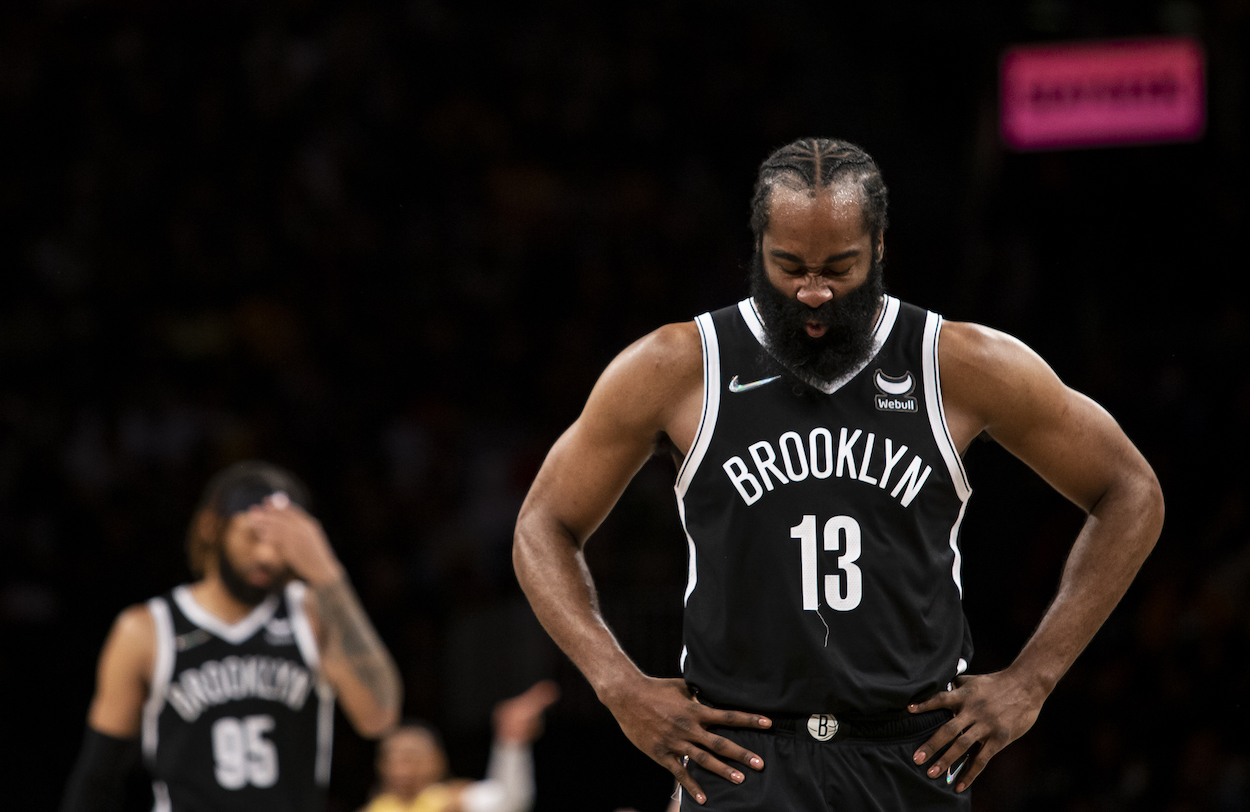 Over the last few weeks of Harden's time in Brooklyn, reports from all over the place surfaced about his growing frustration with the team. He was reportedly upset about Kyrie Irving's part-time status with the Nets, Steve Nash's coaching, and living in Brooklyn in general.
Even if those reports were somewhat exaggerated, Harden's body language on the court told us all we needed to know. The 10-time All-Star simply looked out of it on a night-to-night basis. He was constantly turning the ball over with lazy passes and showing little to no effort on the defensive end, which evoked memories of his final few games with the Rockets.
Although he never publicly admitted it, Harden clearly wanted out. The Nets had no choice but to deal him before the NBA trade deadline.
Harden admits he wanted to be traded to the 76ers instead of the Nets
Back when Harden was sabotaging the Rockets in a clear effort to get traded, Philadelphia engaged in negotiations with Houston. Trade talks fell through because the Rockets' asking price was too steep, and the Nets eventually jumped in and made them an offer they couldn't refuse.
In his introductory press conference with the Sixers on Tuesday, Harden admitted he wanted to be traded to Philly at the time, and that's been his goal ever since joining the Nets.
"Originally, when I was going through everything I was going through in Houston, Philly was my first choice, it just didn't happen.

Details, I don't really want to get into the Brooklyn situation. I just knew for a very long time this was a perfect fit, and obviously, you got the best big man in the league in Joel [Embiid]. And then obviously, the coaching. Just from top to bottom it made sense. I'm just happy and blessed that I'm here."

James Harden
It's not exactly surprising the 76ers have been Harden's target destination for a while. Daryl Morey, the president of basketball operations for the Sixers, was the general manager of the Rockets during Harden's stint there, and the two have remained good friends since then.
Harden has also admired Doc Rivers from afar for years, and he previously reached out to the championship-winning head coach about joining forces.
"One of the best coaches to ever coach the game of basketball. Why wouldn't I wanna be led by that?" Harden said. "I've been doing it for a very long time, but he's been doing it way longer than me, and he's experienced way more than me. As the player that I am, I still need to learn. I still need to be helped and taught and be put in a position to be successful."
The Beard's last chance to win a title?
Harden has already established himself as a clear-cut Hall of Famer, but the one glaring item missing from his resume is a championship. In 12 years in the NBA, he's reached the NBA Finals just once, and that was all the way back in 2012 when he was coming off the bench for the Oklahoma City Thunder.
The Beard is now 32 years old, and he's already showing signs of regression from his prime. However, he's never played with a big man like Embiid before. With two of the most unstoppable offensive forces in the league now at their disposal, the 76ers have become legitimate title contenders in 2022 and beyond.
Harden's window to win a ring will close soon, and now that he's finally in the city he's been dreaming about for over a year, it's now or never.
Like Sportscasting on Facebook. Follow us on Twitter @sportscasting19.