Lakers Owner Jeanie Buss Finally Reveals Why the NBA Kept Chris Paul and Kobe Bryant From Teaming up Together on the Lakers
There are always many "what if" scenarios in sports. For Los Angeles Lakers fans, their biggest "what if" involved Kobe Bryant, Chris Paul, and a vetoed trade. Had the Lakers acquired Paul in 2011, they could have been bona fide title contenders. However, former NBA commissioner David Stern vetoed the trade, and Paul went to the other LA team instead — the Clippers.
So, what actually happened when Stern kept Paul and Bryant from teaming up together? Lakers owner Jeanie Buss recently discussed the infamous situation.
Chris Paul and Kobe Bryant nearly teamed up on the Lakers
RELATED: Lakers Owner Jeanie Buss Makes Stunning Admission About Starting a Relationship With Phil Jackson: 'He Wasn't My Type'
Kobe Bryant and the Lakers had just gone to three consecutive NBA finals and won two straight championships before losing in the Western Conference Semifinals in 2010-11. So, heading into the lockout-shortened 2011-12 season, they were still one of the league's top teams. 
Chris Paul, on the other hand, had just come off his fourth consecutive All-Star selection with the New Orleans Hornets. He was considered one of the top point guards in the league, and rumors suggested CP3 wanted to move to a different team.
This led to a three-team trade that was supposed to send Paul to the Lakers. Lamar Odom was also supposed to go to the Hornets and Pau Gasol to the Houston Rockets, per Yahoo Sports. Additionally, the Rockets planned to send Kevin Martin, Goran Dragic, Luis Scola, and a first-round pick to New Orleans.
However, the NBA purchased the Hornets in 2010. So, former NBA commissioner David Stern had authority over the team's personnel decisions. He ultimately chose to veto the trade.
Jeanie Buss revealed what really happened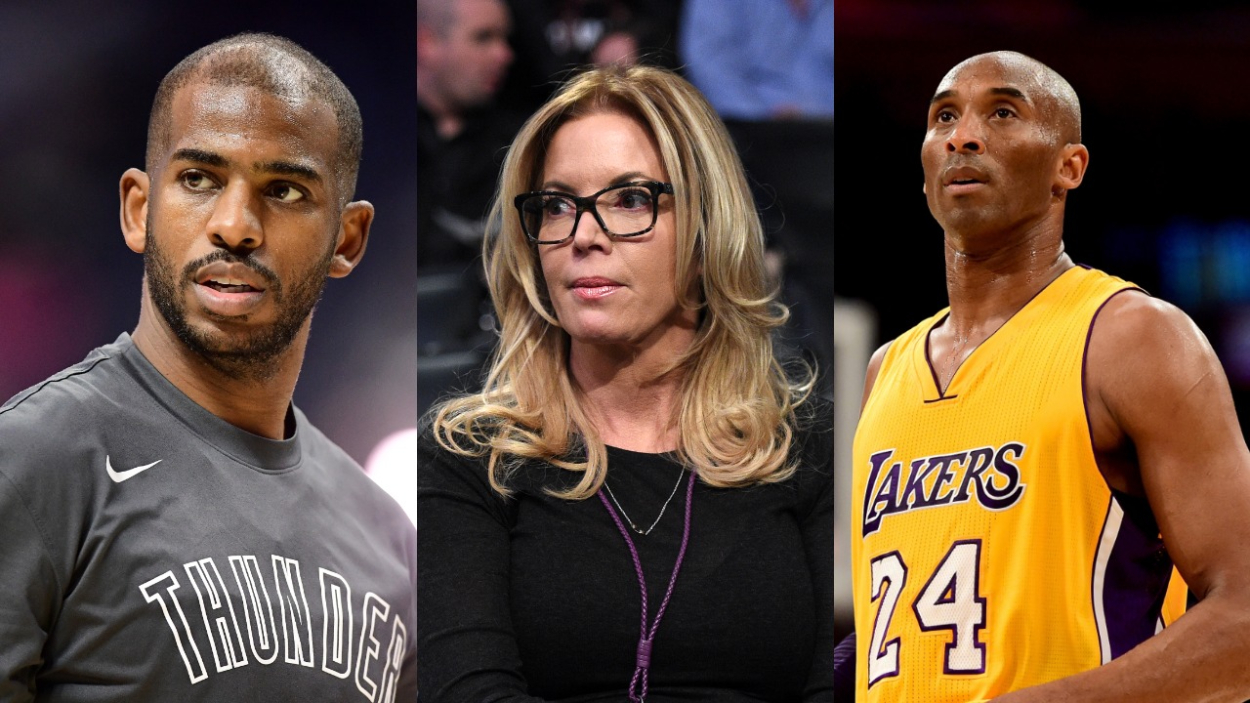 RELATED: Kobe Bryant's Former Teammate Asked Him to Bail Him out of a 'Steep' Gambling Debt in 1 of Their Final Conversations Before Bryant's Death
Lakers owner Jeanie Buss recently appeared on the All The Smoke podcast, and she revealed what went down with the vetoed trade.
The NBA was amid a lockout, Buss said, but had just started lifting some of the restrictions. However, each squad had a representative in New York for a "board of governors meeting to ratify the new [collective bargaining agreement]."
"As we're in this room, ratifying the CBA with the union and voting on revenue sharing, all of the sudden, there's kind of this rumor that goes around the room about a trade," Buss said on the April 22 episode. "… There's no way a trade could be happening if we're all in this room, doing league business. Except the general manager of the [Hornets] felt that he had the authority to make a trade."
Buss said her dad, former Lakers owner Dr. Jerry Buss, didn't make the trip to New York due to his health, so she stood in his place. This means, though, that the trade went down while she sat in the room with representatives from around the league.
"The trade was happening while everybody is in this room, so teams felt like, 'How is that possible? We didn't get a chance to make a trade for Chris Paul.' So, they all attacked the league and said, 'This wasn't fair," she said.
Jeanie then made it clear that David Stern didn't veto the trade as NBA commissioner but rather as the Hornets' governor.
"It wasn't the NBA trying to keep the Lakers from Chris Paul; it was about David Stern had a responsibility to make sure that it was a trade that he would approve," she added. "So, now he just calls off the trade and wants everybody to cool down because now you had a lot of teams thinking there was some funny business going on, but it wasn't. It was just by coincidence."
With the trade vetoed, the Lakers' front office chose to trade Lamar Odom to Dallas, Buss said. This, though, ultimately ruined their chances of getting Paul at all, as they no longer had the pieces to make the deal.
Chris Paul and Kobe Bryant could have been dangerous on the Lakers
RELATED: Kobe Bryant Nearly Fought a Famous Rapper Until an NBA Veteran-Turned-Reality Star Intervened
Jeanie Buss essentially said the Lakers maybe could have actually acquired Chris Paul had the Hornets' GM — who was Dell Demps at the time, per Yahoo — had taken his time.
No matter whose fault it was, though, a Paul-Kobe Bryant pairing could have been unstoppable.
In 2011-12, Bryant scored 27.9 points per game for the Lakers to go with 5.4 rebounds and 4.6 assists. He was still one of the best scorers in the league. Paul, on the other hand, went to the Clippers and had an outstanding season. He averaged 19.8 points, 9.1 assists, and a league-leading 2.5 steals.
The Lakers then went 41-25 that year and lost to the young Oklahoma City Thunder in the Western Conference Semifinals. Had they had Bryant and Chris Paul in his prime, though, they could have very well competed for the NBA title with the LeBron James-led Miami Heat.
Instead, NBA fans will always wonder "what if."
Stats courtesy of Basketball Reference