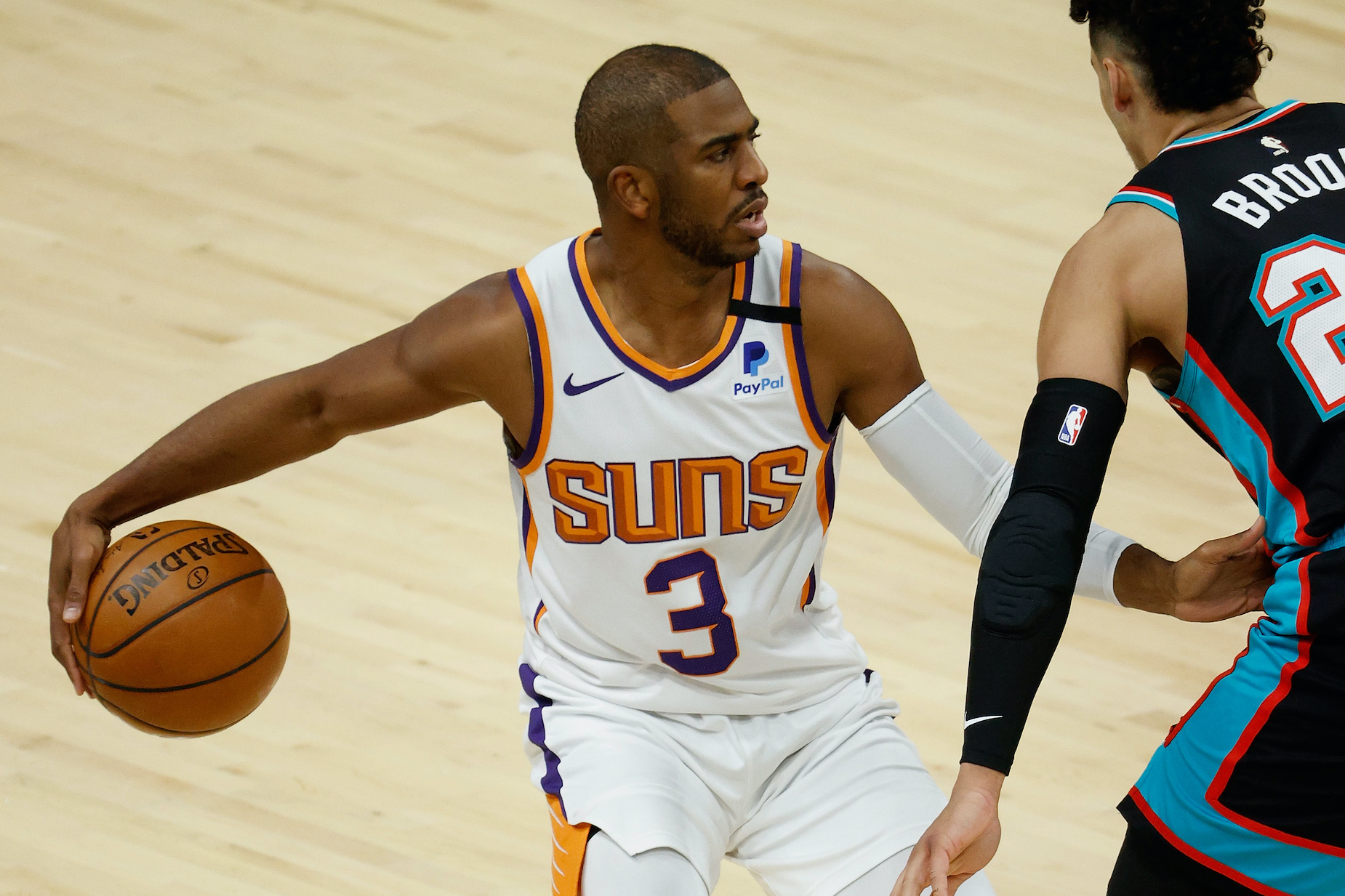 Chris Paul Made NBA History With His 10,000th Assist, but He 'Might Even Be More Accomplished off the Court,' According to Stephen A. Smith
Chris Paul has dished out plenty of assists, but Stephen A. Smith thinks the guard's best work may have been done away from the court.
While the NBA might not hold historical numbers in the same regard as Major League Baseball, certain stats still stand tall in the record books. One of those is the 10,000 career assist mark. After 15 full seasons in the association, Phoenix Suns guard Chris Paul has finally reached that plateau.
Despite that impressive achievement, Chris Paul's success hasn't just been limited to the hardwood. In fact, Stephen A. Smith went on the record as saying the guard "might even be more accomplished off the court."
Chris Paul's stats tell the story of an impressive basketball career
When you think of elite NBA guards, names like Russell Westbrook and Steph Curry probably spring to the forefront of your mind. Chris Paul, however, is still going strong at age 35.
Paul proved to be a talented high school player and, after graduation, took his talents to Wake Forest. During his two seasons with the Demon Deacons, he stuffed the stat line, averaging 15 points, 3.9 rebounds, 6.3 assists, and 2.5 steals per outing.
The guard then entered into the 2005 NBA draft, joining the New Orleans Hornets as the fourth-overall pick. CP3 promptly lived up to the hype, cruising to Rookie of the Year honors; before long, he was a legitimate star.
Although his time in the Big Easy eventually came to an end, Paul put up impressive stats wherever he went. The point guard spent six seasons with the 'Lob City' LA Clippers before joining the Houston Rockets; he then joined the Oklahoma City Thunder before suiting up for the Phoenix Suns.
While he's dealt with some injury issues over the years, Chris Paul's stats still speak for themselves. The guard is now in his 16th NBA season; as of March 23, 2021, he's averaging 18.4 points, 4.5 rebounds, and 9.4 assists per outing and has the Suns sitting pretty in the NBA standings.
Entering the 10,000 assist club
While those per-game stats are pretty impressive, Chris Paul's accomplishments don't end there. On March 21, the guard dished out his 10,000th professional assist.
Beyond the sheer volume—doing anything 10,000 times is nothing to sneeze at—that assist puts Paul in elite company. In NBA history, only five other men have dished out more than 10,000 helpers. CP3 is now a member of that elite club, alongside the likes of John Stockton, Jason Kidd, Steve Nash, Mark Jackson, and Magic Johnson. By the end of the season, the Suns' guard should pass Johnson, moving into fifth all-time.
Despite that impressive track record, though, Paul isn't tooting his own horn.
"I told the guys in the locker room I've got the easy job," Paul said, according to Fox News. "I just pass it to them."
Chris Paul 'might even be more accomplished off the court,' according to Stephen A. Smith
If you look purely at Chris Paul's stats, you'll see an NBA veteran with an incredible body of work. According to Stephen A. Smith, though, the guard's best performances may have come away from the hardwood.
"But as good as CP3 is on the court, he might even be more accomplished off the court," Smith explained in a video shared on his Twitter account. "I know, I know. It's a cliche. But with CP3, the cliche also happens to be reality. He is an entrepreneur. He is a producer. …He is a spokesperson, the NBA face of the State Farm commercials, which has provided him with incredible visibility, visibility that has helped build his charity work through the Chris Paul Foundation."
Stephen A. also pointed out that the point guard also serves as the president of the NBA Players' Association and was previously named ESPN's Sports Humanitarian of the Year.
Purely in terms of basketball, Chris Paul's stats speak for themselves; you don't dish out more than 10,000 assists without being an incredible talent. His off-court assists, however, are what make him truly special.
Stats courtesy of Sports-Reference and Basketball-Reference