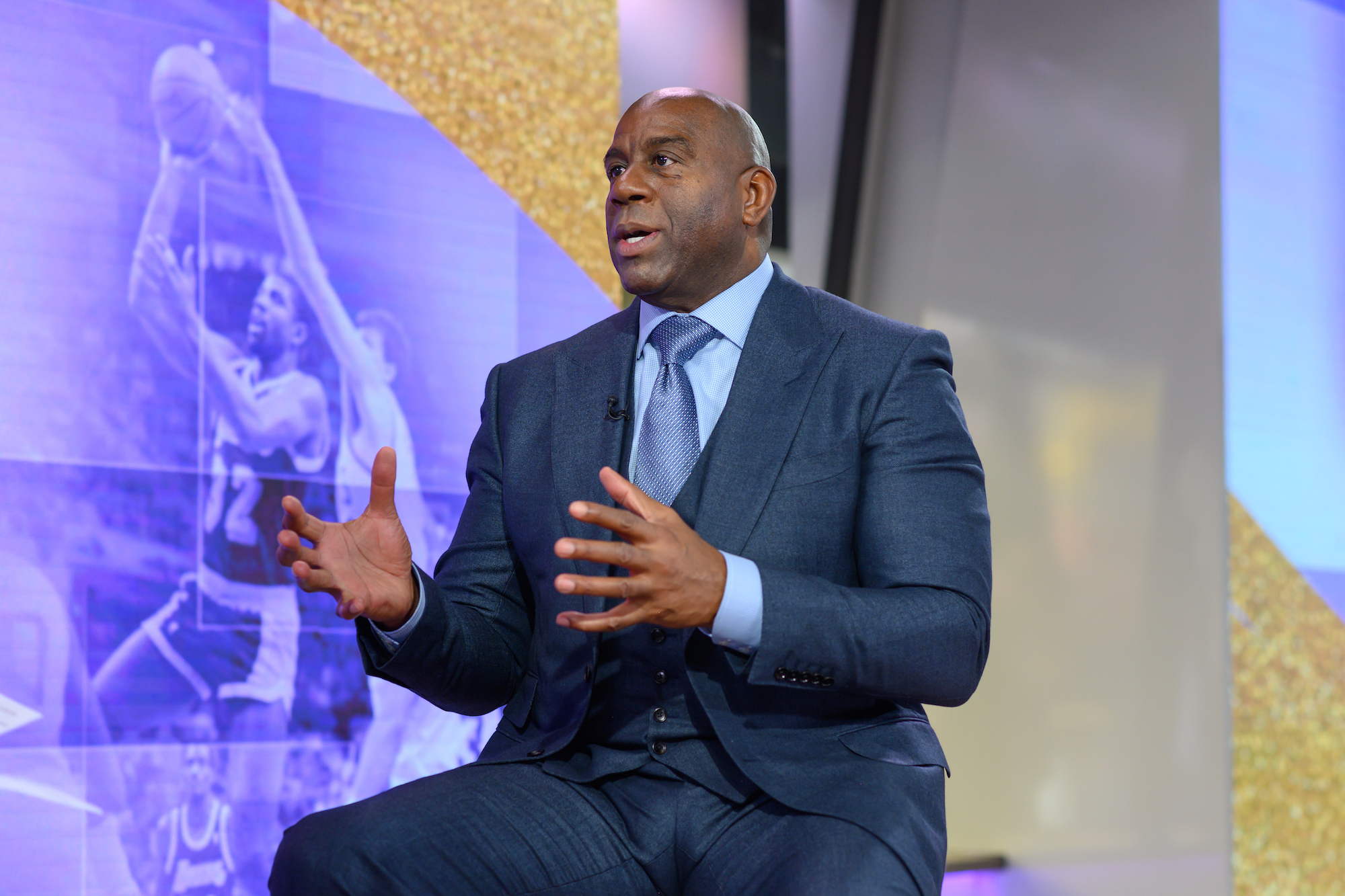 Magic Johnson's $600 Million Career Started With a Surprisingly Humble Job
These days, Magic Johnson is worth $600 million. His professional career, however, started out with a surprisingly humble and dirty job.
As his nickname suggests, Magic Johnson was capable of doing virtually anything on the basketball court. During his time with the Los Angeles Lakers, the guard proved to be both talented and successful; that reality, combined with his business ventures, helped Johnson build up a $600 million fortune. His early professional life, however, was quite a bit different.
While he eventually found fame as a professional basketball player, Magic Johnson landed a job before he even started high school. In those days, Earvin, as he was still known, had to get his hands dirty.
Magic Johnson was a true star on the hardwood
Over the years, the Los Angles Lakers have boasted plenty of stars. Magic Johnson proved to be one of the brightest.
Johnson burst onto the scene in high school, earning his iconic nickname and catching the attention of college coaches around the country. He ultimately chose to stay close to home, enrolling at Michigan State and suiting up for the Spartans. Magic spent two seasons on campus, blossoming into a star and outdueling Larry Bird to claim the 1979 NCAA title.
Johnson then entered into the 1979 NBA draft; the Los Angeles Lakers selected him first overall and immediately slotted him into the starting point guard spot. Magic promptly averaged 18 points, 7.7 rebounds, and 7.3 assists per outing for the season, lifting the Larry O'Brien Trophy and claiming the NBA Finals MVP crown.
While an HIV diagnosis ended Johnson's time on the hardwood prematurely, the guard still managed to shine as one of the NBA's brightest stars. Magic played 906 total games, averaging 19.5 points, 7.2 rebounds, and 11.2 assists per appearance; he also won five championships, three NBA Finals MVP titles, and three league MVP awards.
Getting an early start as a janitor
Once Magic Johnson started showing talent on the basketball court, his career prospects were sealed. As a child, however, the future star worked a humble, not to mention dirty, job.
"Back home in Lansing," Johnson explained in a 1990 Sports Illustrated piece, "there were these two successful businessmen—Joel Ferguson and Gregory Baton. Everybody admired them. They had nice homes, drove nice cars. They owned office buildings and had whole staffs of people. They were our heroes."
While Johnson managed to land a job from those men, he didn't exactly start at the top of the food chain. Instead, he was a janitor.
"When Magic was in junior high and was still called Earvin, these heroes arranged to give him a janitor's job in a building Ferguson owned," Richard Hoffer wrote. "He would go in, usually on Friday nights, and vacuum, empty the trash and clean the rest-rooms.
Today, Magic Johnson is worth $600 million
During that janitorial gig, Magic Johnson did more than just clean, though. He also spent some time at his boss' desk, imagining that he was calling the shots.
"I'd sit back in one of those big chairs and put my feet on the desk," Johnson told Hoffer, "and start giving orders to my staff. 'Do this, do that." Today, it's safe to say he's living up to that childhood dream.
According to Basketball-Reference, Johnson made almost $24 million in salary during his playing career. His earning power didn't end with retirement, though. The former guard created Magic Johnson Enterprises, allowing him to get more involved in the business world; over the years, he's been involved with Starbucks, movie theaters, and plenty of Los Angeles sports franchises.
These days, CelebrityNetWorth estimates Magic Johnson's fortune at $600 million. He's clearly come a long way from cleaning bathrooms as a junior high school student.
Stats courtesy of Basketball-Reference